Submitted by E. W. Pankiw

The Elk Point Fire Department has a membership of twenty at the present time. There have been no membership suspensions or transfers.
Duty roster consists of:
Fire Chief-Ed Soldan
Deputy Fire Chief-Mike Oryschuk
Captains-John Oryshchuk, Doug Berg
Secretary-Treasurer-Ed Pankiw
Remainder of Force-P. Sheplawy, W. Lesyk, R. Watson, E. Poulin, B. Marceniuk, L. Lecopoy, P. Higgins, R. Smith, A. Hurtubise, J. Turzanski, K. Palamarek, W. Schuhmacher, B. Bishop, B. Sparrow, A. Chimko.
During the year, nine fire calls were responded to. Dry practices were held at the schools, hospital, senior citizens home and elevators. Fire Prevention Week in October included the annual check of residences for fire dangers and suggestions were given on safe practices to home owners.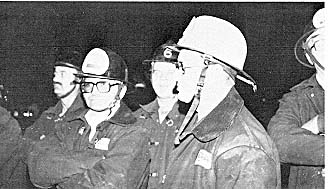 Fireman, unable to assist, can only stand and watch the destruction by fire of McHugh's Frozen Foods.
LEFT TO RIGHT: K. Palamarek, J. Oryschuk, R. Smith, E. Soldan, M. Oryschuk.
Chief Soldan attended the fire fighters course held at Vermilion, Alberta. His completion of the course successfully resulted in his receiving the Fire Fighters' Certificate attesting to his ability in firefighting procedures and techniques.
Social activities of the department included the bonspiel, a barbeque and the annual Fireman's Ball.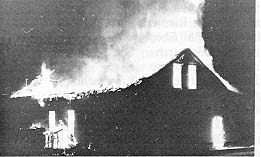 FIRE! The beginning of the end of Ron's Frozen Foods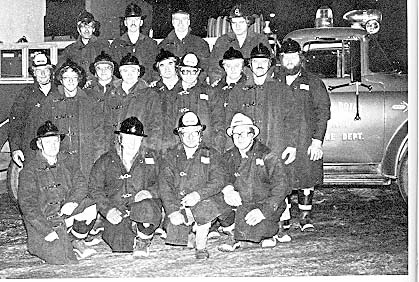 ELK POINT FIRE BRIGADE 1977
BACK ROW, Left to Right: Larry Lecopoy, Brian Sparrow, Bruce Bishop, Ron Smith.
MIDDLE ROW: Doug Berg, Alphie Hurtubise, Bill Marceniuk, Joe Turzanski, Walter Lesyk, Johnny Oryshchuk, Phil Sheplawy, Ken Palamarek, Roy Watson.
FRONT ROW: Paul Higgins, Ed Pankiw, Mike Oryschuk, deputy chief; Ed Soldan, chief.
MISSING: Bill &huhmacher, Tony Shymkiw, F Poulin.