Sponsors of the First Web site
This web site has been created by the Elk Point Historical Society and its operation is paid for by the generours contributions of the following sponsors.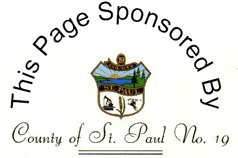 County of St Paul # 19
The Canadian Salt Company
Elk Point OORP
Union Pacific Resources
JMB Crushing Systems
Ken Miller Professional Corporation
Elk Point Insurance and Realty
Each sponsor pays about $10 to keep these Static pages and their logo is attached to each page. Should you be interested in sponsoring this ever growing site please contact Marvin Bjornstad at 780 724 2061.
The Third Website Revision 2012
There is local advertising on each page on a rotating basis. Each sponsor pays $100 to be in this pool each year.
As well there is google advertising attached to each page.
The Fourth Website Revision 2014
In addition to permanent sponsorship of pages on our sites for $100 for 10 pages we also use the rotating ad for $200 per year.