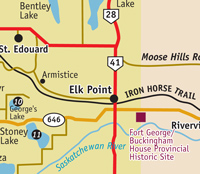 Enter our site and see the history of a small town in rural Alberta, Canada, starting in the late 1700's and continuing to today. Elk Point's history is connected to the native people of the area, the Fur Traders of Fort George and Buckingham House, the early pioneers of the agricultural area, the businesses that started with the coming of the CNR, and the oil and gas industry of today. We hope to show you the development of law and order, Education, communications, health services, entertainment, recreation, transportation, and local government. We hope this website serves as a resource to all those tracing their family roots in the area.
We hope our words, pictures, sounds, and videos are of interest to you. We hope you are able to add to our knowledge of the area. We are indebted to those researchers who compiled the original REFLECTIONS book in 1977 and the SUPPLEMENT book in 1978. This forms the core of this site, along with books from other communities.
We hope it continues to grow. We will accept more information from families, organizations and businesses that build their history and help build the community's history. Bear with us as we improve the site on a weekly basis. Check back and see the improvements each week.
We have now added the communites of Lindbergh, Ferguson Flats and Heinsburg with sites of their own. We hope those communities will add information to make each site a good storage site for community information.