GENERAL STORES IN ELK POINT AND AREA
by Steve Andrishak 79
Our district's first general store was built about 1908 near the Hopkins Ferry site, 3 1/2 miles west of where our bridge stands. The store was owned by Jack Valentine in partnership with Jim Screeton. The original store was destroyed by fire but was rebuilt. About 1913, the store changed hands. Soon after Mr. Valentine sold out he built another store - this one in the hamlet of Elk Point. It was situated where the present Tempo Service centre is now located. A year or two later this store was sold to Martin and Selmer Johnson and was known as Johnson Bros. Store. It remained open until about the middle 1920s. One of the original owners (Selmer Johnson) later built Elk Point's first creamery in 1927.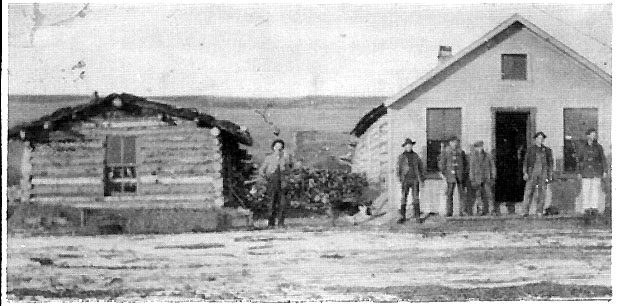 FIRST IN THE AREA
This store was built near the Hopkins Ferry site in 1908.
Another general store was located where our Tourist Booth now stands. It was owned by Jim Babcock. It, too, closed about 1925 and for a short time after was used as a pool hall and barber shop by Joe Carrier.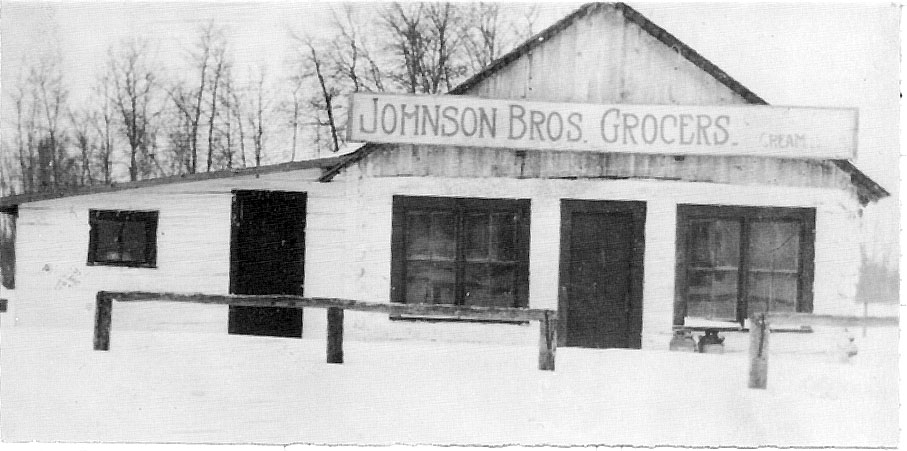 JOHNSON BROS. STORE - Built about 1913, the first store in the hamlet of Elk Point, where todays Domo is.