VOLUME:1, No: 11, No: 1
November 1992
AT THE FORTS:
THE "STRIKER"
The name Striker may seem odd at first1 but think about it. The Forts are Fur Trade forts and the traders of that time carried flint lock guns. In order to use these guns, one had to "strike" the flint against a steel to produce the needed spark. This steel, was known as the "striker". We feel, that this newsletter will produce the spark- needed to carry out the Friends of the Forts mission of assisting in the operations of the Forts, funding for educational programs, obtaining the needed improvements and ultimately rebuilding the Forts.
To continue to receive the Striker in 1993, all you have to do to ensure that you are a paid-up 1993 member of the Friends Of The Forts. To avoid missing the next issue, please send your membership in today. Donations can be ear-marked for any special project of your choice. Your membership dues and donations will be put to good use in this worthwhile endeavor. Donators in 1992 will automatically be issued a 1992 income-tax receipt, to be sent out early in the New Year. Membership will entitle you to half admission fee to any museum or interpretive centre in Alberta, on presentation of your membership card.
The mission of the Friends of the Forts is to assist the operations of the Forts. Among the tasks, that we would like to perform are the demarcation of the Forts, the improvement of accessability for wheelchairs, the expansion of hiking trails, the completion of signage for the landing site on the North Saskatchewan River, the location of all the Fort buildings, the construction of water fountains for thirsty visitors and more benches along the existing trails. If you want your donation to go toward a specific project - and it need not be one listed above -please specify. Costs of these projects has not been worked out at this time.
VISITORS AT THE FORTS
In the summer season of 1992, we had over 7 000 visitors from all parts of Alberta, Canada and the world, come through our Fort George-Buckingham House Interpretive Centre.
FALL 1992
Can you imagine all of these people following the footsteps of the visitors to the Forts of two hundred years ago? The first to arrive were the French Canadians and the Highland Scots of the North West Company. In June of 1792, Fort George was established as a provision and trading fort. Records indicate about sixty men arrived at the initial time of building. The population fluctuated upward to about 120 over the next ten years. The Hudson's Bay Company's Buckingham House was considerably smaller, having a fluctuation of 30 to 35 people. They arrived in October of 1792 and were mainly Orkneymen, with a couple of Englishmen. Both Forts had many "big name" traders in Canadian history pass through the doors -Angus Shaw; David Thompson; Peter Fidler; George Sutherland; Duncan McGillivray; John McDonald of Garth; William Tomison and Alexander the Younger to name a few. What great honour we have in being associated with the back bone of Canada's fur trade and exploration.
The prestigious European population would not and could not have survived, had it not been for the Native population, that visited the Forts. Between 1792 and 1800, Fort George
and Buckingham House were visited by nine Nations, including the Iroquios, Ojibway, Assiniboine, Cree, Gros Ventre, Sarcees, Blood, Peigan and Blackfoot. It is the mission of the Fort George Buckingham House Interpretive Centre to inform our modern day visitors about the life and times of those in the past.
As well as our summer public hours, the Forts are also offering several Winter Educational Programs. These programs are:
1. MAP IT OUT
Exploration of the Amer-indian methods of mapmaking and how they served the fur trading explorers of the 18th century. It also introduces the student to equipment of the European surveyors, such as David Thompson or Peter Fidler. "Basic Orienteering" is available to senior students.
Lecture time: 30-45 minutes; Grades 7-12.
2. SIGNS OF THE TINES
An introduction to various methods of communications that were used at the time of contact. It is designed to help encourage literacy and interpersonal communications through the use of sign language, Cree and pictographs. Lecture and activity time: 1 hour; Grades 1-6.
3. WEATHER OR NOT
The challenge of weather forecasting, using traditional methods. The student will be encouraged to use these methods and keep an accurate journal as did Peter Fidler. Lecture & activity time: 30 minutes; Grades 2-6.
4. STORIES, NOW AND THEN
To promote literacy & imagination, we provide a storyteller who is versed in the stories of the Cree, Piegan and Blackfoot. Students will hear stories and legends of the First People and will be encouraged to explore the oral traditions. Time, 40-60 minutes. Grades 1-6 - stories from the First People. Grades 7-12, story telling workshop.
5. GAMES PEOPLE PLAY
A basic introduction to the lecture pursuits at the time of the Fur Trade. Students will have the chance to play Aboriginal games and those introduced by the Europeans. Time: 40-60 minutes; Grades 1-6.
Should you need a dinner speaker or to book these programs, please call (403) 724-2611 or fax (403) 724-2003.
Programming costs for implementation are about $2.00 per child. You can support this educational program through the "Friends of the Forts" as mentioned on page 1.
PROPOSED SUMMER
PROGRAMMING
1. July 4-17 ARCHEOLOGIST' TRIBUTE
Ongoing small dig in a cellar depression, half way to Fort George. Steven Andrishak's artifacts on display. Saturday afternoon lectures or films.
Archeology day camp for teens, 13-17 years.
2. July 18 to August 2 THE ORKNEY ISLAND'S TRIBUTE
Photo essay display on the Orkney islands. Speakers and/or films on
Saturday afternoons. Spence-Flett Family Reunion.
3. Aug 1-28 COUNTRY WIFE TRIBUTE
Display about modern Native woman with high profiles, covering their employment areas and their success stories. Talks by Sylvia van Kirk or Diane Maile. Theatre at the Forts, play written by Diane Maile, about Alexander McKenzie, from the Native women's viewpoint.
FUR TRAPPER'S BALL
On Saturday February 13th, 1993, the Friends of the Forts present the 2nd Annual Fur Trappers' Ball at the Elk Point Senior Recreation Centre. Cocktails start at 5.30 pm, dinner at 6.30 pm and the dance to Homer Poitras at 9.00 pm. Dinner will start with Grace by the "Two Factors" and is planned to consist of a smoked fish hors d'oeuvre, buffalo stew and pheasant with baked potato and steamed cabbage, bannock, pickles and cake with blueberry & raspberry syrups. The winning logo for a pin for the Friends of the Forts will be unveiled. Rules are simple - no words or letters, but has to be "period"! Please send your entree to me, marking "Logo Contest" on the envelope. A raffle is in the works with a probable cost per ticket will be $1.00, with the tentative top prize an authentic Hudson's Bay blanket and the draw will be at the start of St. Valentine's Day, midnight, the hour of sweethearts. The cost will be $40.00 pe family or $15.00 per person and for the dance only, $5.00 per person. Earlier in the day, from 12.00 to 4.00 pm, there will be a Dog Sled Run Shaw House to Fort George, sleigh rides, cross -country skiing, bonfire and other activities.
NATIVE WOMEN'S WORKSHOP
AT THE FORTS
On February 18th, 1993, Fort George-Buckingham House will be hosting a Native Woman's Weekend. It will be the first workshop in the series "Healing Through Cultural Re- discovery". Woman from Frog Lake, Kehewin and Onion Lake will participate in a program designed to build self-esteem through learning traditional healing methods. The weekend will include healing & cleansing sweat, a self-esteem workshop program, an ethno-botany study of healing plants and herbs and a re-discovery of traditional crafts or "Healing through the hands". The use of Fort George-Buckingham House Interpretive Centre will encourage support from the neighbouring communities of Frog Lake and Kehewin. It will also provide historical value as the site was one place in history where the native culture began to change. February was chosen as it is in the season of Nipon' or winter, a traditional time for healing and renewal. The full series will end with several cross cultural workshops depicting the time of Fort George-Buckingham house, when the First Nations worked with the Europeans in the fur trade.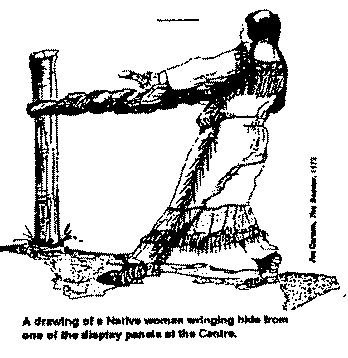 ALBERTA MUSEUMS ASSOCIATION CONFERENCE,
Medicine Hat Lodge, Medicine Hat, AB
Oct 29 - Nov 1, 1992.
The conference and annual meeting wrapped up at noon, Sunday November 1 as a most successful event. This year's theme, "Visions of the Land" interpreting the primary relationship between the Land and Human Activity & Spirituality, was well received. The highlight was definitely the award presented to the Elk Point Historical Society for Recognition of Contribution Award for an Organization, for the Reflections History Book, Mural, Interpretive Centre and the Fidler Family research, the last to result in a book, currently being worked on by Louis Verhagen. The nomination was made by Alberta Culture and Multiculturalism, Historic Services. Many activities over the four day conference provided learning and networking experiences. As well, tours of the city and surrounding area, rich in history, were very enjoyable. A workshop on "marketing museums and historical resources", lead by Michale Lang & Lori van Rooijen, was presented on the first day. A good representation from across the province took in this workshop and Michale, the Executive Director of Lac la Biche Mission Project, was particulary pleased to see so many participants from the Peace River country and the north east (us!). Those attending the first day were able to take tours to Elk Water Hutterite Colony, Suffield and the "Trail of the Redcoats", which included Elkwater, Fort Walsh and Maple Creek. On the second day, many felt, that there were too many interesting sessions running concurrently. Some of these sessions were Perspectives on Native Culture, Museums & the First Peoples, The Fur Trade and Explorers and How the Land Shaped Settlement. More of the same type of sessions were held the next morning, such as Alberta's Revolutionary Leaders and Pioneer Woman. In the afternoon we took tours such as SAAMIS TEEPEE. On Sunday we watched the Awards Presentations and listened to guest speaker Dr Roy Wilson.
Gail Kozicky
ON THE BANKS OF THE NORTH SASKATCHEWAN, RUPERT'S LAND
The remembrance of circumstances, which led me to stand on the banks of the North Saskatchewan River in the vicinity of Buckingham House near Elk Point, will remain as long as memory remains.
I am grateful to Peter Melnycky, Historic Sites Services, Cliff Spence, Sylvia van Kirk, author of Many Tender Ties, Jennifer Brown, author of Strangers in Blood, Geoff Burtonshaw, Charles D. Denney and Judith Hudson Beattie, Keeper, Hudson's Bay Archives, Provincial Archives of Manitoba. I am writing a book about the Orkney and the Hudson's Bay Company connections to four of our family's orcadian ancestors. Two of these men were at or in the vicinity of Buckingham House in the 1790's and the following is a brief account.
James Spence Jr, later Sr, was born circa 1753-54 in Howen in the parish of Birsay, Orkney Islands to Nicol Spence & Margaret Harvey. In 1773, James entered the service of the Hudson's Bay Company, based in York Factory. He served inland in the capacity of labourer from 1773 to 1786. Around the year 1781, he married Nestichio, the daughter of Isaac Batt and a native woman, possibly Cree. The marriage likely took place at or near York Factory. To this union were four children born, James Jr, Andrew, George and Margaret. From 1786 to 1795, James Sr served as a steersman inland from York Factory and from 1793 to 1795, he was left in charge at Buckingham House, as William Tomison was away during that time. In late October of 1795, James fell ill and on the 27th of November, 1795, at only 42 years of age, he died at Buckingham House. He was to buried near the post on November 29, 1795. Nestichio and the four children, left in the care of William Tomison, eventually returned to York Factory and finally to the Red River Settlement along the banks of the Red & Assiniboine rivers in present day Manitoba. James Jr married Mary, a Stone Indian, Andrew married Margaret, a Cree woman, George married Nancy Ward and Margaret married Andrew Setter, another Orcadian..
William A. Flett Jr, later Sr, was born circa 1762 in the parish of Firth, Orkney Islands. He entered the service of the Hudson's Bay Company on the 19th of June, 1782, serving from
August 15 to August 24, 1782 as a labourer at York Factory. On August 24, 1782, he was taken prisoner by the French and taken to France. He later returned to York Factory, and from 1783 to 1809, served as a lab6urer and steersman inland at York Fort. It was during this period, that he was a contemporary of James Spence, and along with his wife Saskatchewan, later baptized Isabella, and their four children Elizabeth (Betsy), Peter, Anne (Nancy) and William Jr, were at or in the vicinity of Buckingham House. During the years 1809 to 1823, William Sr, along with his family, served at various posts on the North Saskatchewan River, 1809 to 1810 as a steersman, 1810 to 1812 as master at Acton House, l812 to 1813 at Little White Earth House, 1813 to 1814 as master and canoe builder at New Factory, 1814 to 1820 as master and canoe builder at Edmonton House. In 1823, William Sr, his wife, and their family retired to the Red River Settlement. There is much to add to the story. Elizabeth married Robert Rowland, Peter married Euphemia Halcro(w), granddaughter of Thomas Halcro, an orcadian, and Anne married William Gibson. I do not, presently, have a record 0 marriage for William Jr. H research continues. My particular family lineage is descended from James I Spence Jr and Mary, a Stoney Indian - a daughter, Barbara married Thomas Wishart, an Orcadian, and from Peter Flett and Euphemia Halcro(w) - a daughter Elizabeth Amy (Eliza), married James Wishart, a son of Thomas Wishart and Barbara Spence .I share the pride of my family in being well connected to the Orkneys, to the Hudson's Bay Company and to Buckingham House, Rupert's Land. It is a family tree, whose roots go deep and whose branches are many. My spare time is devoted to filling in those branches.
Shirley A. Wishart
FAMILY REUNION
The Hallett 200th Year Reunion will be held on July 1 - 4, 1993 in Winnipeg, MB. The Hallett Reunion Committee's address is: 203 Rutland St, Winnipeg, MB, R3J 1x6. Heather Hallett will have her book about the Hallett's - including a few Fidler Branches, finished and will be taking orders.
The James Spence & Magnus Spence and William Flett & Alexander Flett Family Reunion will be held during the 1993 August long weekend, in Elk point, AB. Reserve motel rooms early. The Fort George Motel, tel.: (403) 724-3505, fax (403) 724-3900, has good facilities for campers in addition to their rooms. The Hill Top Motor Inn, tel.: (403) 724-4001, fax: (403) 724-3108 is next door to the Fort George Motel and has a restaurant.
Undoubtedly, there will be a few big weddings that same weekend. All people, who are related to Spence and/or Flett, please contact Shirley Wishart at 332-22 Avenue SW, Calgary, AB, T25 0H4, tel.: (403) 228-3870. The planning has to start now and the names of those are planning to come have to be compiled, in order to plan the activities and to arrange for facilities and volunteers.
The next Peter Fidler Reunion will be during the August long weekend at Batoche, SK or Meadow Lake, SK, 1995. The one after that will be in Elk Point during the August long weekend in 1996. The one following those two, will be a week long affair, split between Lac la Biche, AB, and Meadow Lake, SK, in 1999. Please keep your Family Hats and the maps of Alberta and Saskatchewan.
FUR TRADE FAMILIES
AT THE FORTS
Other Fur Trade people at Buckingham House were William Tomison, Factor; Gilbert Laughton, carpenter & blacksmith; Henry Hallett; James Gaddy; Peter Sabeston; Benjamin Bruce; George Sutherland, Factor , Fort Edmonton, 1797; John Grout; James Swain, Master; George Sutherland, Caithress; John Peter Pawder and Jean (Doyle) Child. At Fort George were Angus Shaw, Wintering Partner; Duncan McGillivray, Wintering Partner; David Thompson, Trader, Surveyor; Alexander Henry the Younger; John McCloud, Clerk; Jackko Finby; John McDonald of Garth; Hughes; Lussier; LaFrance and Boucher. It is realized that this list is lot complete, so we are asking our readers assistance in this completion. We plan family reunions for the descendants of these men, in Elk Point. If you are a descendant or know of any, please contact The Friends of the Forts.
FUR TRADE FAMILY NEWS
As with all families, some bad news must be reported. On October 19th, I received phone call from Margaret Scrase of Dauphin, MB, to lay that Norman Fidler, descendant of James Fidler, Peter's brother, from Bolsover, England died in a car crash. Nobody else was
involved in the accident. At last word, the results of the inquest were not known. Mary, in her letter of November 7th, said that she has a Bolsover Wall Chart to send to me. Thus, when we have a permanent Fidler display or Fur Trade museum, it will be donated and displayed. Any other "Family" memorabilia will be welcome. Mary is very much looking forward to meeting Peggy & Ed Zaraska this summer in Bolsover.
Barry Dune of New Westminster, BC sent the
THIS IS TO CERTIFY THAT LOUIS VERHAGEN OF ELK POINT,ALBERTA HAS BEEN OFFICIALLY ADOPTED BY ALL BRANCHES OF THE FIDLER FAMILY. HEREAFTER AND FOR ALL TIME HESHALL BE KNOWN
AS "LITTLE FIDLER". IN APPPECIATION FOR A JOB WELL DONE, YOUR COUSINS THANK YOU.
SlGNED: Peter Fidler
"adoption paper" above, which I received November 5th. My appreciation has no words .... Thanks cousins I! Little Fidler will do you proud.
Melvina Sanregret of Cold Lake, AB, who earned the Alberta Flag for being the least youngest Fidler at the Reunion, had an operation and is recovering nicely.
We welcome the Redmile's from Richmond, BC. They are from the Charles Branch, via Peter "Peach-Ass" Fidler, via his daughter Emma Jane. Barry Dune sent the genealogical and other data to me, for the book Porta~e from the Past; Peter Fidler Country, which I am compiling with the assistance of the Heritage Grant from the Alberta Historical Resources Foundation. Hereby, any Fidler, who wants to write on the Fidler Family History, any thing at all, is hereby invited to submit it to me. This book is for the Fidlers and I hope to a large extent by the Fidlers.
Joyce Anaka of Canora, SK, who wrote a chapter for the book, called "The Will", based on historical documents by Donald Gunn in her possession, sent further research focussing on the Peter Jr Branch. Ag she says, "it answers a number of questions, but raises many more". Such is the fun of "doing" genealogy!
Richard & Heather Hallett will have moved in their new home by now. Their address is: 3356 Southridge Drive, Castlegar, BC, VlN 4G1, tel.: (604) 365-3565.
Ray Chapman of Calgary, AB, sent me his family genealogical data, which is much appreciated. This data has now been shared with Barry Dune and as soon as I have printed out his data and that which Barry sent, it will be shared with any interested.
Charles D. Denney sent some partial Family Trees of Louise Crane's family, to be completed by her before it can be put in the Glenbow Archives in Calgary, AB. Also we have trees from data supplied by Marion Fidler Wiggins of Kinistino, SK.
Charles Denney also enclosed a copy of an article from "The News for Seniors", by George Hislop, titled "Fort George - Buckingham House He (Hislop) closes with "However, interesting insights into the opening of the Canadian West and life can be gained by a visit to the picturesque area". The statue of Peter Fidler in Elk Point, is prominently displayed in the article.
Calling all Fidlers - at the Reunion you said you were going to send your Family data to me. I am still waiting.
I am interested in the genealogy of the Fidlers, Halletts, Spences and Fletts and other Fur Trade Families who were at the "Forts". I would like to obtain the family histories of all these families, whether they are published, in the process of or not in the works yet. I plan to interconnect all these families and eventually publish this momentous work. Thus, Heather, put me down for one copy, suitably autographed, of course.
Charlene Erb of Lorette, MB, send me a sweatshirt reading "I survived the 1992 Fidler Reunion." My thanks!
On August 25th, Peggy Fidler-Zaraska was on the National CTV news, featuring Peter Fidler and his statue in Elk Point. On September 19th, Peggy, Louise Crane and Walter Roland were on local CTV news, because of the Fall Rendezvous at the Fort Sites. On November 8th, Peggy and Louise were again on local CTV news, this time concerning the Guy Fawkes Day celebration at the Forts.
We hope to further the fur trade era knowledge and attract the descendants of all those who were involved with the Forts.
When you have any Fidler, Hallett, Spence, Flett or any other Fur Trade Family news, for the spring edition, birth, marriage, death, trivia or articles, please send it to Louis Verhagen, Box 765, Elk Point, AB, TOA lAO, tel.: (403) 724-4463.
Many thanks.
May my moccasins cross your path often,
your cousin,
Little Fidler
MEMBERSHIP
We ask you all to become a Friend of the Forts. As you know, many things will have to be added to the Interpretive Centre. The ultimate goal is the reconstruction of the two Forts somewhat more durable than the originals. And by becoming a "Friend", you will continue to receive the "Fidler, Hallett, Spence & Flett and other Fur Trade Family News". Family membership is $25 per calender year and $10 for single. Cheques should be made out to the Elk Point Historical Society-Friends of the Forts and the memberships are tax deductible. Of course, you needn't stop at that, any amount in excess is welcome. We would like to make some significant changes in time for the next Family Reunion.
Geoff Burtonshaw of Calgary, AB, is the first one to pay his 1993 membership and send a donation to the Friends as well. Our gratitude to you and an example for others to follow. Yes Geoff, I agree, that the Fidlers now take pride in their heritage, and I am grateful for my small part in it with the help of many volunteers, the Family themselves, Charles Denney, local historians like Billie Milholland & Russell Williams and ofcourse yourself. All Fur Trade Families have cause to be proud of their heritage. Many more like projects are in the planning stage. 
VOLUNTEERING ALIVE AND WELL
Volunteers are a very important part of a community. Their skills in organization and implementation of projects, as well as their physical effort, determine the success of a club, organization or community institution.
This is certainly true of the Fort George -Buckingham House Interpretive Centre. This first summer of operation relied heavily upon volunteers of the Friends of the Forts Society. This season, the gift shop was run entirely by volunteers. Before the Centre opened, however, these same people were collecting and jurying items from consignors to be sold in the shop. Hundreds of hours of volunteer time were logged. Consignors are to be commended for their response with short notice, of quality giftware. All contributed much to the success of our gift shop.
Besides the Gift Shop committee, our volunteers work in several other committees. Membership cards will be issued to paid-up members for their use at other sites and museums across the province of Alberta, good for half price admissions. The Fundraising Committee is currently having a Christmas Hamper Raffle. This partly is to raise money for volunteer recognition and for projects to involve elementary students. The second annual Fur Trappers' Ball will be held on February 13th, 1993, and sponsored by the Friends of the Forts Society. The Ball will involve our community in a fun event and perhaps, make our group more visible to area residents, thereby inspiring new people to join. The Newsletter Committee is responsible for putting this publication together. News items connected with the Friends of the Forts, the Fort George - Buckingham House Interpretive Centre, and the Elk Point Historical Society, and stories of general interest to members, will be put together twice or three times a year and mailed to members.
Louise Crane, Visitor Services Officer, arranged a training program for Interpretive Volunteers at the Centre, this fall. About a dozen people, including five students from F.G. Miller High School attended these sessions. During the Fall Rendez-vous and a couple of other events, these volunteers got a chance to try out their new skills as interpretive guides. Everyone enjoyed the experience and thought it turned out well.
During our first season, people came out to volunteer their valuable time in many different ways providing the entertainment as dancers, musicians, and famous people of the Fur Trade in costume, and black Powder shooters.
TO OUR VOLUNTEERS, WE SALUTE YOU !!
Your contribution is greatly appreciated. Although 1992 was a very busy year for volunteering in Elk Point, our efforts will be remembered for many years and our accomplishments will be here to enjoy in the Future. Best Wishes for 1993 and
KEEP VOLUNTEERING!
TO ALL OUR READERS.
We wish you all a Merry Christmas and a Prosperous & Healthy New Year. May all your wishes come trire arid our paths cross, often in the New Year.
From your
FRIENDS AT THE FORTS
THE FRIENDS OF THE FORTS, THE ELK POINT HISTORICAL SOCIETY Box 491 ELK POINT, AB T0A 1A0
BI.: (403) 724.2611 FAX: (403) 124-2003