THIS BOOK IS DEDICATED TO THE PIONEERS:
THOSE COURAGEOUS MEN AND WOMEN WHO BLAZED THE TRAILS,
AND THOSE WHO THEN KEPT THE WAY OPEN
SO THAT WE MIGHT FOLLOW AND ENJOY SECURITY AND PROSPERITY.
THEY DID NOT SACRIFICE IN VAIN.
THE ELK POINT HISTORY BOOK IS BORN.
I was delighted when the executive of the Elk Point Historical Society asked me to edit their book, not because I felt any great degree of certainty that I could do the job properly, but because I wanted very much to be a part of their exciting project. Now, hundreds of hours of reading, writing, typing, sketching, cutting, measuring and taping later, I am well aware of my limitations as an editor, but even more excited about the book.
As I read and organized the manuscripts, it became increasingly apparent that others had done an unbelievable amount of work before the material came to me. When the galley sheets came back from the printers and it was time to do the mock-up, many of these same people devoted nine hours a day for two weeks to that slow, demanding task. Their efficiency greatly facilitated my work, and lam pleased to acknowledge my indebtedness to them.
The material that appears in the first three Sections of this book was researched insofar as reliable records were available. When no relevant records could be found, the recollections of resource persons was the source used. This seems entirely legitimate to me as the title of the book indicates clearly that it is a history of "Reflections". Part IV is largely the personal memoirs contributed by individuals. As editor, I did not presume to question the veracity of anything appearing therein, and it appears as submitted as far as the content is concerned.
Since the history of a community is an ongoing process any segment of which would make an interesting book, I count myself fortunate to be living in the period chosen for inclusion in this one: that it comes too late for many old friends is regrettable.
For me this has been a labour of love. I hope that you will read it with pride and pleasure.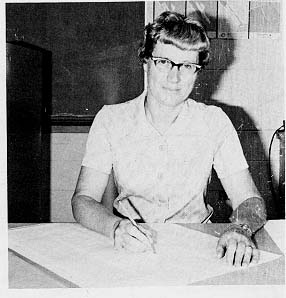 Mary H. Bennett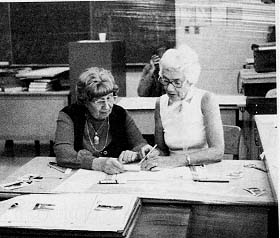 Bea Sumpton and Ila Borowsky planning layouts
Muriel Holthe and Bea Sumpton selecting pictures
Lawrence Sumpton, reader and photographer.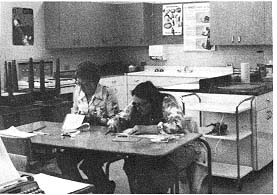 Bea Williams cutting, Sherry Pelech taping.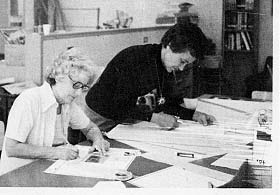 Anna May Warren printing captions, Nellie Merrick cutting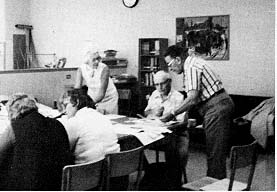 Paul Stepa (right) took these pictures for us.
Sid Holthe, sizing some of the 1080 pictures used.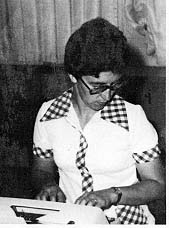 Myrna Fedorus typing captions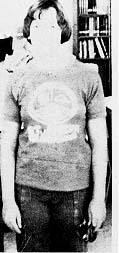 Rilla Higgins, reporter and photographer.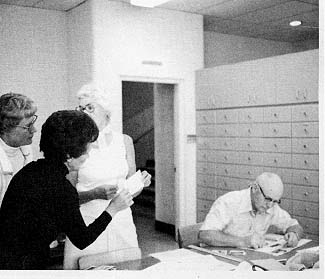 Once in a while the women held a conference, but we never let the men raise their heads from their work!  Martin Aarbo helped too, but missed picture taking day.
And as the evening shadows lengthened, we were still at it. Sid and Ila standing, Muriel seated.
ACKNOWLEDGEMENTS
It is not possible to list and personally thank all of the people who have been involved in the preparation of this history: there are the directors and committees of the Historical Society, the researchers, the writers, poets, typists, local government councils and organizations and individuals who donated funds, the Pioneer Circle and New Horizons, the administrators and staff of Provincial Archives, staff of various departments of the federal and provincial governments, the Legislative Library staff, contributors of family histories and articles and pictures, proof-readers, the editor, the many people who offered encouragement, showed interest and gave support on so many occasions, the organizers of Elk Point Night, persons who offered their expertise to arrange the order of material in the book, the representative of the printing firm,-the tabulation could go on and on. To each we say in deepest sincerity, please be aware that your part has been appreciated and valued, and above all, consider too that this is your book.
We offer special thanks to the following people and organizations whose contributions exceeded fifty dollars:
Mr. and Mrs. Martin Aarbo
   Mr. and Mrs. John Bennett
   Mr. and Mrs. Max Borowsky
   (Mrs.) Mabel Dumont
   Mr. and Mrs. Ronald Flanders
   Mr. and Mrs. Dennis Holthe
   Mr. and Mrs. Sidney Holthe
   Mr. and Mrs. Marshall Pelech
   Mr. and Mrs. L. Sumpton
   Town of Elk Point
   County of St. Paul
   Elk Point Hotel
   Elk Point Gas Company