HERCULES PLANTE
I, Dory Plante, of Edmonton, son of the late Henry Plante of St. Edouard, and grandson of the late Hercules Plante of Elk Point and St. Edouard, have compiled some information to the best of my knowledge regarding these people.
My great grandfather, Joseph, was also a homesteader in the Dog Rump Valley, on the S.W. 36-57-8-W4. It may be noted he applied for this homestead July 11, 1907, at the age of 94. He received his patent Sept.24, 1910, at the age of 97. He died at the age of 99 on his homestead.
Joseph had migrated from Ste. Marie de Beauce, P.Q., to Crookston, Minnesota, in 1849. Here Hercules was born, also here he married Rosanna Ste. Marie, with whom he raised six children, four of whom were born here, namely Anne (Mrs. Odilon Paquin), Charley, Ovila, who died at the age of twelve, and Louise (Mrs. Xavier Preville). The younger two-Cora (Mrs. Hugh McLean), and Henry, were born in Beaumont, Alberta, where Hercules had migrated with his family and his father to take up a homestead in 1894.
In 1907 the stories heard of the great ranching possibilities in the Dog Rump Valley lured Hercules and his family to move once more. Having obtained his homestead in Beaumont, he was unable to file in St. Edouard and it was then that Joseph applied for the said land stated earlier.
At approximately this time Hercules acquired the Elk Point Hotel and livery stable. These premises he operated with his family till they were destroyed in a fire some years later. It was often said that it was there the Plante girls had become such famous cooks, while Hercules had become a famous horse trader.
After the fire, Hercules settled with his family on his father's homestead, where he lost his wife in 1916. He died in 1928.
By now the girls were all married and the boys, Charley and Henry, had settled also in the Dog Rump Valley and made many friends in the Elk Point and St. Edouard regions.
All the children are now deceased but are still remembered by many.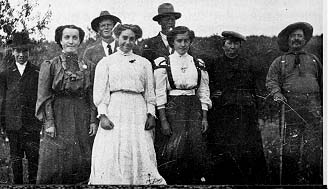 FRONT ROW, Left to Right: Henry Plante, Ann Plante (Paquin), Louise Plante (Preville),
Cora Plante McLean, grandparents Rosanne Plante and Hercules Plante, missing is Charlie Plante.