The J.B. Caskey family came to our district in 1907 from the State of Iowa. Jesse, the head of the family homesteaded the quarter section of land immediately to the west of where Fred McAleese now makes his home. His son Oran, homesteaded the quarter section that Fred lives on. They farmed in that district for a number of years and also operated the Caskeyville post office out of their home at the same time. In 1916 Oran decided to try the hotel business in Elk Point. He built a two storey building on the lot that now houses the Beattie residence. This hotel contained a number of rooms upstairs and a kitchen and dining room downstairs. The following year Oran sold the hotel to his mother, Mrs. Frances "Ma" Caskey.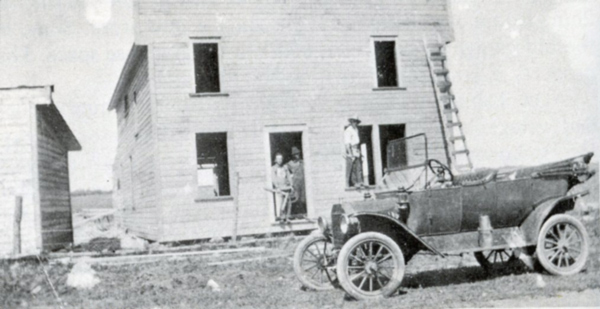 Building the Caskey Hotel 1917
Mrs. Caskey supplied rooms and meals to the public at this location for a good many years. She was known far and wide for her delicious home cooked meals and her customers always came back. When the railroad arrived in 1927 she had the hotel moved from the east end to the main street location which now houses the Empress Restaurant. She remained in the hotel business until 1938 and then sold out to Stanley Cromwell. At that time it was known as the Pioneer Hotel. During the following years it changed hands many times and was used solely as an eating house. At one time it even housed the H.F. Martin bakery as well as a restaurant.
Mrs. Caskey retired in 1938 and remained in our village until her death in 1951. Without a doubt Mrs. Frances "Ma" Caskey was one of Elk Point's most colorful pioneers.
Another early hotel was the one operated by Hector Plante in the vicinity of where our United Church now stands. It supplied rooms to the travelling public as well as meals. It was destroyed by fire about 1923 and was never rebuilt.
Also about this time our first Chinese restaurant was in operation across the street (south) of where our tourist booth now stands. It was a large two storey building with the cafe on the ground floor and the owner's sleeping quarters on the second floor. It was owned and operated by Sam Lee. This cafe closed about 1926 and was later moved to a west location and used as a residence.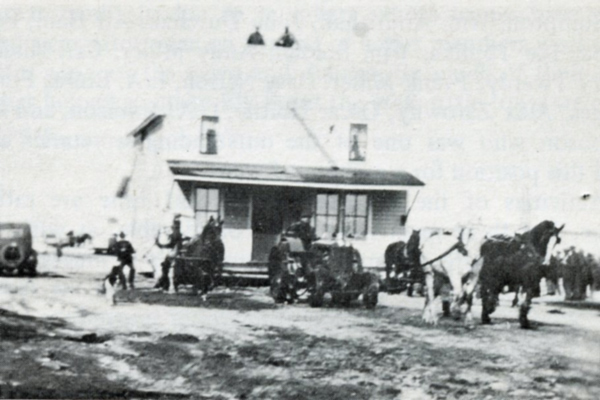 Grant Arnold moving the Caskey Hotel in 1927
With the coming of the railroad in 1927, another hotel was built by a Waskatenau resident. Shortly after it was built it was sold to William Yakimec. It was called The Alberta Hotel and at a later date renamed The Elk Point Hotel. In 1937 Mr. Yakimec bought the Donald Hotel in St. Paul and his Elk Point hotel was rented out to Stan Cromwell who operated it until 1942, he then left Elk Point, and then operated another hotel.
During the early 1930's Raymond Keitges' old store building was moved from the old section of Elk Point to the corner lot that now houses the present day Co-op Store(1999).
It was remodelled into a cafe and opened shortly after by Mah Suey. He operated this cafe for only a very short time and sold it to George and Joe Mah. Early cafes were constructed much differently than the cafes of today and this one was no different. It had a number of high walled private booths used for the serving of meals, and small orders were served from a high counter. The customer sat on a high revolving, unpadded stool.
  There was nothing fancy about the early country restaurants and no one seemed to complain, all they wanted was a good meal.
When the Mah's purchased this restaurant, the depression was at its peak and they had a difficult time showing a profit. Money was scarce and many were unemployed, however, some how or other Joe got over the rough times and remained in our district for many years.
The following information was derived from a Joe Mah restaurant menu printed in 1933. The highest priced meal on this menu was a T-Bone steak priced at 55 cents, with a bowl of soup, bread and butter, coffee and desert supplied at no extra cost. If you thought this was too much you could order hamburger steak and onions for 30 cents, also with your soup, coffee and dessert thrown in. Your breakfast choice of bacon and eggs or ham and eggs came to 35 cents and it also included your toast and jam as well as your coffee. Coffee and tea was 5 cents a cup and milk 5 cents a glass. Separately your bowl of soup was 20 cents however you had to pay an extra 5 cents for bread and butter, a large double scoop of ice cream in either a cone or dish was listed at 10 cents, to further reduce the price of your meals you could buy a $6.50 meal ticket in advance for $5.75.
These meal prices looked attractive however they were not. The average person was lucky to make $1.00 a day wages in 1933. Farm laborers were paid 50 cents per day, working long hours, usually their room and board was thrown in. During the winter months many laborers worked for their room and board. In most cases their supply of tobacco was provided free by the farmer he worked for.