ELK POINT 4-H BEEF AND HEIFER CLUB
Submitted by Christine Ockerman
The Elk Point 4-H Beef and Heifer Club began in 1965-66 as the Elk Point Beef Club with Mr. Don Pinder as the leader. Then in 1974-75 the Heifer Club was added with Pat Swedgan and (Mrs.) Mary Nelson as leaders. There have been a total of six (6) leaders since the beginmng including Mr. Don Pinder, Mr. Ray Hellquist, Mr. George Pinder, Mr. Albert Boratynec, Mr. Ronald Flanders and Mr. Clifford Swedgan. The club's membership has ranged from eleven to twenty-four. The age limit is from ten to twenty-one.
For each club member, there are a number of activities to participate in throughout the year such as Skate-athon, dances, curling, public speaking, toboggan parties, an annual trip to a place of interest to the members such as the Canadian Rodeo Finals, Ice-Capades, Museums, Planetarium, etc. and the spring calf tour as well as feeding your 4-H calf every morning and night.
In the spring, around the end of May, the club holds its Achievement Day at the A. G. Ross Agri-centre. Before the center was built, it was held in the open ice rink. They compete for champion, reserve champion, showmanship, grooming, record keeping and steer judging. The winners receive trophies, kits, etc. which are generously donated by the various residents and businesses around Elk Point. Then about a week later, the club goes to St. Paul for the show and sale where they compete against St. Paul, Heinsburg, St. Lina, St. Brides, Therien and Sugden. Here the clubs compete for the same thing along with group participation for Club Arrangement and Pen-
of Five. Then in the afternoon, there is the sale of the animal which everyone worked on throughout the winter. Mr. Don Hutton has been the auctioneer for some time. The Grand Champion is sold first, the Reserve Champion next, and so on. Some of the top Grand Champion calves have sold for $1.02 or $1.01 a pound. Then the price usually falls to about seventy cents and below. The average is between fifty cents and sixty cents.
The show and sale is held at the Polaris Arena in St. Paul. It used to be at the Auction Market but was changed six years ago.
Trudy Nelson 5 calf, Reserve Champion brought her a trophy, presented by Ed Bieber,
Trudy looks unhappy because her calf just trampled on her foot.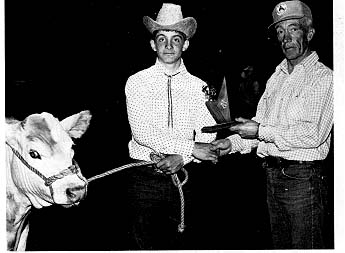 Arnold Ockerman presents Ockerman trophy to Gary Bieber for proficiency in judging.