Early HOCKEY
by L. W. Sumpton
This popular spectator sport is universal all across Canada, even in such comparatively warm and definitely wet areas as our west coast.
We find it hard to collect data on the early days of hockey in Elk Point. Research is difficult, owning to the fact that there just are not that many old timers around.
First remembered hockey was played between pick up teams on the lake, or slough a mile east of town. This would involve clearing the snow off an area approximating the size of a regular arena. It may or may not have had low boards around the perimeter to keep the puck from getting lost in the snow. It did anyway, with a rising shot. The kids would scamper around and retrieve it, if possible. A body check would almost certainly result in one or both of the competitors landing in a snow bank. I don't know what they used for blue lines, but I remember the goals were constructed of a wooden frame work with chicken wire for mesh. This construction led to quite a few disputed goals, as a puck striking the somewhat rigid chicken wire would rebound right back out again, unless it hit the goalie in the back. Martin Aarbo tells of some of these shenanigans.
About the mid-twenties we built an open air rink located just south of the present Clinic building, where George and Irene Jacobson now live. Rinks were pretty well standardized, with a board fence about three and a half feet high. This kept the players inside of the playing area and fewer pucks were to be found in the spring. The spectators, risking an errant puck in the face or a carelessly waving stick, would line the outside of the fence.
The old skating rink of 1927, situated behind the present clinic.
This sort of spectator sport had something added that modern hockey fans do not enjoy, that is, it was quite easy to reach across the boards and grab the stick of a player, or the player himself, if he were the "enemy".
The referee had to handle the game all by himself. No linesmen. One had to be a pretty fast skater to keep abreast of the play as it moved from end to end, and woe-be-tide the blind so-and-so if he missed an off-side or called one that wasn't.
Nobody had a stop watch so we played twenty-five minutes elapsed time per period, plus or minus a few seconds. Regulation whistles were not too good; they had a tendency to freeze up, so we used a school bell or a cow bell.
To signal the end of a period the time-keeper would yell to the referee that time was up. He might not hear him until the second or third yell. If a goal was scored in the meantime, there would be trouble. The referee, by this time, has another of his senses blunted; he is also deaf, according to some of the fans. Some of them had suspected that he was blind right from the beginning.
These rinks were permanent structures; they weren't taken down during the summer. To flood the rink, water had to be hauled in barrels, unless a farmer would lend his threshing tank wagon.
Old time hockey used seven players instead of six. The extra player was called a rover; it was his job to be all over the ice but specifically to cover for a regular player who was out of position.
There does not seem to be any evidence of league hockey in those far-off days, probably owing to the transportation problem. There were tournaments at St. Paul, Bonnyville, Vermilion, Elk Point, and possibly other points.
I recall an incident at a St. Paul tournament when Elk Point was playing St. Paul. We had only one extra player, whereas St. Paul had about three complete forward lines. The score stood at l~0 in favor of Elk Point, well into the third period. Our boys were "bushed" and trying desperately to hang onto their one goal lead, with St. Paul playing every man up inside our blue line and buzzing around our net like hornets. Our boys shot the puck out at every opportunity, waiting for the clock to run out. One St. Paul player would go back for the puck, with the other four staying inside our blue line. This happened repeatedly, but no "offsides" were called by the referee, despite the fact that all three Elk Point fans were bursting their lungs and developing apoplexy, also exhausting our vocabularies, profane-wise. The inevitable result was, game over, St. Paul 3, Elk Point 1.
An interesting sidelight was a fracas behind our goal. One of the "enemy" had our Sam Soldan down on the ice, and was pommelling him, but good. Sam wore glasses and that infuriated the whole Elk Point contingent of fans to such an extent that we piled over the boards to join in-Dr. F.G. Miller, Stan Cromwell and I. I got there first, got a good hold on Sam's attacker and yelled that, if he didn't desist, I would knock his so-and-so head off. It was then that I heard a voice behind me say, "You will, eh?" Well, I looked up and there stood Stan Cromwell with his fist doubled up, all set to let me have it. He couldn't recognize me from behind, with a big fur coat on that I had borrowed from Dr. Ross. He recognized me in time to hold the punch.
In the meantime, over on the other side of the rink, Richard, Dr. Miller's youngest, was involved in a fight with a St. Paul kid.
For about four years, we had an inter-village feud going, about 1938 to 1942. The town team versus the high school; high school sponsored and coached by Dr. F.G. Miller; town team by W.E. Caskey. These kids were fast and usually defeated the town by a ratio of four out of five. I was referee-in-chief, no linesmen. I got my exercise, along with an unusually high level of verbal abuse. All these kids had parents, and parents traditionally are not noted for their unbiased reactions. Even coaches can be just a bit biased.
About ten years ago, Dr. F.G. Miller hosted a reunion of that high school team at his home. I think the occasion was the doctor's birthday. This reunion was enthusiastically attended. Frank Dunkin came from B.C., but James Millar was, I think, the only one missing. I was invited as a matter of courtesy, and a belated attempt to, in some small way, make amends for all the abuse I absorbed as referee.
The accommodation for a "dressing room" was a building about 12 x 20 feet, unpartitioned, which served both visiting and home teams, the coaches, the referee, and as many spectators as could crowd in. It was heated with an airtight heater, burning wood. We had electric lights, supplied by courtesy of the power plant of Dr. Miller and Dr. Ross.
Bill Soldan, I think, was caretaker of the ice and as in the case of the curling rink, made an excellent job of it. Bill did all of these extra jobs in addition to his regular garage work. He is the only person I have ever known who successfully defied all the laws of nature by NOT sleeping for an entire winter. He was one of a kind!
From a newspaper dated February 4, 1926, I quote:
Frog Lake team defeated Elk Point on the Elk Point rink in a game played on January 31, 1926. The teams lined up as follows: Elk Point-Dr F.G. Miller, Dr. A.G. Ross, George Bartling, Harry Ramsbottom, W. Hobden. Frog Lake-Jack Litchfield, T. Kjenner, F. Kjenner, Fred Vasey, Fred Grainget, J. Gregor. A return match will be played February 7."
Only five Elk Point players are listed, but no mention is made of a player missing.
A newspaper report dated November 18, 1926:
Rink to Open
Elk Point Rink Association was formed with E. Bullis president and L. Lambright secretary. The land was levelled off by Grant Arnold and a well drilled right in town to flood it.
Another newspaper report December 7, 1932:
"The Elk Point Hockey Club visited St. Paul Tuesday evening for the opening of the season for the local club. The personnel consisted of F. Keitges, goal; G. Arnott, J. Jensen, R. Caskey, defense; J. Aarbo, M. Aarbo, H. McQuillan, J. Suter, 0. Holthe and W. Milholland, forwards. The game was played on heavy ice, which left little opportunity for good passing plays.
No score at the end of first period. Second period, St. Paul scored three unanswered goals in rapid succession. Third period, St. Paul another goal, and Elk Point picked up two. Final score 4-2 for St. Paul. Five minor penalties were handed out during the game." The news account also lists the entire Elk Point cheering section, consisting of E. McDonell, L. Sumpton, N. Fenton, Rev. Whaley, and Dr. and Mrs. F.G. Miller.
From the Elk Point Community and High School Journal, December 7, 1932, I quote.
"On Sunday the Elk Point hockey team made the trip to Bonnyville to play. They were taken by Mr. Sumpton and Dr. Miller. Although ten minutes of overtime was played in addition to three fifteen minute periods, the final score was 0-0. The ice during the first two periods was very heavy and made good hockey an impossibility. During the final period and the overtime, both teams exerted themselves to score but with no success. Bonnyville intends to return the game next Friday evening. Those who made the trip were H. McQuillan, M. Aarbo, 0. Holthe, R. Caskey, G. Arnott, W. Heisler, J. Suter, Frank Keitges and W. Milliolland."
I have one more item to add from the writer's memory, dealing with another trip to Bonnyville to play hockey. Reverend Sam Marshall was our United Church resident minister at this time, which would place this event somewhere between 1934 and 1938. Mr. Marshall was, among other things, an enthusiastic hockey fan. He offered to lend us his car for the trip to Bonnyville, myself to do the driving. There was lots of snow that winter and, as most of us know, there were only trails for roads, and in winter nobody drove across country to Bonnyville. The road between Elk Point and St. Paul was usually open and the road between St. Paul and Bonnyville like wise. Now, to get a proper perspective of the situation as it then existed we must picture a trail through the snow consisting of two wheel tracks twenty-two miles to St. Paul and forty-two miles more to Bonnyville. The night was cold, probably in the 25 to 30 below neighourhood. Car heaters had not yet been invented. Well, with a at full of people, and all of them breathing, it didn't take long for the windshield and side windows to frost up so that t was impossible to see. The only answer was to roll down he window, stick my head out, into that frigid air. We got into St. Paul and had frost shields installed. That solved the seeing problem. We arrived in Bonnyville without further incident and played the game. I don't remember any part of it or who won. We decided that, rather than drive that sixty-our miles around by St. Paul, we would take a chance across country (only thirty-two miles). I don't remember how long it took nor how many times we were bogged down in snow to the door handles, but we must have made it because we are here.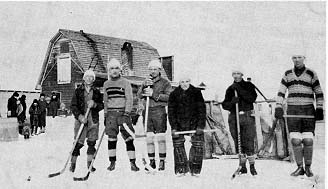 ELK POINT HOCKEY TEAM, ABOUT 1925
LEFT TO RIGHT: Harold Hobden, Augie Bartling, George Bartling, Russell Milholland, Bill Hobden, Bill Bartling.
The players changed their skates in the Chinese restaurant seen in the background.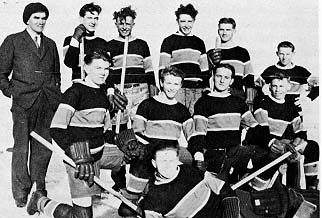 JUNIOR HOCKEY TEAM 1936-37
BACK ROW, Left to Right: Dr. F G Miller coach, James Caskey, Sam Soldan, James Millar, George M£ller Frank Dunkin.
KNEELING ARE: George Johnson, Jim Miller, Steve Andrishak, Floyd Cromwell and Sid Holthe.
I have hesitated to name players on account of the almost certainty of missing someone. However, the following are quoted from memory, in addition to those already mentioned-K.C. Miller, George Miller, George Johnson, Sam Soldan, Steve Andrishak, James Millar, Frank Dunkin, Wilfred Etherington, Jim Caskey, Floyd Cromwell, and Sid Holthe. These are the hot shots of the 1936-37 era.
If there are errors or omissions or somebody left out, please accept our apologies.
Elk Point now has a fine new arena, which was built in 1973. It has a seating capacity of about 1200, is heated, and has a snack bar, women's and men's washrooms, visiting players and home team dressing rooms, referee's room, utility room and ticket wicket.
At the dedication ceremony, the complex was officially named "A.G. Ross Agriplex". The doctor had died some years previously, so his widow, (Mrs.) Ivy Ross, stood in to accept the dedication. She made a short and appropriate speech, delivered in a dignified manner.
A. G. Ross Agri-plex, built in 1973.
The reason for the name "Agriplex" is that the arena is administered by the Elk Point Agricultural Society. It is situated just north of the F.G. Miller High School.
The citizens of Elk Point are happy to have the opportunity to honor a man of such stature as Doctor A.G. Ross.
At this writing, there is a movement on foot to add an ice plant, so we will no longer he plagued with soft or no ice, particularly in a "banana belt" winter such as we have enjoyed this winter.
Hockey in Elk Point is still enjoying great popularity as evidenced by the fact that there are now, in addition to the Elk Point Bucs, no fewer than ten teams, graduating in age brackets from six years up to the seniors.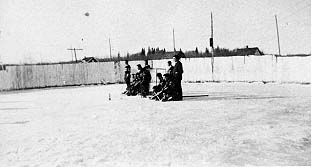 Open air rink, about 1937.