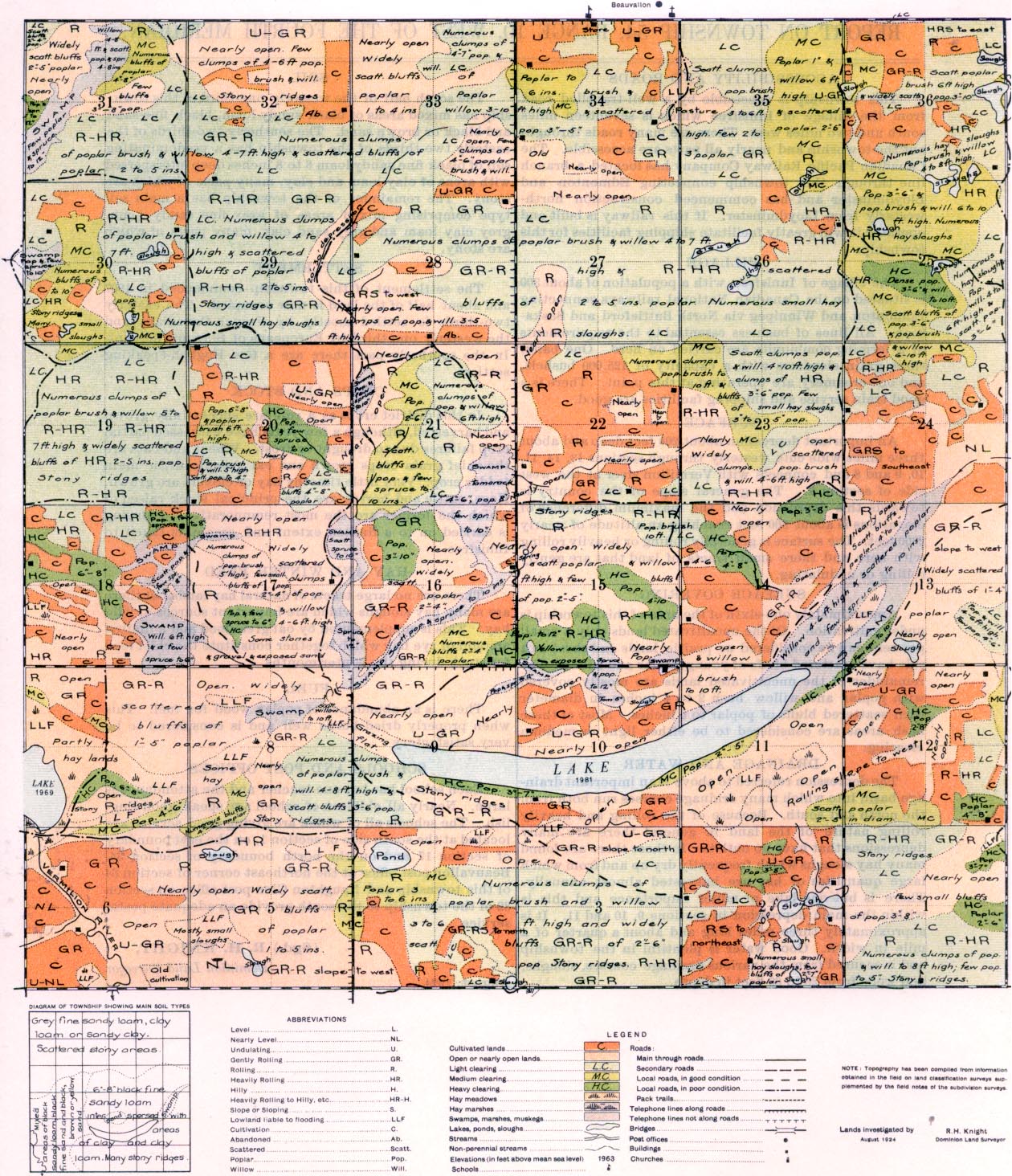 REPORT ON TOWNSHIP 54, RANGE 10, WEST. OF THE FOURTH MERIDIAN
ACCESSIBILITY AND ROADS
This township is accessible by a well-travelled road from the village of Innisfree which is seventeen miles south and two miles west. There are many roads through out the township and nearly all parts are accessible. The Canadian Pacific Railway Company has located a branch line through this township connecting Edmonton and Lloydminster and has commenced construction north westerly from Lloydminster. If this railway is built and operated it will greatly facilitate shipping facilities for this township.
VILLAGE
The village of Innisfree, with a population of about 300 is situated on the Canadian National railways connecting Edmonton and Winnipeg via North Battleford and Saskatoon. All lines of business essential to the requirements of a farming community are carried on here. One bank, three grain elevators with a capacity of 125,000 bushels, and one creamery are operating at this point. There is a good train service and shipping facilities are good.
SURFACE
An important depression about 200 feet deep and about three miles wide cuts westerly through sections 13, 14, 11, 10, 9 and 8 and connects with Vermilion river at the west side of section 7. The general slope of the country is towards this depression and the
maximum difference of elevations is about 300 feet reaching an altitude of nearly 2300 feet. The surface is generally rolling or heavily rolling with here and there small tracts of land that are gently rolling or undulating.
SURFACE COVERING
Approximately one-sixth of the area of this township is under cultivation. Of the uncultivated lands only a small per cent can be considered as prairie lands and these as a rule have scattered bluffs of young poplar and willow. The remainder of the uncultivated lands are mostly covered with poplar and willow bush 2 to 4 inches in diameter with scattered bluffs of poplar to 6 inches. Most of these bush areas are considered to be either light or medium clearing.
DRAINAGE AND WATER
The depression referred to above is an important drain age basin into which many drainage courses run both from the north and south. Because of the rolling and heavily rolling nature of the land in general there are many depressions that have no outlets. In these there are found many hay sloughs which frequently dry up and from which large quantities of hay are harvested almost annually. There is but one lake of minor importance and this is within the main depression in sections 9, 10 and 11. It is approximately three miles long and about a quarter of a mile in width. Good water is plentiful in the township and is secured from the various drainage courses, sloughs, and wells from 20 to 60 feet in depth.
SOIL
The south half of the westerly one-third of this town- ship has mixed areas of black sandy loam, black fine sand and black or
brown sand. The southerly two-thirds of the easterly two-thirds of the township has a predominating soil of black fine sandy loam 6 to 8 inches deep interspersed with areas of clay loam and clay, many parts of which are stony. The remainder of the township has a main soil type comprising mixed areas of grey fine sandy loam, grey clay loam and grey sand clay, many parts of which are stony.
SETTLEMENT
The settlement of this township commenced in 1907 and about half of the land is now occupied. The e4sterly two-thirds is settled mostly by French-Canadians and the westerly one-third by Europeans of Slavonic descent. In the southerly part there are a few English-speaking settlers.
CROPS AND STOCK
In this district crops as a rule are successfully grown and harvested, although a few years have witnessed partial crop failures due to drought or frost. Wheat and oats are the chief grain crops grown and oat greenfeed the main fodder crop. Very little timothy hay or clovers are grown. Hogs, cattle and horses are the principal stock raised of which the former are the most remunerative. Dairying is carried on to a limited extent and cream is taken to Innisfree.
HAY AND WINTER FEED
There are no large tracts of natural hay lands but there are many hay sloughs which are important sources of wild hay. This is supplemented by oat greenfeed and a limited amount of rye hay which together constitute the chief feed for stock during the winter months.
FUEL
There is an abundance of poplar wood for fuel. This when properly dried burns well and is considered to be very satisfactory
SCHOOLS AND POST OFFICES
Each school has but one teacher and the attendance is large. Nearly all children of school age speak good English. The schools all of which are giving good service are located at the south side of section 1, on the east boundary of section 17 and on the north boundary of section 34. Beauvallon post office at the northeast corner of section 34 of this township and Naughton Glen post office on section 32 of the township to the south provide an adequate postal service.
August, 1924
(Sgd.) R. H. KNIGHT, Dominion Land Surveyor