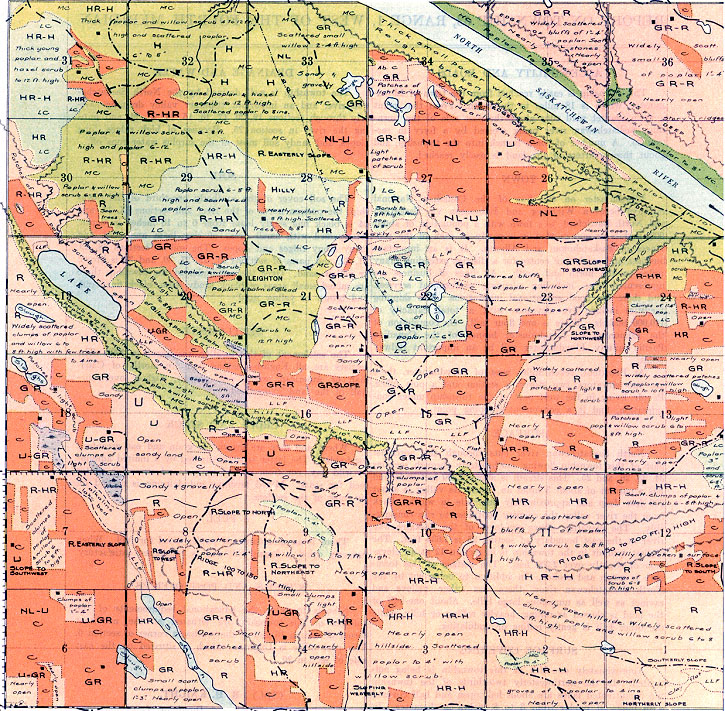 REPORT ON TOWNSHIP 53, RANGE 2, WEST OF THE FOURTH MERIDIAN
ACCESSIBILITY AND ROADS
This township is reached from either Kitscoty or Blackfoot. The former is 14 miles south and one mile west and the latter is 17 miles south. Well-travelled roads lead from either point. Kitscoty is the principal business place for the farmers of this township, although Lloydminster is with-in a reasonable distance.
The Canadian Pacific Railway has located a branch line between Edmonton and Lloydminster which passes through the southwest corner of this township. Construction work was begun on this line during 1924. When it is built and operating, shipping facilities will be greatly improved. The township is well supplied with roads, and all parts are accessible.
VILLAGE
The village of Kitscoty, situated on the line of the Canadian National railways between Winnipeg and Edmonton, via Saskatoon and North Battleford, has a population of about 200, and all lines of business essential to the needs of a farming community are represented here. The shipping facilities are good and there are five elevators with a total capacity of 285,000 bushels of grain. There is a daily passenger and mail service to both cast and west, as well as a local mixed train to or from Edmonton each day.
SURFACE
The surface of the land in this township is generally good, being undulating, gently rolling, -and rolling. In the northerly one-third of the township there are, however, six or seven rough sections which are rolling to heavily rolling.
SURFACE COVERING
Approximately one-fifth of the land is under cultivation. The remainder is open, with widely scattered bluffs of young poplar and willow, and a few bluffs with poplar to 4 inches in diameter.
DRAINAGE AND WATER
The most important drainage is by a stream which flows intermittently toward the northwest through sections 2, 11, 10, 16, 21, 29, and 31. It drains about two-thirds of the township, and is in a broad, open valley 200 feet deep and about 3 miles in width. Good water is secured from wells, most of which range in depth from 70 to 125 feet.
SOIL
On the northeast half of the township, the predominating soil of black fine sandy loam from 6 to 10 inches in depth is interspersed with areas of clay loam and clay, and there are many stony ridges. In sections 3, 4, 5, 6, and parts of s6ctions 7, 8, 9, 18, 19, 30, -the soil is black fine sandy loam with scattered areas of black loam, and with clay or clay loam subsoil. The remainder of the township has mixed areas of black fine sandy loam and black sandy loam.
SETTLEMENT
The settlement of this township was begun in 1905. At present about two-thirds of the land is occupied. A Provincial Government telephone system has been constructed through the southerly part of the township, and .many farmers enjoy the use of this service. The settlers are English-speaking and most of them are of Canadian or American origin.
CROPS AND STOCK
Wheat and oats are the chief grains grown while oat greenfeed is the principal fodder crop. Barley and rye are grown to a limited extent and are used for feed. Mixed farming is engaged in by most of the settlers, hogs, cattle, and horses being raised. Dairying is found profitable by many.
HAY AND WINTER FEED
A limited amount of hay is secured from the lowlands, dried-up sloughs and upland prairie. The most important winter feed is, however, oat greenfeed, oat bundles, and straw.
FUEL
Wood is used for fuel, a limited amount of which is obtained from the poplar bluffs within the township, and the remainder from the township to the north.
SCHOOL AND POST OFFICES
The schools each have but one teacher and are well attended. They are situated at the southwest comer of section 4, the northeast corner of section 23, and the northwest comer of section 29. The post offices are Belleamp and Tring.
July, 1924.
(Sgd.)
R. H. KNIGHT,
Dominion Land Surveyor.