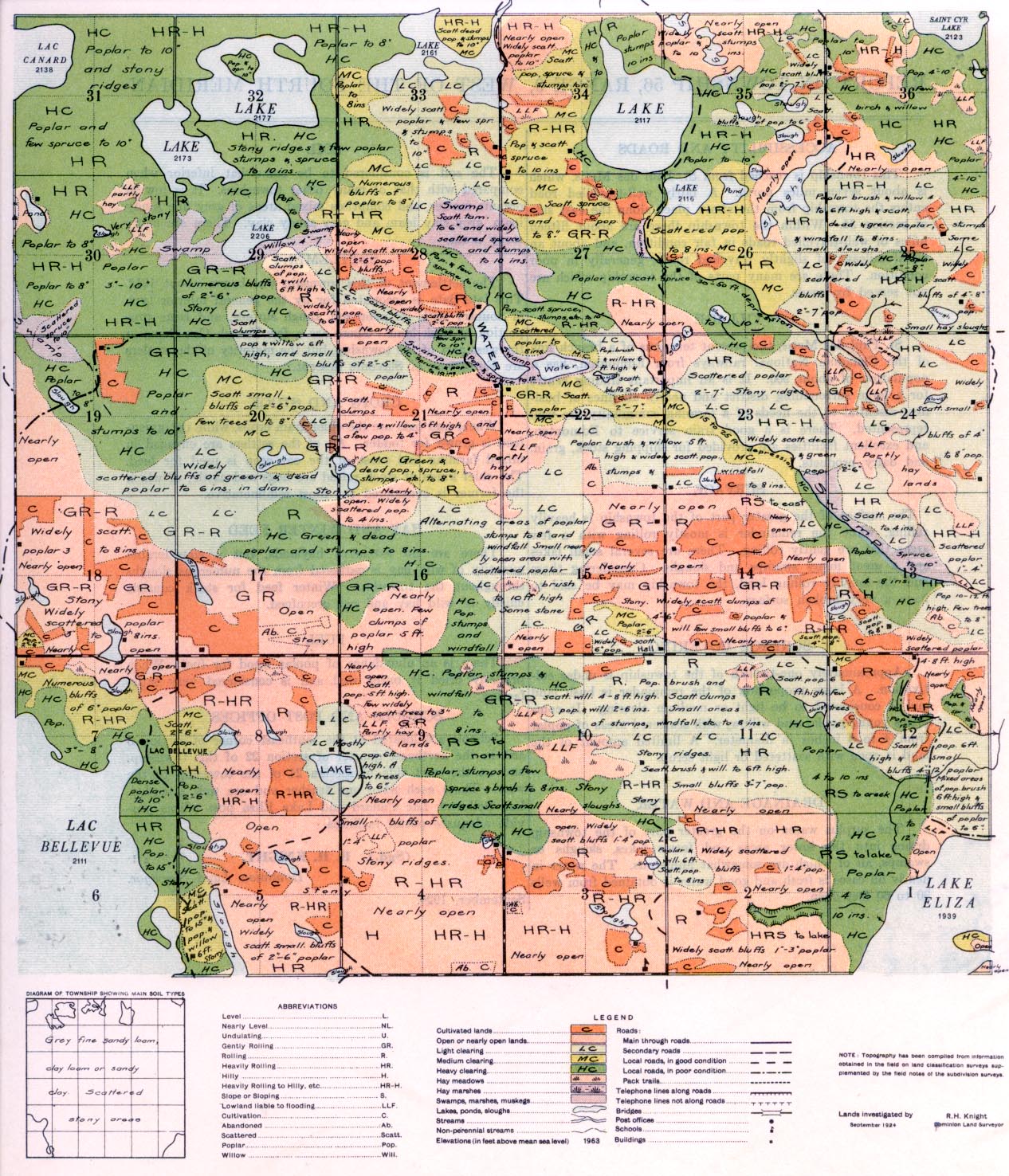 REPORT ON TOWNSHIP 56, RANGE 9, WEST OF THE FOURTH MERIDIAN
ACCESSIBILITY AND ROADS
This township is reached from St. Paul des Metis, which is about seven, miles north. A fairly well-travelled road enters the township from the above place along the east side of section 34. Within the township there are about fifteen miles of well-travelled roads in fair condition, and about an equal mileage of slightly, travelled roads, generally in pool condition. There are many parts of the township which are not served by roads.
VILLAGE
St. Paul des Metis, the present terminus of a branch line of the Canadian National railways from Edmonton, has a population of about 900. It is an important trading centre for a large surrounding district and nearly all lines of business essential to the needs of a farming community are well represented. There is a good train service to Edmonton and excellent facilities are provided for shipping stock, grain and dairy products.
SURFACE
The surface of the greater part of the township is heavily rolling, while the remainder is mostly rolling with a few areas that are gently rolling. There are several small lake, and a great many swamps and sloughs. Considering these and the heavily rolling land, the township may be said to have a very broken surface.
SURFACE COVERING
Approximately one-twelfth of the township is under cultivatiom A large proportion of the remainder is bush land and -is considered to be light or medium clearing. It comprises young poplar and willow, with scattered areas of poplar from 4 to 8 inches in diameter. A limited amount of the land is open with scattered or light scrub.
DRAINAGE AND WATER
The surplus water on the greater part of the township drains into the lower areas and forms lakes, sloughs or swamps, all of which are somewhat numerous. The water in nearly all cases is fresh and good water is obtained from wells 30 to 60 feet deep.
SOIL
The soil is considered to be somewhat inferior when compared with that of many other townships. It is low in organic matter, and comprises mixed areas of grey fine sandy loam, grey clay loam and grey sandy clay. There are many stony areas.
SETTLEMENT
The settlement of this township was begun about 1912. This late date is accounted for by the general inferior type of country with its poor soil, rough surface, and large pro- portion of bush land. There are a few French Canadians in the west part of the township, but the majority of the settlers are Europeans of Slavonic descent.
CROPS AND STOCK
Wheat and oats are the chief grain crops, while oat green- feed is grown for fodder. All of the settlers are engaged in mixed farming and most of the oat crop is used for feed. The chief kinds of stock raised are hogs and cattle, of which the former is considered the most remunerative.
HAY AND WINTER FEED
There are no extensive hay lands, but a considerable quantity of wild hay is gathered from the numerous sloughs throughout the township. Winter feed for stock consists chiefly of wild hay and oat greenfeed.
FUEL
There is an abundance of poplar wood for fuel. When properly dried it bums well and is considered very satisfactory.
SCHOOLS AND POST OFFICES
Schools are located at the southeast corner of section 3 and in the northeast quarter of section 22 of this township, and on the west side of section 24 a the township to the west. These each have one teacher and are well attended. Lac Bellevue, Lac Canard and Lake Eliza post offices provide adequate postal, facilities.
September. 1924.
(Sgd.) R. H. KNIGHT,
Dominion Land Surveyor.