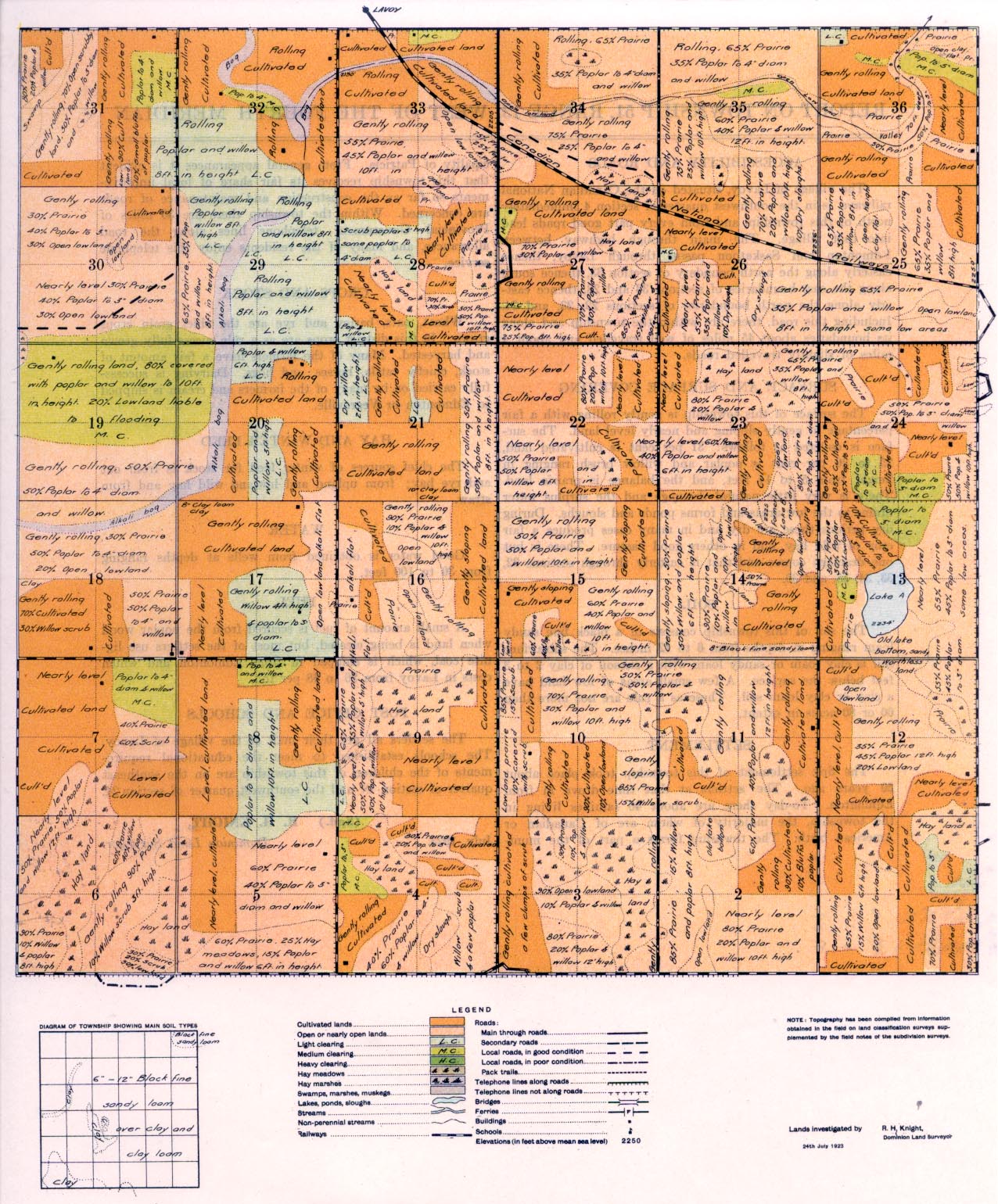 REPORT ON TOWNSHIP 51, RANGE 13, WEST OF THE FOURTH MERIDIAN
ACCESSIBILITY AND ROADS
The village of Lavoy, situated on the Canadian National railways, is in the southwest quarter of section 4 immediately north of this township, and from every part good roads lead into that village. The main through highway between Edmonton and Saskatoon passes through Lavoy, thence easterly along the north boundary of section 33, thence south along the east boundaries of sections 33 and 28, thence east­erly along the north boundaries of sections 22, 23, and 24. Including this road, there are within the township and along its boundaries about 45 miles of well travelled and about 4 miles of slightly travelled roads.
SURFACE AND SURFACE COVERING
The surface of this township is gently rolling with a fair percentage of gently sloping and nearly level land. The sur­face is covered as follows: 31 per cent is cultivated land, 25 to 30 per cent is poplar and willow brush ranging in height from 5 to 14 feet, and the balance is prairie land. There is very little natural drainage and the surplus water drains to the low areas and forms ponds and sloughs. During dry periods these are dry and in many cases produce a fair crop of wild hay, and in others good pasture. There is but one drainage course and that is easterly through sections 32, 33, 34, 35, and 36.
SOIL
The soil of this township consists of a black fine sandy learn ranging in depths from 6 to 12 inches. The subsurface soil is clay loam or sandy loam with a subsoil of clay 2 to 3 feet below the surface. A few small areas of low land have a clay or clay loam soil. These as a rule are not more than 60 or 80 acres in extent.
SETTLEMENT
The first settlement of this township took place about 20 years ago. The settlers at that time drove in from Edmonton. To-day there are about 40 families living in the township, the majority of whom are of Canadian or American birth. The township forms a part of the municipality of Patricia. From general appearances it is evident that this township receives its fair share of local improve­ments so far as the construction and maintenance of roads are concerned. Within the township there are 35 miles of Provincial Government telephone lines along the road allowances, and many of the residents enjoy this telephone service.
CROPS AND STOCK
Wheat, oats, barley and rye are the chief grain crops grown. In this district crops are as a rule successfully grown and harvested. Many of the farmers have a fair amount of stock, chiefly cattle, horses, and hogs. Dairying is success­fully carried on by many of the farmers and cream is shipped to Edmonton or Vegreville.
HAY AND WINTER FEED
The chief sources of winter feed for stock is from oat and rye hay; from upland and lowland wild hay and from straw.
WATER
Good water is obtained from wells at depths ranging from 30 to 100 feet.
FUEL
A small amount of fuel is secured from the poplar wood when land is being cleared, but most of the settlers use lig­nite coal, which is shipped in from Edmonton and which costs in Lavoy from $6 to $8 per ton.
POST OFFICE AND SCHOOLS
The settlers all get their mail at the village of Lavoy. The schools established to meet the educational require­ments of the children of this township are on the southeast quarter of section 18 and the southwest quarter of section 24.
(Sgd.) R. H. KNIGHT,
July, 1923.      Dominion Land Surveyor.