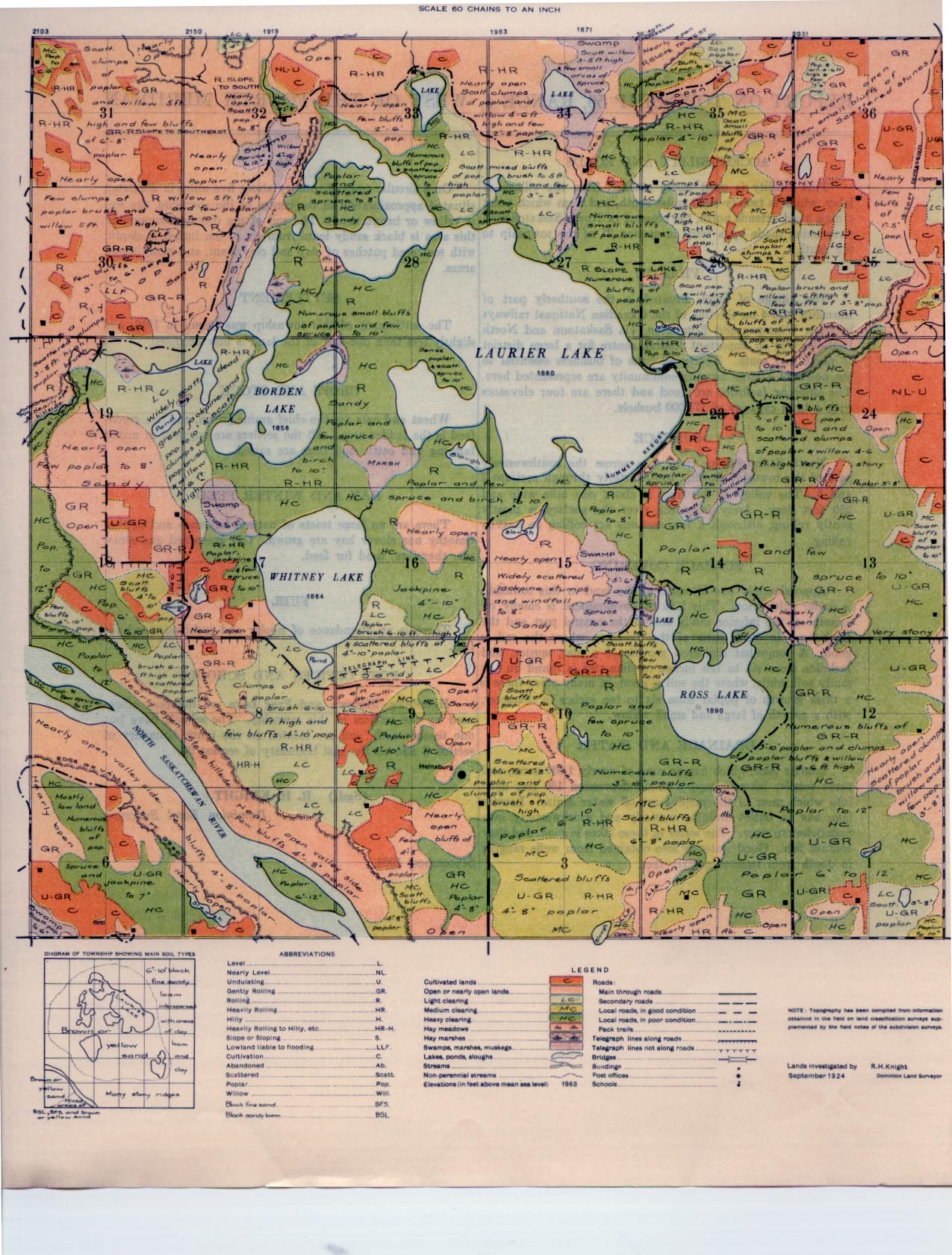 REPORT ON TOWNSHIP 56, RANGE 4, WEST OF THE FOURTH MERIDIAN
ACCESSABILITY AND ROADS
This locality is most easily reached from the village of Islay, which is twenty-eight miles south, and from which point a main road extends north, the crossing of North Saskatchewan river being made by a ferry in section 21 of the township to the south.
VILLAGE
The village of Islay, situated in the southerly part of township 51-4-4 on the line of the Canadian National railways between Winnipeg and Edmonton, via Saskatoon and North Battleford, is an important trading centre for a large district to north and south. Nearly all lines of business essential to the needs of a large farming community are represented here. The shipping facilities are good and there are four elevators with a total capacity of 175,000 bushels.
SURFACE
North Saskatchewan river outs across the south-westerly part of the township flowing southeasterly through sections 7 and 5. The valley of the river is about one mile wide and 250 feet deep. Away from the river the surface is mostly gently rolling, although a few sections are rolling to heavily rolling.
SURFACE COVERING
Approximately one-fifteenth of the land in this township is under cultivation. This lack of development is chiefly on account of the inferior sandy soil in the central part and the thick bush in other parts of the township where the soil is good. A some what scattered growth of poplar, spruce, and jackpine from six to ten inch
in diameter is found on the sandy soil, while, where the soil is good, in many areas there is a thick growth of poplar from six to ten inches in diameter, with a growth of large and small willow.
DRAINAGE AND WATER
Laurier lake, which has an area of nearly 1,500 acres, and three smaller lakes, occupy a broad depression 150 feet deep into which most of the surplus run-off water drains. Laurier lake has an outlet draining westerly and southwesterly into Saskatchewan river. The water in these lakes is good, and they contain fish, Good water is also obtained from wells ranging in depth from twenty to sixty feet. I
SOIL
On a circular tract of country about five miles in diameter, situated approximately in the centre of the township, the soil is yellow or brown sand. The soil of the district surrounding this area is black sandy loam from six to ten inches in depth, with scattered patches of clay and clay loam, and many stony areas.
SETTLEMENT
The settlement of this township was begun in 1910, and slightly less than one-half of the land is now occupied.
CROPS AND STOCK
Wheat and oats are the chief grains grown, and oat green- feed is the fodder crop. All the settlers are engaged in mixed farming and cattle and hogs are raised.
HAY AND WINTER FEED
There are no large tracts of natural haylands and neither timothy nor clover hay are grown. Oat greenfeed and straw are, therefore, used for feed.
FUEL.
There is an abundance of poplar and jackpine wood for fuel.
POST OFFICES AND SCHOOLS
Heinsburg, Mooswa, and Frog Lake are the post offices used by the settlers in this township. The schools have but one teacher each, and are located on the north boundary of section 8 and on the east boundary of section 23.
September, 1924.
(Sgd.)
R. H. KNIGHT,
Dominion Land Surveyor