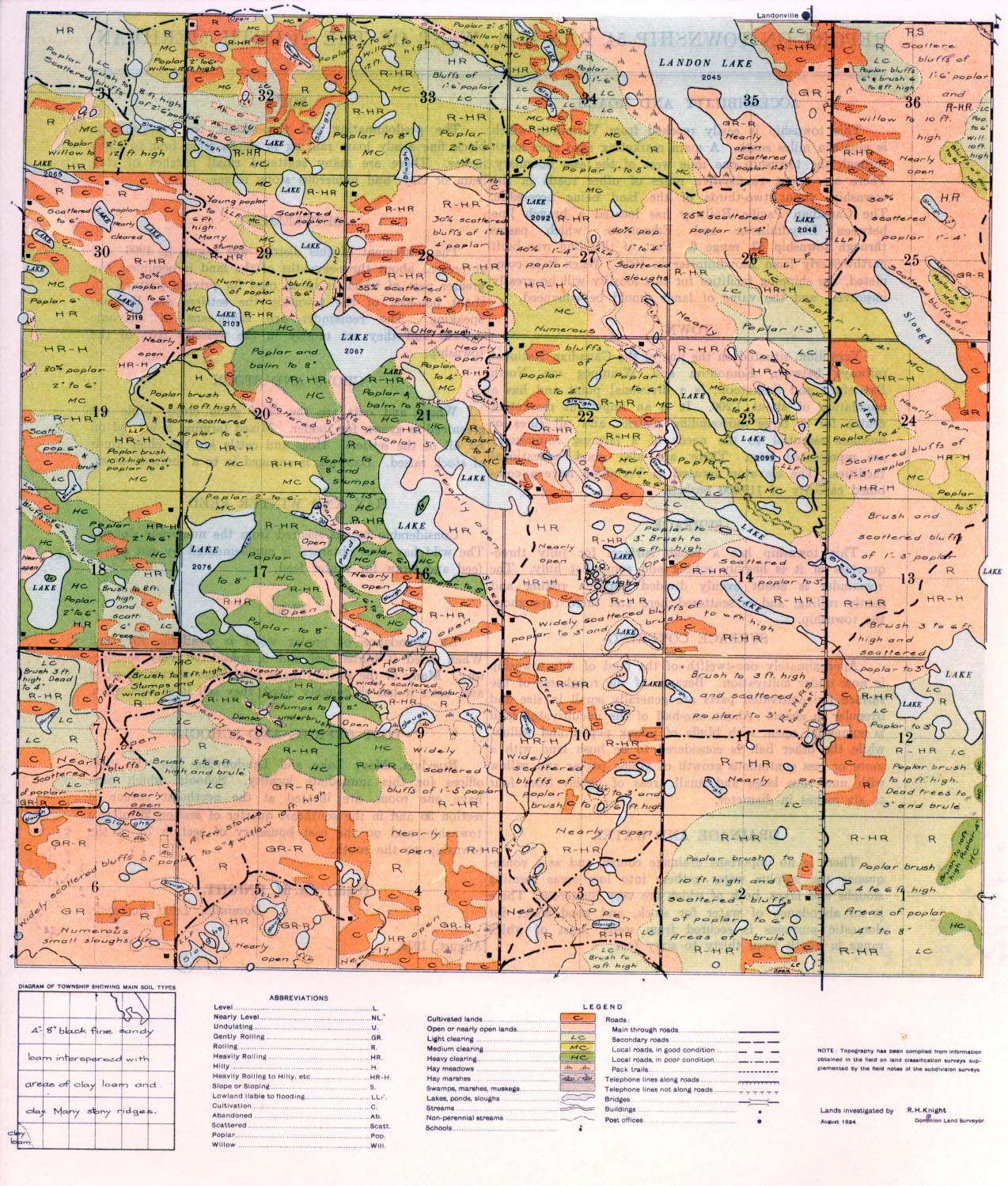 REPORT ON TOWNSHIP 54, RANGE 6, WEST OF THE FOURTH MERIDIAN
ACCESSIBILITY AND ROADS
This township is easily reached from Vermilion which is nineteen miles south. A main marketing road runs north through the township one mile west of the east boundary. There are about twenty-five miles of other roads in the township, about two-thirds of the land being accessible. The Canadian Pacific Railway has located a branch line between Lloydminster and Edmonton, which passes through township 53, range 6. Part of this line was built northwesterly from Lloydminster in 1924. When it is com­pleted, the shipping facilities for this locality will be greatly improved, and the value of lands should be enhanced.
TOWN
Vermilion, situated on the line of the Canadian National railways between Edmonton and Winnipeg via North Battleford and Saskatoon, is a divisional point and has a population of about 1,200. It is an important marketing centre for a large surrounding district and all lines of business essential to the needs of a farming community are represented here. There are also good educational facilities. The elevators located at Vermilion have a com­bined capacity of 110,000 bushels.
SOIL
The predominating soil throughout the township is black fine sandy loam ranging in depth from four to eight inches: There are many scattered small patches of clay loam or clay, and numerous stony ridges.
SETTLEMENT
The settlement of this district was begun in 1906, and at present about three-sevenths of the land is occupied, the greater part of which is being used for private pasture. In about one-half of the township the settlers are English- speaking. The remainder are Europeans of Slavonic descent. and they are mostly in the westerly part of the township.
CROPS AND STOCK
Wheat and oats are the chief grain crops, while oat greenfeed is grown for fodder. Mixed farming is carried on by all of the settlers. Hogs and cattle are the chief kinds of stock raised. Dairying is engaged in, to a limited extent.
HAY AND WINTER FEED
Considerable hay is secured from the numerous sloughs. The wild hay thus obtained is supplemented by oat greenfeed and straw for winter feed.
SURFACE
This township has a rough surface, for fully three-quarters of it is heavily rolling and somewhat hilly. The remainder is about evenly divided between rolling and
gently rolling, and is scattered here and there throughout the township.
FUEL
An abundance of poplar wood is available for fuel. When dried it burns well and is considered very satisfac­tory. Many of the settlers make a business of cutting wood and, after it has thoroughly dried, they sell it at Vermilion.
SURFACE COVERING
Approximately one-twelfth of the land of this township is now under cultivation. Because of the roughness of the surface the cultivated parts are generally small in size and irregular in shape. About one-half of the uncultivated land is somewhat open, with bluffs of young poplar and willow, while the other half is considered to be bush land with a more or less continuous growth of young poplar and willow with numerous large and small areas of poplar from four to six inches in diameter.
DRAINAGE AND WATER
There is no important drainage course, and as a conse­quence the surplus water gathers into low areas forming sloughs and lakes, both of which are very numerous. There is an abundance of water for stock, and good water for domestic purposes is secured from wells, most of which range in depth from thirty to sixty feet.
POST OFFICES AND SCHOOLS
Rusylvia, Mary Lake and Landonville are the post offices for this immediate locality. Schools, which each have one room, are located at the northeast corner of section 36 and in the southeast quarter of section 29 of this township, and on the east boundary of section 34 of the township to the south.
(Sgd.) R. H. KNIGHT,
Dominion Land Surveyor.
August, 1924.