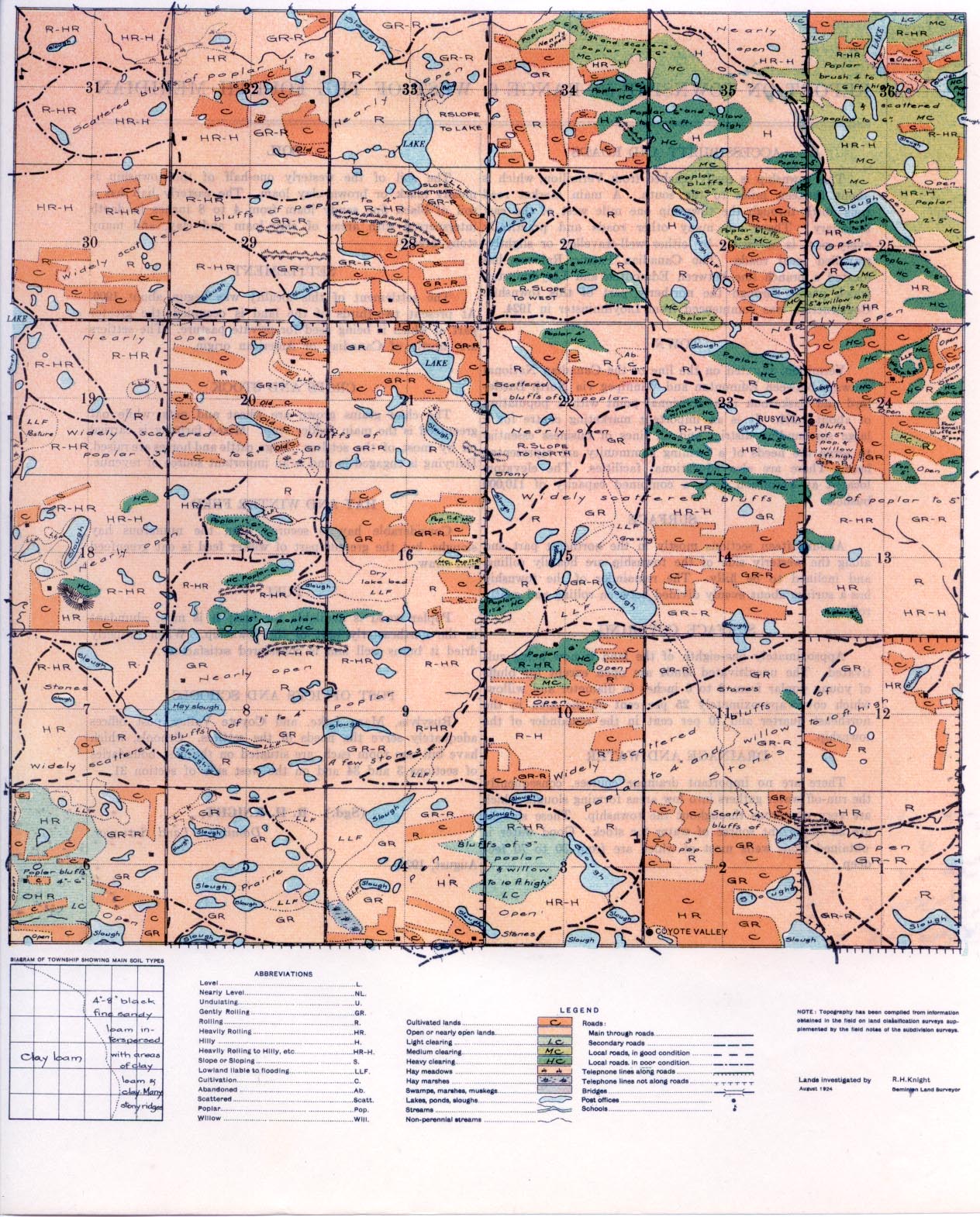 REPORT ON TOWNSHIP 53, RANGE 6, WEST OF THE FOURTH MERIDIAN
ACCESSIBILITY AND ROADS
This township is easily reached from Vermilion, which is about thirteen miles to the south. A main market road runs north through the township one mile west of the east boundary. There are many other roads and, practically every part is accessible by either well-travelled or slightly-travelled local roads. The Canadian Pacific Railway has located a branch line between Edmonton and Lloydminster, which passes through the northerly part of this township. Construction was commenced from Lloydminster in 1924.
TOWN
Vermilion, situated on the line of the Canadian National railways between Edmonton and Winnipeg via North Battleford and Saskatoon is a divisional point with a population of about 1,200. It is an important marketing centre for a large surrounding district and all lines of business essential to serve the needs of a farming community. are represented here. There are also educational facilities. The elevators located at Vermilion have a combined capacity of 110,000 bushels.
SURFACE 
About fifteen sections mostly in the northeast part and along the westerly side of the township are heavily rolling, and inclined to be
hilly. The remainder of the township has a surface about evenly divided between rolling and gently rolling.
SURFACE COVERING
Approximately one-eighth of th6 land is now being cultivated. The uncultivated lands are open except for bluffs of young poplar from 2 to 6 inches in diameter and willow, which cover approximately 25 per cent of the area in the northeast quarter and 10 per cent in the remainder of the township.
DRAINAGE AND WATER
There are no important drainage courses, consequently the run-off water gathers into low areas forming sloughs which are very numerous throughout the township. These sloughs are an important source of water for stock. Good water is obtained from wells most of which are from 30 to 70 feet deep.
SOIL
The soil of the westerly one-half of the township is mostly black or brown clay loam. The easterly half has a soil of black fine sandy loam from 4 to 8 inches in depth interspersed with areas of clay loam and clay, and many stony areas.
SETTLEMENT
The settlement of this locality was begun about 1906. At present two-thirds of the land is occupied; the greater part of which is being used for private pasture. The settlers are mostly of Canadian or American origin.
CROPS AND STOCK
The chief grains grown are wheat and oats, while oat greenfeed is the main fodder crop. Mixed farming is carried on by most of the settlers. Hogs, cattle and horses are raised. Dairying is engaged in and is an important source of revenue.
HAY AND WINTER FEED
Considerable hay is secured from the numerous hay sloughs, but the greater part of winter feed is oat greenfeed and straw.
FUEL
Poplar wood is available for fuel; it is most abundant in the northeasterly part of the township. When properly dried it bums well and is considered satisfactory.
POST OFFICES AND SCHOOLS
Rusylvia, Mary Lake, and Coyote Valley post offices adequately serve the needs of the settlers. Schools, which have but one room each, are situated on the east boundaries of sections 3 and 34 and on the west side of section 31.
August, 1924.
(Sgd.)
R. H. KNIGHT,
Dominion Land Surveyor.
I
~