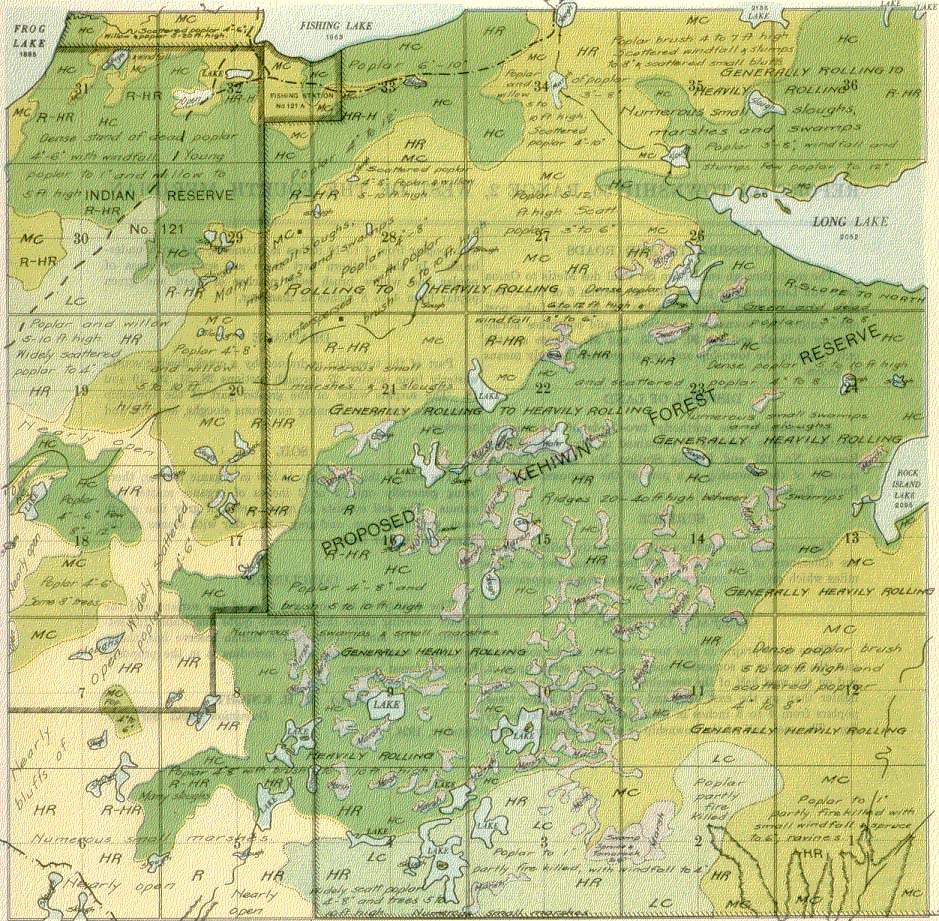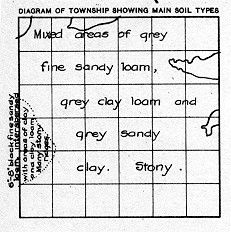 REPORT ON TOWNSHIP 56, RANGE 2, WEST OF THE FOURTH MERIDIAN
ACCESSIBILITY AND ROADS
The main through road from St. Paul des Metis to Onion Lake and Lloydminster passes through section 6 of this township. Another road, which branches off at Frog Lake post office enters this township in section 19 and continues north-easterly through sections 30, 32, 33, and 34. These are the only roads in the township and are at present the only means of access.
DISPOSAL OF LAND
Approximately the northerly two-thirds of the westerly one-third of this township is contained in Frog Lake Indian Reserve No. 121 and Fishing Station No. 121A. The remainder of the township is a part of the proposed Kehiwin Forest Reserve.
SURFACE
The surface of the land is nearly all heavily rolling. There are differences of elevation of 300 feet within two or three miles which give the country a somewhat rugged appearance.
SURFACE COVERING
There is no prairie in this township, but in the southwest part the country is somewhat open with light scrub upon it, and on the west half of the township the bush is on the whole lighter than on the east half, and many of the larger trees, poplars from 4 to 8 inches in diameter, have been killed by fire. The east half of the township is mostly heavily wooded with poplar from 4 to 10 inches in diameter, and with underbrush. In the southern part there are scattered areas of poplar and willow brush with patches of dead and green poplar from 4 to 8 inches in diameter.
DRAINAGE ,
Part of the township is drained by a creek flowing south-westerly from, section 27 through sections 28, 21,
20, 19 and 18. The surplus water of the greater part of the township drains into low areas forming numerous sloughs, swamps and marshes.
SOIL
The soil of this township is low in organic matter, there being generally only 2 or 3 inches of organic matter and humus. The soil consists of mixed areas of grey fine sandy loam, grey clay loam, and grey sandy clay with stones on the ridges and higher lands.
CONCLUSION
The quality of the soil, the type of the surface and the surface covering make this township quite unsuitable for settlement. The land outside of the Indian reserve has, therefore, been wisely disposed of by including it in the proposed Kehewin forest reserve.
October, 1924.
(Sgd.)
R. H. KNIGHT,
Dominion Land Surveyor.