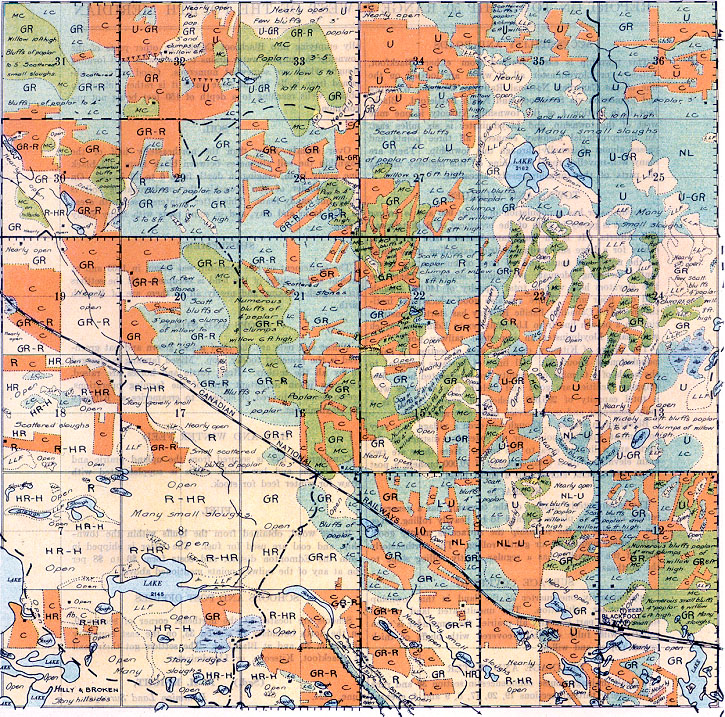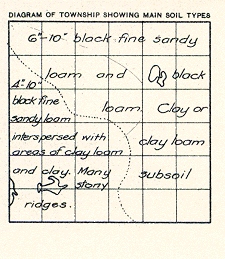 REPORT ON TOWNSHIP 50, RANGE 2, WEST OF THE FOURTH MERIDIAN
ACCESSIBILITY AND ROADS
This township is easily reached from either Blackfoot, Kitscoty, or Lloydminster, all of which are located on the line of the Canadian National Railways between Winnipeg and Edmonton via Saskatoon and North Battleford. Blackfoot is in section 1 of the township, Kitscoty is one mile west of the township, and Lloydminster is six miles east. An interprovincial highway connects all three points and passes almost diagonally through this township. There are many well-travelled roads branching off this highway making all parts of the township easily accessible.
TOWNS AND VILLAGES
Lloydminster has a population of about 900 and is unique in that it is partly in each of the provinces of Saskatchewan and Alberta. It is an important business and marketing centre for a large surrounding district extending many miles to the north and south and all lines of business are represented including adequate professional services. There are five elevators here with a total capacity of 140,000 bushels and one flour mill. There are also good educational institutions. The Canadian Pacific Railway has started construction on a branch line from Lloydminster to Edmonton which will make Lloydminster an important railway point.
The village of Kitscoty, one mile west of section 30, has a population of about 200. All lines of business essential to the needs of a farming community are represented here. The shipping facilities are good and include five elevators with a total capacity of 285,000 bushels
of grain. There is a daily passenger and mail service both east and west.
Blackfoot in section 1, though not even a village, is a very convenient shipping point for an extensive district to the north and a limited area to the south. Here there are two grain elevators with a total capacity of 70,000 bushels, a post office, two general stores, and a small hotel.
SURFACE
The southwesterly quarter of the township has a generally rolling surface, in places inclined to be heavily rolling. Over the remainder of the township the surface is mostly good, being either undulating or gently rolling. The northeasterly half of the township has a regular, gently rolling slope to the northeast.
SURFACE COVERING
Approximately one-quarter of the land in this township is now under cultivation. The uncultivated land in the southwesterly part is nearly all prairie; the remainder is open country with fully one-third covered with bluffs of thick young poplar and willow.
DRAINAGE AND WATER
A small drainage course commences in section 30 and runs southeasterly through sections 19, 20, 17, 8, 9 and 4, eventually emptying into Blackfoot Creek. In other parts of the township the surplus water drains to the lowest land forming sloughs which are somewhat numerous. Good water is obtained from wells, but in some parts it is rather difficult to obtain, wells reaching to a depth of 150 feet being not uncommon,
S0IL
Over slightly more than the northeasterly half of the township the soil alternates between black loam and black fine sandy loam, ranging in depth from 6 to 10 inches. On the remainder of the township the predominating soil is black fine sandy loam. This latter is interspersed with areas of clay loam and clay, and in some parts with many stony ridges.
SETTLEMENT
The settlement of this township was begun in 1903 and at present seven-ninths of the land is occupied. All the settlers are English-speaking and nearly all of them are of English birth.
CROPS AND STOCK
Wheat and oats are the chief grains grown and oat green- feed is the principal fodder crop. Mixed farming is engaged in by all the settlers. Hogs, cattle and horses are raised. Dairying is an important part of the farming operations, cream being delivered or shipped to creameries at Kitscoty or Lloydminster.
HAY AND WINTER FEED
Considerable hay is secured from the upland prairie and from sloughs and low lands. This is supplemented with straw for winter feed for stock.
FUEL
I Poplar wood, obtained from the bluffs within the town- ship, and coal are used for fuel. The latter is shipped in from the Edmonton district and costs from $6 to $8 per ton at any of the railway points mentioned above.
SCHOOLS AND POST OFFICES
Schools are located at the northeast corner of section 9, on the north boundary of section 33, on the east boundary of section 36, and at Blackfoot. The settlers get their mail at Blackfoot, Kitscoty, or Lloydminster.
June, 1924.
(Sgd.)
R. H. KNIGHT,
Dominion Land Surveyor.