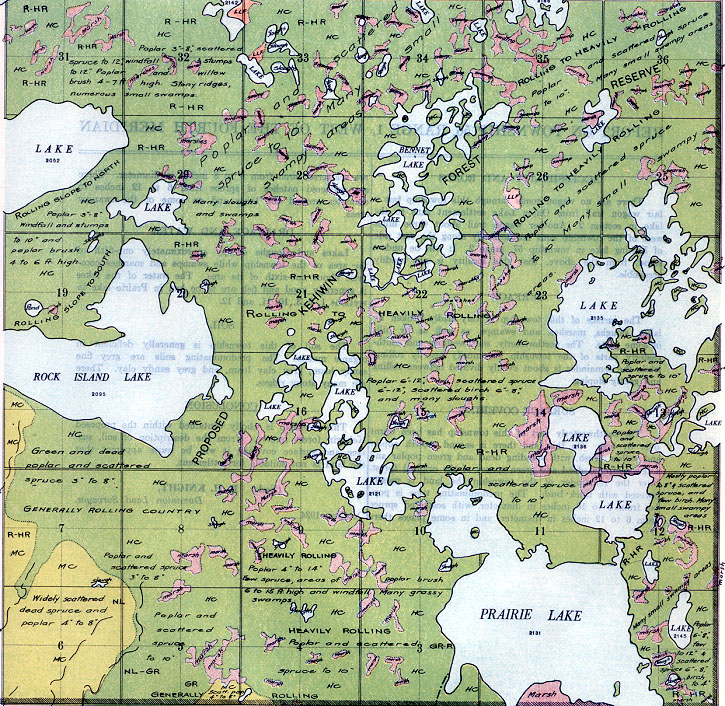 REPORT ON TOWNSHIP 56, RANGE WEST OF THE FOURTH MERIDIAN
ACCESSIBILITY AND ROADS
There are no wagon road is through this township by a fair wagon trail from Onion Lake settlement runs to the lake in section 2. Another wagon trail about three miles west of the township runs northeasterly along the east side of Fishing lake in township 57, range 2. It will be understood, from the above, that this locality is not readily accessible.
SURFACE
The surface of this township is very badly broken by lakes, sloughs, marshes and swamps, as well as by hills in some parts. The northwesterly, southwesterly and southeasterly parts of the township are mostly heavily rolling. While the remainder is about evenly divided between rolling and gently sloping.
SURFACE COVERING
The southwesterly part of this township has been burnt over by fire. On this land there is second growth poplar and willow brush, with standing dead and green poplar and a few scattered dead and green spruce of the original forest. Over the remainder of the township the land is mostly covered with thick bush. The predominating type is popular from 6 to 12 inches in diameter, and in some places there are scattered birch from 6 to 8 inches in diameter. There are scattered patches of spruce from 6 to 12 inches in diameter around the lakes and on some of the swampy areas.
DRAINAGE AND WATER
Lakes and sloughs occupy approximately one-fifth of the area of the township while swamps and marshes comprise about one-sixth of its area. The water of the lakes is generally good and fish are to be had in Prairie lake in sections 1, 2, 3, 10, 11, and 12.
SOIL
The soil of this township is generally deficient in organic matter. The predominating soils are grey fine sandy loam, grey clay loam, and grey sandy day. There are many stony ridges.
CONCLUSION
This township is wholly contained within the proposed Kehiwin forest reserve. From the description of soil, surface and surface covering it will be quite apparent that the land is not suitable for settlement.
(Sgd.)
R. H. KNIGHT,
Dominion Land Surveyor. October, 1924,