The building of the AG Ross Arena did not happen overnight. A number of people worked at it for quite a few years.
Elk Point had many early teams playing on open rinks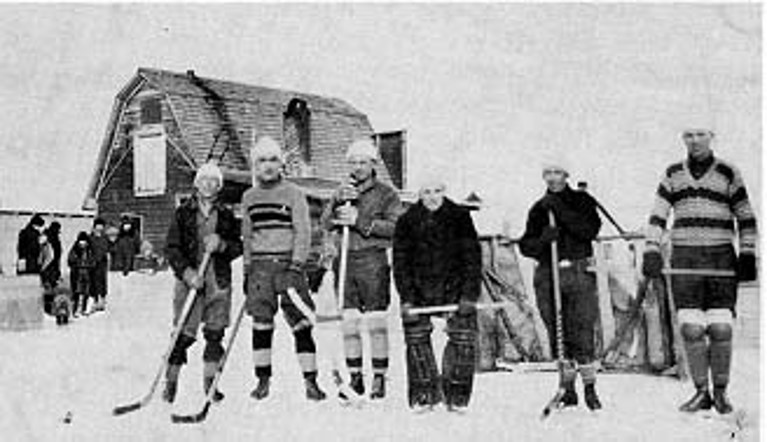 1925 Team
Harold Hobden, Augie Bartling, George Bartling, Russel Milholland, Bill Hobden, Bill Bartling.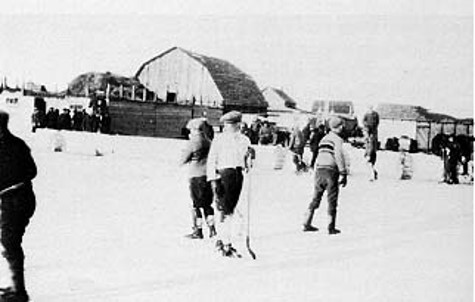 1927 Hockey Rink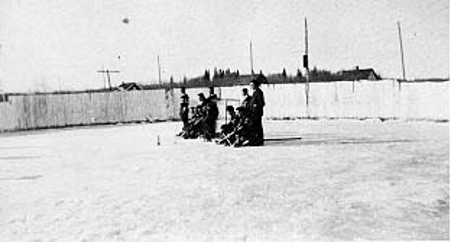 1937 Rink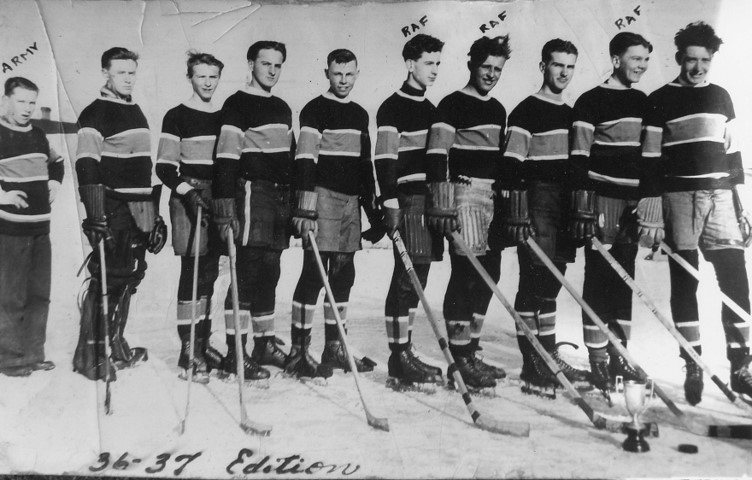 Frank Dunkin, Sid Holthe, KC (Jim) Miller, Steve Andrisak, Floyd Cromwell, Jim Caskey, Sam Soldan, George Miller, George Johnson, James Miller This team played in 1938 Provincial Finals in Edmonton on artificial ice.
In the late 1960s
—Many young players were playing in other towns: Marwayne, Dewberry and St Paul in covered rinks
—Hockey's popularity was growing but the outdoor rink did not meet needs of growing young group
—Winter travel was becoming easier and more common
—More discussion of a covered rink was in the air.
—Hockey moms like Marion Tredger and Helen Petrosky were asking questions of town officials
Governments address Recreation
AB Government allows towns to form Recreation Boards

Elk Point creates Rec Board in Sept 6, 1968 with Ed Pankiw, Des Berghofer, Bill Millholland, Ray Hellquist, Orin Davis as members.

They managed the outdoor rink with help from hockey personnel: Bill Babenek, Jim Tredger, Gabe Dumont, Don Moneta, Barry Maas and Randy Kulczycki. This group was paid $125 to take care of rink for the year.

A survey of recreation needs of Elk Point was done. An arena was seen as a prominent need.
Town gets more involved
Jan 29 1969 Rec Board writes Town stating that serious consideration be given to building an arena

Feb 24th 1969 Town asks Rec Board to get info on an arena Project with types and costs

April 1969 Blueprints for Two Hills arena

ATIYEK DAY May 31 1969

Dec 1969 Hockey Coaches: 15 & over L Span, 12 – 14 Ed Buck, 9 – 11 Ed Pankiw, 6 – 8 Ed Soldan
More organization needed
April 1970 Rec Board visits Chauvin ($40,000), Dewberry ($45,000) and Marwayne ($80,000) Arenas

May 1970 Rec Board suggests D Didow, Ed Pankiw and Paul Stepa be first 3 members of Arena Board and will select 3 more from suggested list
Arena Board Meeting Sept 22 1970
Named Elk Point and District Arena Board

President Dave Didow

Vice Pres Allan Buck

Sec Treas Ed Pankiw

Members: Barry Goldberg, Ken Palamerek, Paul Stepa, Ed Soldan, Ed Buck, Orest Fedorous, Larry Babcock

Dec 1970 Arena Board expands from 10 to 15 (1 south of River, 1 Stoney Lake, 1 North of EP, 2 Heinsburg)

Dec 1970 Arena Proposal – all concrete, Proposed $93,000 Ice Fees $1.00 per season, 25 cents per occasion