More organization needed
April 1970 Rec Board visits Chauvin ($40,000), Dewberry ($45,000) and Marwayne ($80,000) Arenas

May 1970 Rec Board suggests D Didow, Ed Pankiw and Paul Stepa be first 3 members of Arena Board and will select 3 more from suggested list

Arena Board Meeting Sept 22 1970 started Elk Point and District Arena Board with President Dave Didow, Vice Pres Allan Buck, Sec Treas Ed Pankiw, Members: Barry Goldberg, Ken Palamerek, Paul Stepa, Ed Soldan, Ed Buck, Orest Fedorous, Larry Babcock

In Dec 1970 Arena Board expands from 10 to 15 (1 south of River, 1 Stoney Lake, 1 North of EP, 2 Heinsburg)

Dec 1970 Arena Proposal – all concrete, Proposed $93,000 Ice Fees $1.00 per season, 25 cents per occasional use
Local Fundraising Starts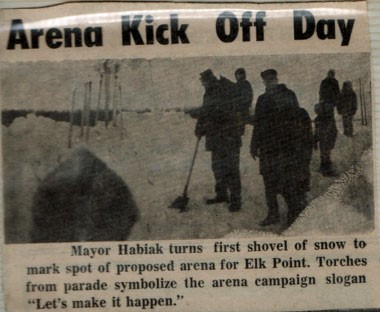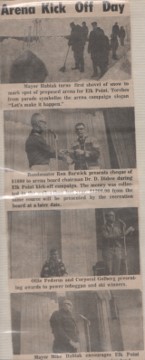 Torchlight Parade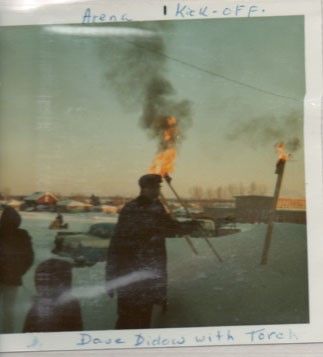 Community Preparations Start 1971
Oct 23 St Paul Coaches Clinic attended by Bob Krawchuk, David Bespalko, Alan Slywka, Ed Babiniuk, Victor Stepa

Nov 1971 Ray Hellquist, Sid Holthe, Erna Holliday, Velma Andrishak and Harry Krawchuk visit St Paul arena

Many community fundraisers were held such as a St Paul to Elk Point Walk-a-thon

In the early days of the arena Indoor Rodeos were held which raised money and fulfilled the requirements of being an agricultural society.

 

The best fundraiser was a local $60 lottery which had almost everyone in town on a list to be approached by a specific volunteer. Half the money went to monthly prizes and half to paying the area debt payment.
Hockey Outdoors – Last Season
Nov 1971 Hockey Coaches (Outdoors):

Midget: Marvin Bjornstad, Harvey Aarbo

Bantam: Marvin Bjornstad, Harvey Aarbo

Pee Wee: Ralph Mann, Bob Krawchuk, David Petrosky

Tom Thumbs: Ed Soldan, Steve Andrishak, Ray Hellquist

Atoms: A. Boratynec, R. Onusko, P. Grykuliak