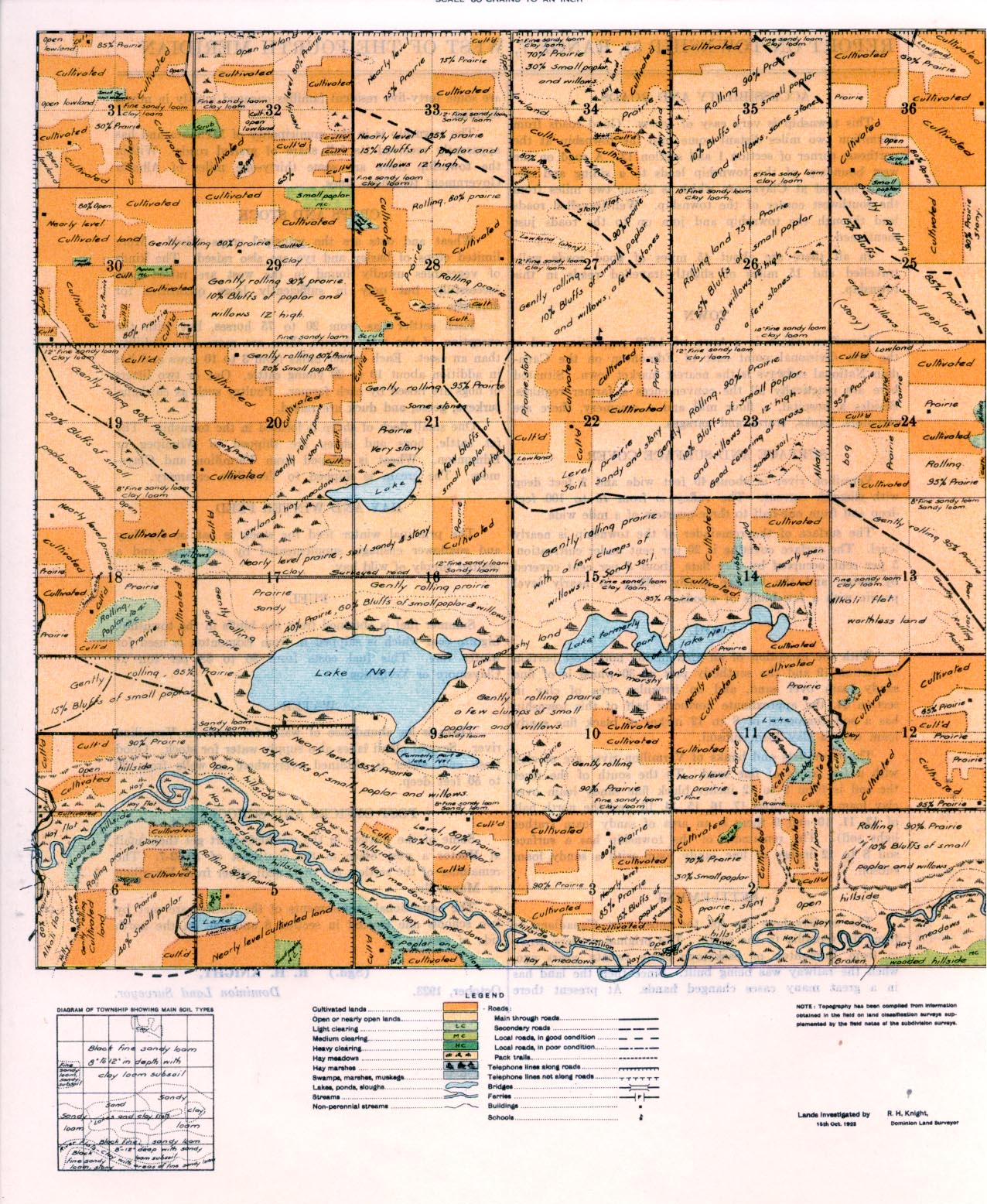 REPORT ON TOWNSHIP 51, RANGE 7, WEST OF THE FOURTH MERIDIAN
ACCESSIBILITY AND ROADS
This township is very easy of access. Good roads from Vermilion two miles distant come into the township at the northeast corner of section I and section 12. A road an the west boundary of the township leads to a siding and elevator located at Claysmore which is about two miles from the southwest corner of the township. Well-traveled roads lead through the township and join up to the roads just mentioned. In all there are about 45 miles of good roads well-travelled and 15 miles of slightly-travelled roads in this township.
TOWN
Vermilion which is a town of 1200 population and is the first divisional point east of Edmonton on the Canadian National railways is the nearest market town. Situated here are practically all, the conveniences a farmer requires. Besides a hospital, a flour mill and a creamery, there are elevators, banks, stores and garages.
SURFACE AND SURFACE COVER.
Vermilion river is about 40 feet wide and 2 feet deep with sluggish current. The valley is from 75 to 100 feet deep and from one-half to three-quarters of a. mile wide.
The surface 6f the remainder of the township is nearly level. The surface covering is 20 per cent under cultivation, 5 per cent occupied by clay flats, about 3 per cent covered by water, and the balance gently rolling to nearly level prairie with a few bluffs of woods.
SOIL
With the exception of an area in the northwest portion of section 19 and the southerly part of 30 which is of fine sandy loam over sand, and an irregular area of clay in section 34, the approximate northerly half of this township has a soil composed of 8 to 12 inches of black fine sandy loam over a clay loam subsoil.
The river flats end banks of Vermilion river are of clay with a few areas of fine sand. To the south of the river the soil is from 8 to 12 inches black fine sandy loam over clay loam. In sections 17, 16, 15, 14, 13, and the north half of 12, 11, 10 and 9 there is an area of sandy loam (rather light soil). The remainder of the township has a, surface soil 8 to 12 inches of fine sandy loam with a sandy loam subsoil.
SETTLEMENT
The settlers here are for the most part Canadians or from the republic to the south. The original settlers drove in from Edmonton or Saskatoon some twenty years ago, when the railway was being built. Since then the land has in a great many cases changed hands. At present there are some forty-five resident families engaged mostly in mixed farming. The township is in the municipality of Melberta and has apparently received its full share of graded roads. Within the township there are some thirty-one miles of Alberta Government telephone lines.
CROPS AND STOCK
Wheat and oats are the principal crops raised. More limited crops of barley and rye are also raised. The kinds of vegetables usually found in the west are raised here successfully but only in sufficiently large quantities for domestic use.
Each settler has from 20 to 75 horses, but with the exception of the work horses, these are more of a liability than an asset. Each
settler milks from 3 to 10 cows and has in addition about 10 to 20 young cattle. One or two litters of hogs are raised by each farmer. Poultry such as chickens, turkeys, geese, and duck are raised. One small flock of sheep is located in the township. The fat cattle, bogs and sheep axe shipped to Winnipeg or Edmonton. Wheat is shipped from Vermilion and Claysmore. The cream is shipped to Vermilion creamery.
HAY AND WINTER FEED
The principal winter feed for stock is oat or rye hay and sunflower ensilage, supplemented by oat straw and a limited supply of wild hay.
FUEL
Summer fuel is obtained from the bluffs in the township. Lignite coal which is shipped in from Edmonton is used for winter fuel. This fuel costs from $6 to $8 per ton at Claymore or Vermilion.
WATER
There is an abundance of water for stock in Vermilion river. Several alkali lakes also supply water for stock. Good fresh cold water is obtained everywhere in wells from 30 to 50 feet deep.
PORT OFFICES AND SCHOOLS
Some of the settlers in the northerly part get their mail at Hector a post office in the southeast of 10-52-7. The remainder of the settlers get their mail either from Vermilion or Mannville.
The educational requirements of the district are met by two schools one located in section 8 and one on the north side of section 22.
October, 1923.
(Sgd.)
R. H. KNIGHT,
Dominion Land Surveyor.