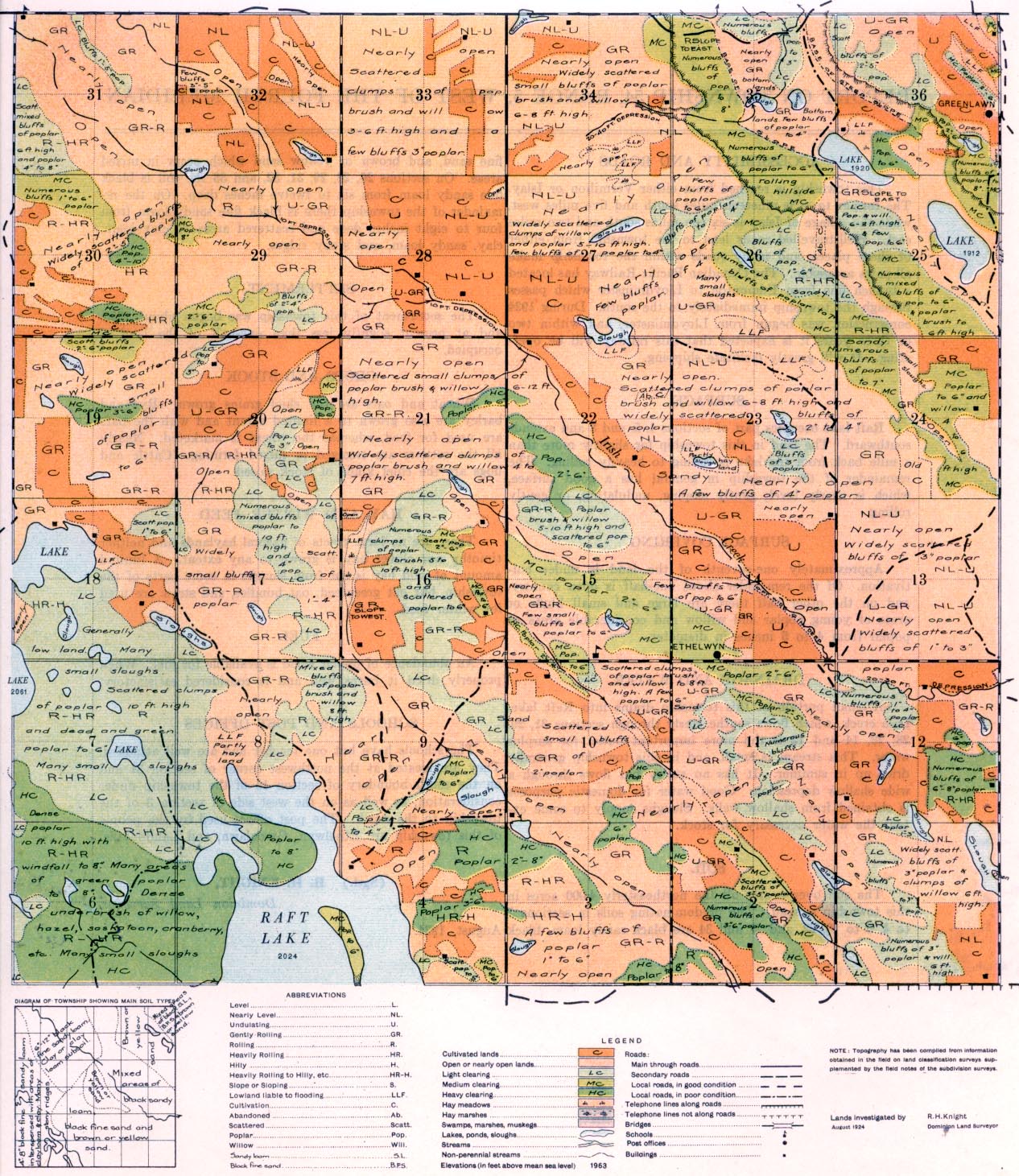 REPORT ON TOWNSHIP 54, RANGE 5, WEST OF THE FOURTH MERIDIAN
ACCESSIBILITY AND ROADS
This township is reached from either Vermilion or Islay. The former town is nineteen miles south and five miles west, while the village of Islay is sixteen miles south and two miles east. Well-travelled roads lead to the township from either of these places, and many roads within the towns make all parts accessible. The Canadian Pacific Railway has located a branch line from Edmonton to Lloydminster which passes through the township immediately to the south. During 1924 construction was begun from Lloydminster, and within two or three years it is expected that this railway will be operating. It will greatly facilitate shipping.
SURFACE
Raft lake occupies part of sections 4, 5, and 8 and extends southward. The land in this township for slightly more than a mile back from the lake is rolling to heavily rolling. The remainder of the township in general has a good surface, which is nearly level, gently sloping, undulating, or gently rolling. I
SURFACE COVERING
Approximately one-seventh of the land is under cultivation. Of the remainder about one-half is open country, and on the other half there are large and small bluffs or areas of young poplar and willow and considerable areas of poplar from 4 to 6 inches in diameter.
DRAINAGE AND WATER
A small portion of this township drains into Raft lake. Irish creek, which flows southeasterly through sections 31, 29, 29, 22, 14 and
12 is the more important outlet for surplus water. This stream is small, and in this township generally dries up in summer. It has no valley but flows through a wide shallow depression. Good water for domestic purposes is obtained from shallow wells. Sloughs supply to some extent the water necessary for stock.
SOIL
The soil over nearly all the northeasterly 4,000 acres in this township is sand. The predominating soils in sections 1 to 4, 9 to 16, 22, and 27 and 34 are black sandy loam, black fine sand, and brown or yellow sand which occur in mixed areas. On sections 20, 28, 29, 31, 32, and 33 the soil is black fine sandy loam from six to twelve inches deep. On the remainder of the township there is black fine sandy loam from four to eight inches deep and scattered areas of clay loam, clay, sandy loam, and stony ridges.
CROPS AND STOCK
Wheat and oats are the chief grains grown. Rye and barley are also grown to a limited extent and with the oats are used for feed, whereas the wheat is marketed. Nearly all the settlers are engaged in mixed farming. Cattle and hogs are the chief kinds of stock raised.
SETTLEMENT
The settlement of this township was begun about 1905, and at present slightly less than one-half of the land is occupied.
HAY AND WINTER FEED
There are no large tracts of natural haylands and neither timothy nor clover hay is grown to any extent. A limited amount of wild hay is cut from sloughs in some parts of the township, but oat greenfeed, oat bundles, and straw are used for winter fee&
FUEL
An abundance of poplar wood is available for fuel. When properly dried it bums well and is considered satisfactory.
SCHOOLS AND POST OFFICES
The schools have but one teacher and are well attended. They are located at the northwest corner of section 31 and on the south boundary of section 15 of the township under consideration, as well as on the west side of section 3 of the township to the north. The post offices used by the people of this township are Ethelwyn, Greenlawn, and Landonville.
August 1924
(Sgd.)
R. H. KNIGHT,
Dominion Land Surveyor.