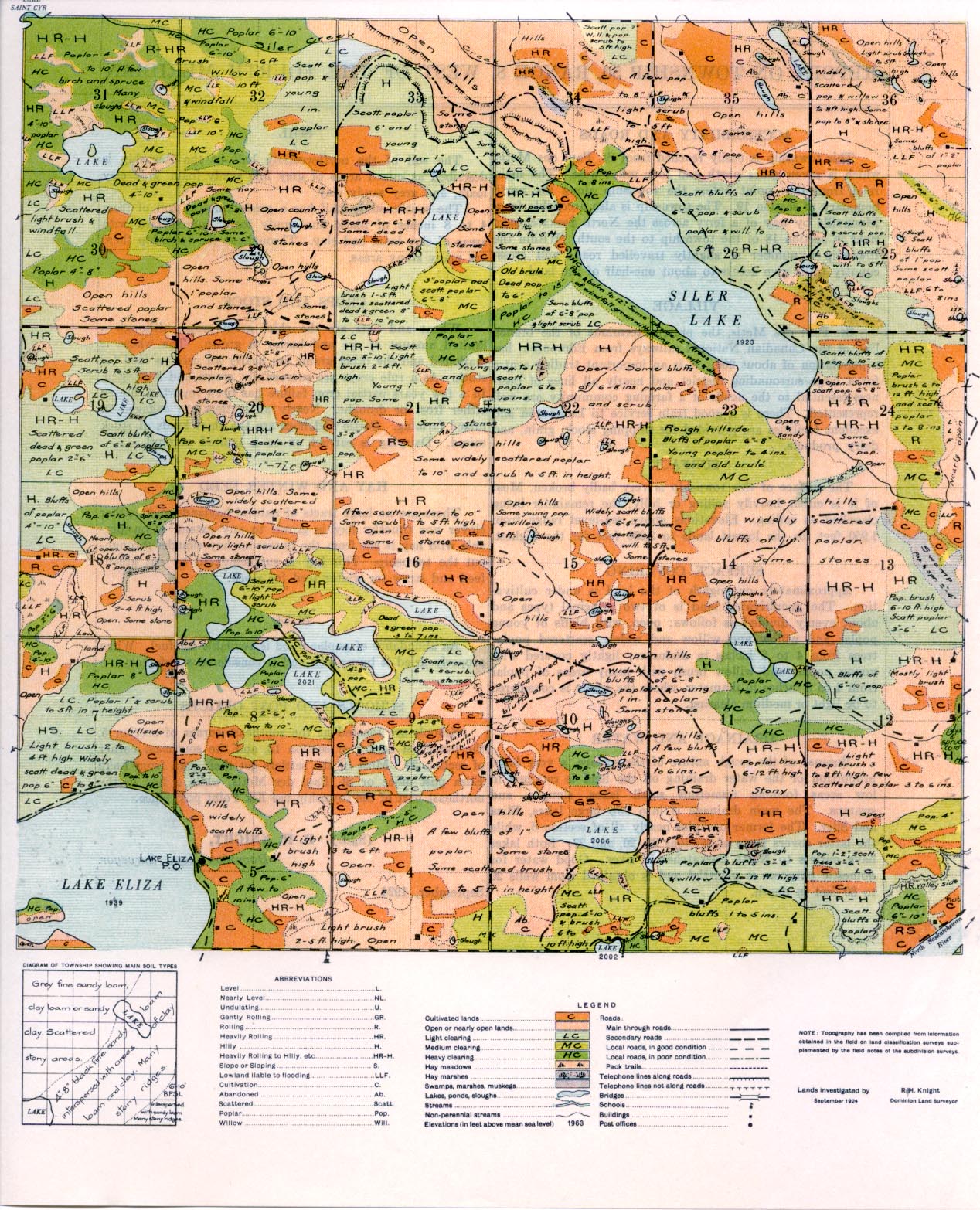 REPORT ON TOWNSHIP 56, RANGE 8, WEST OF THE FOURTH MERIDIAN
ACCESSIBILITY AND ROADS
This township is easily reached from St. Paul des Metis, which is seven miles north and four miles west. The main road from that point enters the township along the north boundary of section 19. The township is also accessible from Mannville by way of a ferry across the North Saskatchewan river in section 18 of the township to the south. Within the township a number of slightly travelled roads and cross-country trails give access to about one-half of the land.
VILLAGE
St. Paul des Metis, the present terminus of the branch line of the Canadian National -railways from Edmonton, has a population of about 900. It is an important trading centre for a large surrounding district and nearly all lines of business essential to the needs of a farming community are well represented. There is a good train service to Edmonton and excellent facilities are provided for shipping stock, grain, and dairy products.
SURFACE
The surface of this township is very badly broken. Most of 'it is either -heavily rolling or hilly, the remainder being classified as rolling. Elevations above sea-level range from 1,950 feet for the lowest lands to 2,250 feet for the highest.
SURFACE COVERING
Approximately one-eighth of the land is under cultivation. The uncultivated land is of two principal types and about evenly divided as follows: open, with bluffs of young poplar and willow and willow and widely scattered poplar trees from 4 to 8 inches in diameter; lightly covered with young poplar and willow brush with many areas of poplar from 4 to 8 inches in diameter, where the whole is considered to be light or medium clearing.
DRAINAGE AND WATER
Because of the rough nature of the surface, a very large proportion of the water draining off the land is retained in low areas forming numerous small lakes, sloughs, and swamps. The main drainage is into two large lakes, Eliza and Siler. The former occupies nearly all of section 6, while the latter covers parts of sections 23, 26, and 27. Both lakes have outlets to North Saskatchewan river. Good water for domestic purposes is plentiful and is obtained from wells 20 to 60 feet in depth.
SOIL
The soil of the northwesterly half of the township is described as mixed areas of grey fine sandy loam, grey clay loam, and grey sandy clay. The southeasterly half has a predominating soil of from 4 to 8 inches of black fine sandy loam, interspersed with areas of clay loam and clay. Throughout the township there are many stony areas.
CROPS AND STOCK
Wheat and oats are the chief grain crops, although a limited amount of rye and barley is grown. The wheat is marketed and the other grains axe nearly all used as feed for stock. As a rule crops are successfully grown and harvested. In a few years partial crop failure has been reported, due to either frost or drought. Nearly all settlers are engaged in mixed farming. Cattle and hogs are the chief kinds of stock raised. Dairying is carried on to a limited amount.
HAY AND WINTER FEED
There are no large tracts of natural hay lands and neither clover nor timothy hay is grown to any extent. Considerable wild hay is cut from the numerous hay sloughs throughout the township. This hay is supplemented by oat greenfeed and straw for winter feed for stock.
FUEL
An abundance of poplar wood is available for fuel. When properly dried it burns well and is considered satisfactory.
SCHOOLS AND POST OFFICES
Schools are located at the southeast corner of section 5, the northeast corner of section 12, and the southeast comer of section 29. Most of the settlers get their mail from Lake Eliza post office or St. Paul des Metis, while a few in the northeast part of the township use Elk Point post office.
September, 1924.
(Sgd.) R. H. KNIGHT,
Dominion Land Surveyor