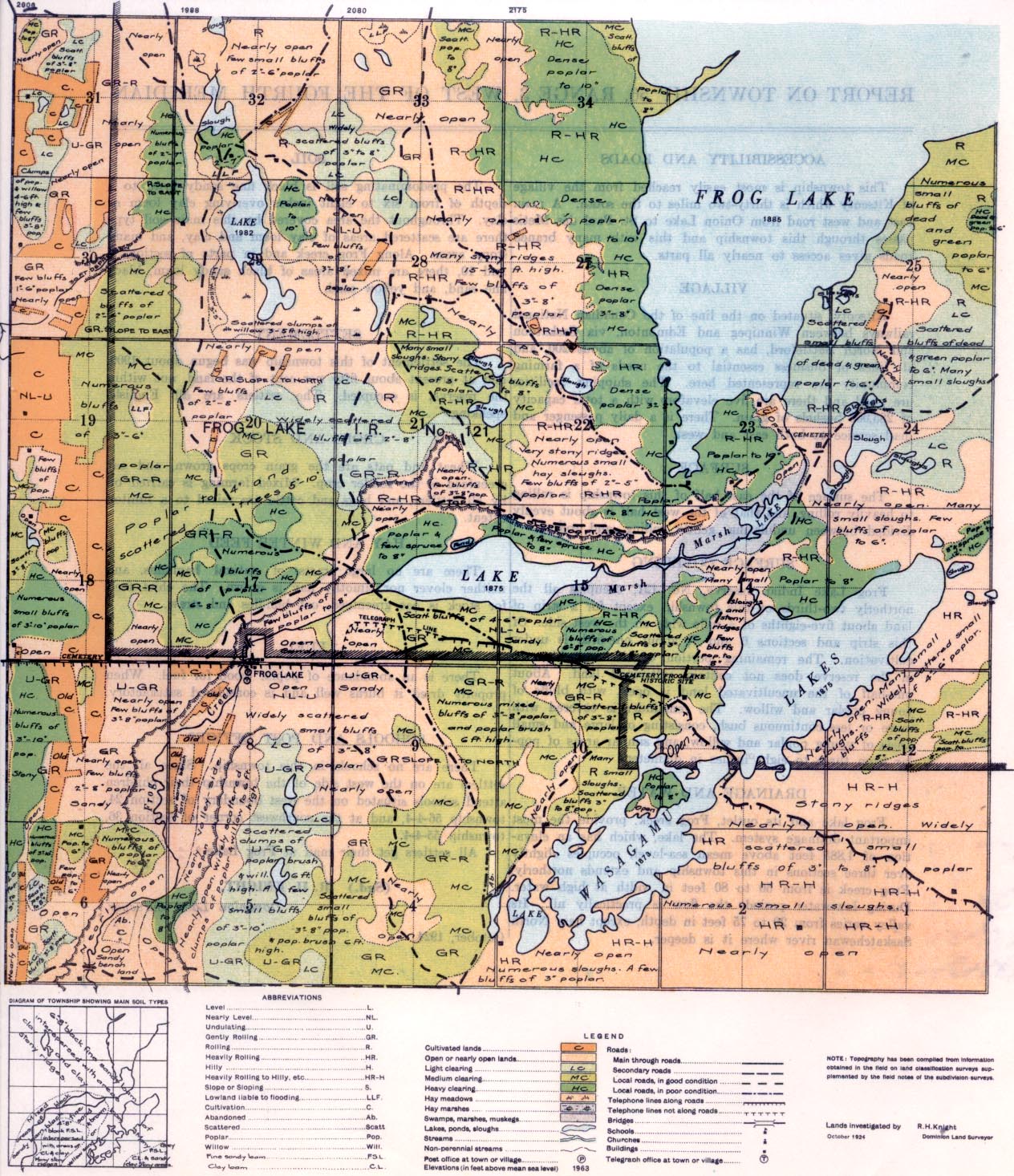 REPORT ON TOWNSHIP 56, RANGE 3, WEST OF THE FOURTH MERIDIAN
SURFACE COVERING
Frog Lake Indian reserve, No. 121, occupies all the northerly two-thirds of this township except for a strip of land. about five-eighths of a mile wide on the west side. 0f this strip and sections 6 and 7, about one-fifth is under cultivation. The remaining portion of the township not in the reserve does not contain cultivated land. About one-half of the uncultivated land is open, with bluffs of young poplar and willow. The remainder is covered with more or less continuous bush, consisting of large and small areas of young poplar and willow, and similar areas of poplar from three to eight, inches in diameter.
DRAINAGE AND WATER
Frog lake and its outlet, Frog creek, provide the most important drainage system. The lake, which has an elevation of 1,885 feet above mean sea-level, occupies slightly over three sections in this township and extends northerly. Frog creek is from 50 to 80 feet in width at high water. During low-water periods the flow is practically nil. Its valley varies from 20 to 75 feet in depth, except near North 3askatchewan river where it is deeper.
ACCESSIBILITY AND ROADS
This township is most easily reached from the village of Kitscoty which is thirty-two miles to the south. A main east and west road from Onion Lake to St. Paul des Metis, passes through this township and this with many branch roads gives access to nearly all parts.
VILLAGE
Kitscoty, situated on the line of the Canadian National railways between Winnipeg and Edmonton, via Saskatoon and North Battleford, has a population of about 200, and, all lines of business essential to the needs of a farming; community are represented here. The shipping facilities are good and there are five elevators with a total capacity of 285,000 bushels of grain. There is a daily passenger and mail service to both east and west.
SURFACE I
The surface of the east half of this township is rolling to heavily rolling, and that of the west half is about evenly divided between undulating, gently rolling, and rolling
SETTLEMENT
The settlement cf this township was begun about 1900, and at present about fifty per cent of the land, not within the reserve, is occupied. The settlers are English-speaking.
CROPS AND STOCK
Wheat and oats are the grain crops grown, and oat greenfeed is the fodder crop. Mixed farming is carried on by all settlers, and hogs and cattle are raised to a limited extent.
SOIL
The predominating soil is black fine sandy loam to a depth of from six to eight inches overlying clay loam or clay. Throughout the area covered by this main soil type there are scattered areas of clay loam and clay, and many stony areas. Along Frog creek and in parts of sections 4 and 10, there are mixed areas of black sandy loam, black fine sand, and yellow sand.
HAY AND WINTER FEED
There are no large tracts of natural haylands, and neither clover nor timothy hay is grown. The chief feed for stock oat-greenfeed, oat bundles and straw.
FUEL
There is an abundance of poplar wood for fuel. When properly dried it burns well and is considered satisfactory.
SCHOOLS AND P0ST OFFICES
There are no schools in this township. Since all the settlers are on the west side of the township their children attend schools situated on the west boundary of section 24, township 56-4-4, and at the southwest comer of section 36, township 55-4-4.
All settlers get their mail at Frog Lake.
(Sgd.) R. H. KNIGHT,
Dominion Land Surveyor.