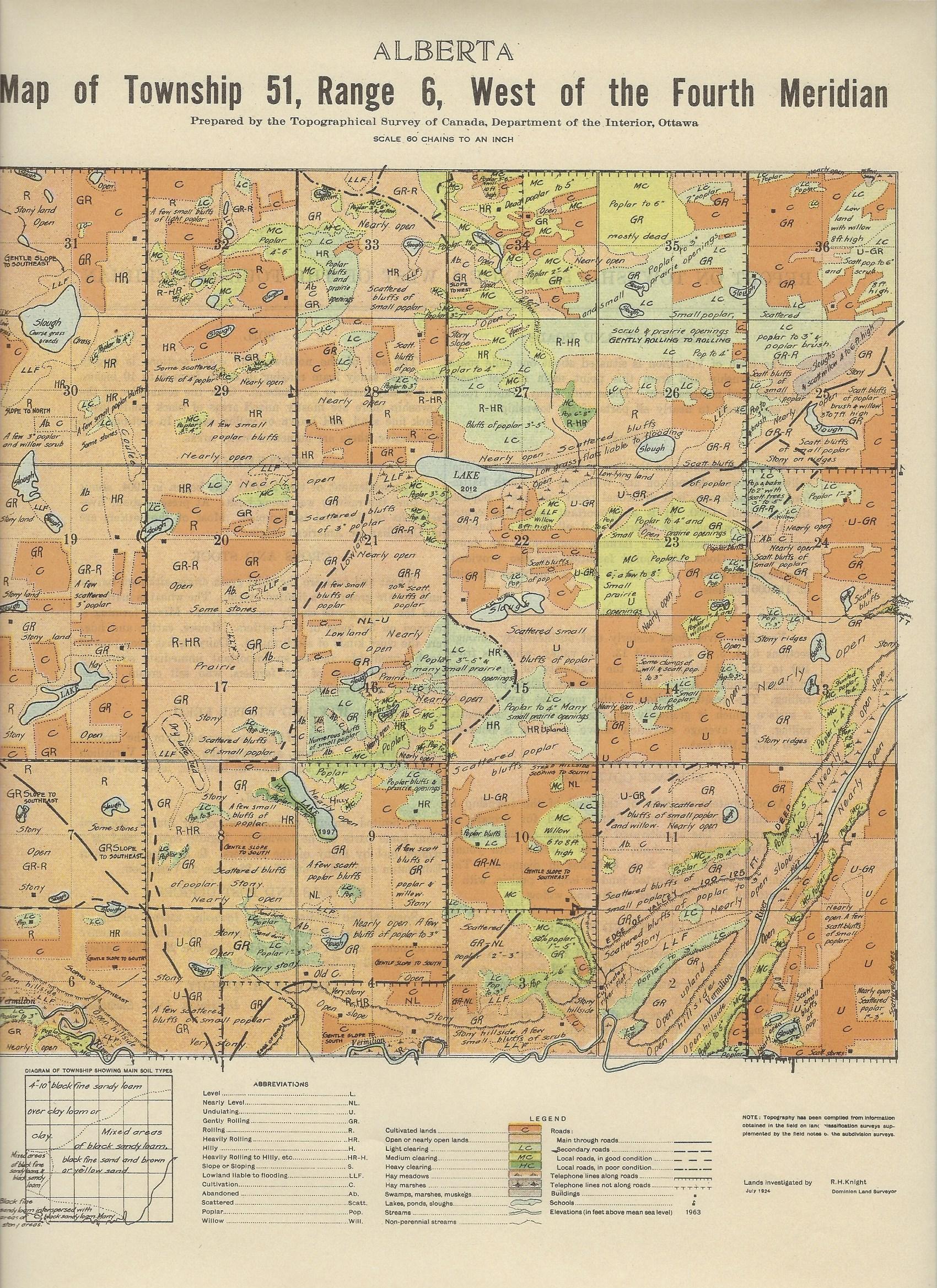 REPORT ON TOWNSHIP 51, RANGE 6, WEST OF THE FOURTH MERIDIAN
ACCESSIBILITY AND ROADS
The town of Vermilion is situated about one mile south of this township and from this point main market roads run north and northeasterly. These with many branch roads give easy access to nearly all parts of the township.
TOWN
Vermilion, situated, on the line of the Canadian National railways between Edmonton and Winnipeg via North Battleford and Saskatoon, is a divisional point and has a population of about 1,200. It is an important marketing centre for a large surrounding district, and all lines of business essential to the needs of a farming community are represented here. Good educational facilities are also provided. The elevators located at Vermilion have a combined capacity of 110,000 bushels.
SURFACE
Vermilion river flows easterly and, northeasterly through sections 6, 4, 3, 2, 1, 12 and 13. Its valley, which is from 100 to 125 feet deep, breaks the regularity of the surface in these sections. A few other sections are rolling to heavily rolling. The greater portion of the township, however, has a surface which is gradually sloping, undulating, or gently rolling. The average elevation above sea-level is between 2,000 and 2,100 feet.
SURFACE COVER1NG
Approximately one-fifth of the land of the township is under cultivation. The remainder is used for private or public grazing. The uncultivated land in the northeast quarter of the township is about one-half covered with young willow and poplar from 2 to 6 inches
in diameter. The remainder of the uncultivated land is largely prairie, with a few scattered bluffs of young poplar and willow.
DRAINAGE AND WATER
Except for a few sections drained by Vermilion River, there is no important drainage. The run-off from the greater part of the township gathers into low areas, forming a half
dozen lakes -and fairly numerous large and small sloughs. Water for domestic purposes is obtained from wells, most of which range in depth from 40 to 80 feet.
SOIL
The soil of the northwesterly eight sections is largely black fine sandy loam ranging in depth from 4 to 10 inches, with a day loam or clay subsoil. Over the remainder of the township there are mostly mixed areas of black sandy loam, black fine sand, and brown or yellow sand. In sections 3 to 6, inclusive, there are numerous stony areas.
SETTLEMENT
The settlement of this locality was begun in 1904, about the time the railway was being built. At present about five-sevenths of the land is occupied. Most of the settlers are of Canadian or American origin.
CROPS AND STOCK
Wheat and oats are the chief grain crops, although barley and rye are grown to a limited extent. The wheat is marketed and the other grains chiefly used, for feed. Mixed farming is carried on by most of the settlers. Horses, cattle, and, hogs are the chief kinds of stock raised. Dairying has been proved to be profitable and is an important immediate source of revenue for many of the farmers, who sell cream to the creamery at Vermilion.
HAY AND WINTER FEED
A limited amount of hay is secured from the upland prairie, from hay sloughs, and from the valley of Vermilion river. Oat greenfeed and straw is, however, used for winter feed.
FUEL
A limited amount of poplar wood for fuel is obtained from some parts of the township. Lignite coal is used as a winter fuel by many of the farmers. It is shipped in from Edmonton and costs from $6 to $8 a ton at Vermilion.
SCHOOLS AND POST OFFICES
Some of the children of this township attend schools at Vermilion; others attend rural schools at the northeast corner of section 3, und on the east side of section 29. The settlers get their mail at Vermilion post office.
(Sgd.) R. H. KNIGHT,
Dominion Land Surveyor.
July, 1921.