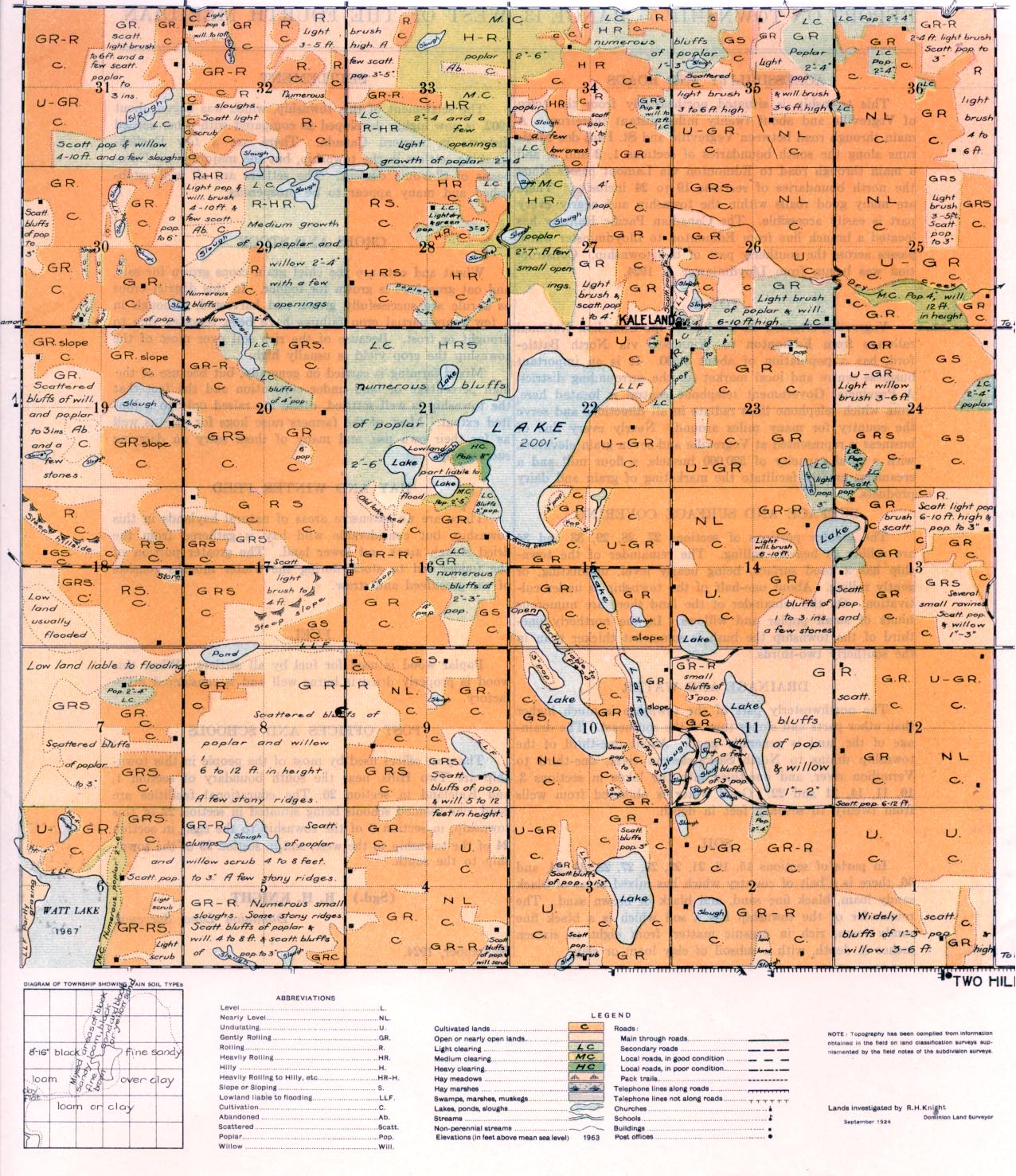 REPORT ON TOWNSHIP 55, RANGE 13, WEST OF THE FOURTH MERIDIAN
ACCESSIBILITY AND ROADS
This township is situated northeasterly from the town of Vegreville and about twenty miles distant therefrom. A main through road between Vegreville and St. Paul des Metis runs along the south boundaries of sections 1, 2 and 3, and a main through road to Edmonton via Lamont passes along the north boundaries of sections 19 to 24 inclusive. There are many good roads within the township and nearly every part is easily accessible. The 'Canadian Pacific Railway has located a branch line from Edmonton to Lloydminster 'which passes across the southerly part of this township. Construc­tion was begun from Lloydminster in 1924.
TOWN
Vegreville, situated on the line of the Canadian National railways from Edmonton to Winnipeg, via North Battleford, has a population of about 1,500. It is an important business centre and local market for the surrounding district. A Provincial Government telephone central is located here, from which telephone lines radiate in all directions and serve the country for many miles around. Nearly every line of business is represented at Vegreville and seven grain elevators, with a total capacity of 520.000 bushels, a flour mill and a creamery, greatly facilitate the marketing of grain and dairy products.
'SURFACE AND SURFACE COVERING
The greater portions of sections 27, 28, 29, 33 and 34 are rolling to heavily rolling. The remainder of the town­ship has a good surface, being nearly level., undulating, or gently rolling. About one-half of the township is under cul­tivation. On the remainder of the land there are numerous bluffs of small poplar and willows. In the northerly one-third of the township the bush is somewhat thicker than in the southerly two-thirds.
DRAINAGE AND WATER
The northwesterly part of the township is much higher than other parts and slopes toward the southeast. The drain­age of the land is generally good. About one-third of the township drains to North Saskatchewan river, one-third to Vermilion river, and one-third into the lakes in sections 3, 10, 11, 14, 21 and 22. Good water is obtained from wells from twenty to seventy feet in depth.
SOIL
In parts of sections 15, 16, 21, 22, 25, 27, 28, 33, 34, and 36, there is a belt of country which has mixed areas of black sandy loam, black fine sand, and black or brown sand. The remainder of the township has a soil which is a black fine sandy loam, rich in organic matter, from eight to sixteen inches in depth, with a subsoil of clay loam or clay.
SETTLEMENT
The settlement of this township, which was begun about 1902, is now highly developed as compared with other settled districts in western Canada. There are a few English- speaking settlers in the township, but the majority are Euro­peans of Slavonic descent. The settlers are all well estab­lished and ninny appear to be prosperous.
CROPS AND STOCK
Wheat and oats are the chief grain crops grown for sale, and oat greenfeed is grown for fodder. In this district crops as a rule are successfully grown and harvested, although in a few years partial crop failures have been reported due to drought or frost. Because of the rich soil over most of the township the crop yield is usually high.
'Mixed farming is carried on generally, but because of the high percentage of land under cultivation and the fact that the township is well settled, cattle are raised only to a lim­ited extent. Most of the farmers raise hogs for sale as well as for their own use, and many of them carry on dairying successfully.
HAY AND WINTER FEED
There are no extensive areas of natural haylands in this township, but considerable wild hay is gathered from the dried slough areas and lower land. The greater portion of the fodder fed to stock during the Winter months consists of oat greenfeed and straw.
FUEL
Poplar wood is used for fuel by all settlers. When this wood is properly dried it burns well and is considered satis­factory.
POST OFFICES AND SCHOOLS
The post offices used by most of the people in this town­ship are Two Hills, near the south boundary of section 1, and Kaleland in section 26. The educational facilities are good, one-roomed schools being situated in section 22 of this township, in section 6 of the township to the east, in. section 24 of the township to the west, and in section 29 of the town­ship to the south.
(SO.) R. H. KNIGHT,
Dominion Land Surveyor.
September, 1924.