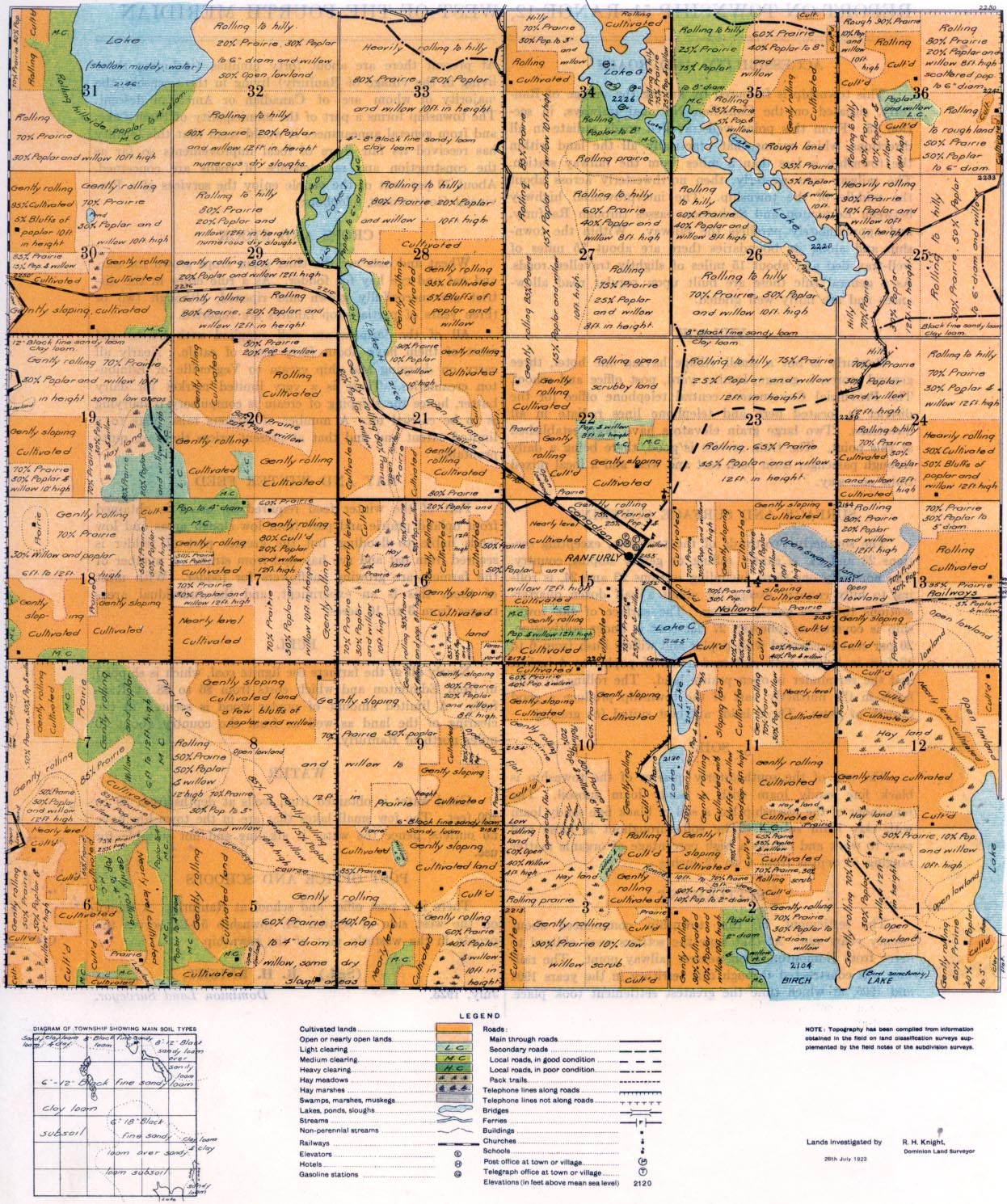 REPORT ON TOWNSHIP 51, RANGE 12, WEST OF THE FOURTH MERIDIAN
ACCESSIBILITY AND ROADS
This township is favoured by having the village of Ran­furly, situated on the Canadian National railways, in sec­tion 15. From this point well-travelled roads radiate in all directions, which means that practically all the land within the township is less than 5 miles from the railway station. The railway runs westerly, then northwesterly across about the middle of the township. The interprovincial highway between Edmonton and Saskatoon passes through Ranfurly, and approximately parallels the railway. Within the town­ship and along its boundaries there are about 35 miles of well-travelled and about 15 miles of slightly travelled roads. As a general rule these are built upon regular road allowences and are fairly well graded.
VILLAGE
Ranfurly is but a small village having one hotel, three general stores, a garage, lumber yard, post office and school. The Provincial Government central telephone office for the district is located here and telephone lines radiate in all directions. Two large grain elevators have been established at this point. The train service is good, there being a daily through passenger train both east and west and a local mixed train one way.
SURFACE AND SURFACE COVERING
The southerly two-thirds of the township, excepting sec­tions 23 and 24, is gently rolling or gently sloping country. The northerly one-third, including sections 23 and 24, is roll­ing to hilly country except for about a half dozen quarter- sections that are gently rolling. The surface of the town­ship is covered as follows: 27 per cent. is under cultivation, 20 per cent is covered with poplar and willow bush from 6 to 12 feet in height with scattered areas of poplar to 4 inches, and the remainder is open prairie land. The rolling to hilly lands in the northerly part of the township produce a good growth of grass. These lands are best suited for grazing.
SOIL
The soil of the southeasterly quarter of the township is black fine sandy loam with a sandy loam subsoil. The remainder of the township has a soil of black fine sandy loam with clay loam subsoil. The soil throughout is loose and easy to work and carries a high percentage of organic matter ranging in depths from 8 to 12 inches.
SETTLEMENT
The settlement of this township commenced about twenty years ago. At that time the settlers were obliged to drive from Edmonton, their nearest railway point. The rail­way was constructed through this territory in the years 1904 and 1905, at which time the greatest settlement took place At the present there are about forty families (including those living in the township. living in the village of Ranfurly, the majority of whom are of Canadian or American descent. The township forms a part of the municipality of Birch Lake, and from general appearances it would seem that this locality has received its fair share of local improvements so far as the construction and maintenance of roads are concerned. About 70 per cent of the people enjoy the services of a Provincial Government telephone.
CROPS AND STOCK
Wheat and oats are the chief grain crops grown for sale, and oat and rye hay for fodder. As a rule crops in the district are successfully grown and ripened, although two or three years of partial crop failures are reported.
All of the farmers are well supplied with horses and most of them have about forty head of cattle. Nearly all carry on dairying and ship cream to Vegreville or Edmonton creameries. There is a very limited market for dairy butter, hence the shipping of cream is compulsory if dairying is to be carried on. A number of farmers raise hogs to a limited extent and find that at present prices they are quite profitable.
HAY AND WINTER FEED
 Part of the winter feed required for stock is obtained from upland prairie and part from low slough areas and low lands liable to flooding, but the greater part of fodder is secured from oat and rye hay and from straw. A number of the farmers are growing sunflowers for fodder. With most of them this is an experiment, and the individual areas ranges from 3 to 10 acres.
FUEL
Nearly all of the farmers use lignite coal, which is shipped in from Edmonton and which costs from $6 to $8 at Ranfurly. A limited amount of poplar wood is secured in the clearing of the land as well as from the country about 10 miles north of Ranfurly.
WATER
Good water is obtained from wells at depths from 30 to 100 feet. The few small lakes that are in the township have no outlets, hence the water is alkaline and not suitable for use.
POST OFFICE AND SCHOOLS
There is a post office and school at Ranfurly. A school on the west side of section 24, township 51-13, serves the people in the westerly part of the township.
(Sgd.) R. H. KNIGHT,
Dominion Land Surveyor.
July, 1923.,