THE McFADYEN FAMILY
by Violet E. McFadyen
After selling our farm in the Islay district, we had intended only spending the winter of 1954-55 in Elk Point to be near Dr. F. G. Miller who was providing very valuable medical care to our young son, Barrie. Barrie had been stricken with a severe case of poliomylitis in 1953. We were unable to find a house available for rent in Elk Point and were beginning to change our plans when we happened to find a farm for sale. We bought the farm of Mr. and Mrs. Alex Lindquist, formerly the Springsteel farm, six miles west of town. We also bought the quarter across the road from the Lindquist home-this quarter was previously owned by Arthur Johnson.
Gordon's father was born and raised near Lindsay, Ontario. He came west to his homestead two miles north of Islay in 1906. In May of 1907, he moved his wife and boys from Ontario to the homestead at Islay. He often told of the snowstorm that May which kept his family snowbound aboard the train for two days just two miles east of Islay. Gordon's mother was born in England. Her parents died when she was a tiny baby and she was brought to Canada along with her four year old sister by an aunty, shortly afterwards, the aunty died. The two little girls were then placed in the Bernado home for orphan children in Toronto. They lived there until they were old enough to work for room and board while attending school, Gordon's mother often told of mixing bread early in the morning before leaving for school and having to stand on a chair in order to knead the dough.
My parents (James and Susan Barnet) were both raised in St. Mary's, Ontario. When they were newly married they came west to homestead in the Youngstown area of Alberta. It was to be a vast change in life style for the young couple who had been used to being amidst family and friends in a lovely countryside where there were fruit orchards and then to come to the bald prairie with not a neighbor nor even a tree near. Because of the drought, my parents, my sisters, my brother and myself, along with numerous other settlers, abandoned the homestead. We moved to a farm at Islay in March 1927.
Gordon was the only member of his family born in Alberta. He attended school at Trimbleville, north of Islay.
I was born at Pollockville, not far from the Cessford gas well that blew wild in December 1977. Because of so few school children in that area, we only had school from spring to fall. It was not until we moved to Islay that we attended school for a full term. I took my high school in Vermilion. Gordon and I Were married July 12,1939 in Vermilion and made our home on our farm north of Islay until we moved to Elk Point. Our three children Myrna, Malcolm and Barrie were born while we lived at Islay and they attended school in Islay. It was while attending school in Islay that Barrie became ill with Polio. Following an absence from school of about one and one half years, he resumed his schooling in Elk Point in Mrs. K. Sadlowski's grade five classroom. Mrs. Sadlowski had forty-five boys and girls in this particular class. The classroom was originally the old Muriel school and it was later joined with the original Orvilton school to become the first Industrial Arts building in Elk Point. Our daughter Myrna, taught school in Elk Point for fifteen years prior to assuming the position of Early Childhood Services Coordinator for the Bonnyville School Division. a position she has held for the past five years. She and he husband, Bill who was born and raised in Rife area west of Bonnyville, reside in Elk Point in the former residence of Morris and Helen Saranchuk.
Malcolm and his wife, Marjorie, who was born and raised in the Bonnyville area, live in Bonnyville where Malcolm has been foreman for the Department of Highways for the past sixteen years. Prior to his employment with the Highways, Malcolm spent two years with the Hudson Bay in Aklavik and Fort Franklin, N.W.T. They have two children, a daughter Kimberly, and a son Derek. Barrie worked in Elk Point for fourteen years at Bill's Shell Service including a period of time at Zarowny Motors. In October 1975, he purchased Elk Point Transport from the Cliff Oberhammer family who later moved to Calgary. In March 1976 Bill Fox, Myrna's husband, began working with the Transport as well and together, Barrie and Bill have expanded the business considerably to this point in time. In February 1977 Barrie took over the Shell Service Station in Elk Point under the name of "Slim's Shell Service" (Slim is the nickname by which Barrie is well known). This service station was previously operated by Adolph Porcina and Mike Bandurak as Elk Point Shell Service and prior to that as Bill's White Rose and later as Bill's Shell Service by Bill and Nola Coma, who have now moved to Raymond, Alberta. Originally, this service station was owned and operated as a White Rose Station by Alex and Clem Tomkow who had also built it.
Barrie and his wife Chris and family live in Elk Point. Chris has worked at the Elk Point Hospital for a number of years.
McFADYEN FAMILY, 1962
LEFT TO RIGHT: Myrna, Violet, Gordon Barrie Malcolm
Life was not all that easy in the thirties as wages were very low and agricultural products were worth very little. Although we did not have much money, living on a good sized farm, we were never cold nor hungry and looking a back over the years, we had our happy times. Our parents kept horses, which furnished the power, cattle, pigs and poultry. We always grew a large garden and with saskatoons, wild strawberries and wild raspberries igrowing in abundance we had lots of good fruit. We enjoyed picking berries and we used to make a little
picnic of it Our table was always well laden with home grown meat, vegetables, fruit, milk, cream, etc. There was lots of work to do but the pressure was not as great as it seems to be today. A choice three-year-old steer was worth about twenty dollars, if you could get it; eggs, five cents a dozen, if you could sell them; many dozens were given away or put in the skim milk and fed to a pail bunter calf; butter could be purchased over the counter for eight cents per pound. In the fall a load of top gtade wheat was taken to Wiebe's Flour Mill in Vermilion, and this gave us a year's supply of top grade flour, bran and cream of wheat.
Card parties and dances were held in the country school house. We paid two dollars for the use of the school; gentlemen paid thirty-five cents admission and the ladies brought the lunch. The coffee for the party was made at home and brought in a five gallon cream can (wrapped in a blanket) and was placed on top of the school furnace to keep hot till midnite lunch.
The orchestra, usually two instruments, but sometimes three, were fortunate if they were paid a dollar a piece for sitting and playing the whole night. There seemed to be quite a number of people who were musically inclined in the community, and they would spell the musicians off now and again. There were no baby sitters, and the children all came with their parents to the parties.
A community picnic on July first always drew a large crowd. They sold chocolate bars, soft drinks, home made ice-cream, lemonade etc. and then a lovely supper was served to all. Our clothes were all home made. Lucky for us Mother was a gifted seamstress. Eaton's catalogue was a good place to buy material, etc. Material was measured to the last inch and there was very little left over. All left over pieces went into quilts, worn out wool socks, mitts or sweaters went into hooked rugs. Some of these rugs were beautiful and definitely "all wool". We bought sheep's wool in the fleece from a neighbor for a dollar a fleece, which would weigh about ten or eleven pounds. It lost about half its weight when washed. We carded it and made lovely light but very warm quilts and comforters. The fuel was in the bush, and in the winter, the men hauled up as many loads as they needed for the following year. Then the ''sawyer'' would come, and with the help of five or six neighbors, the wood pile was sawed. Sometimes the farmers' wives would come and they ould visit in addition to feeding the hungry crew, and ey sometimes quilted a quilt that day.
Farmers exchanged work; there was no money to pay for help.
I have had the pleasure of working in the Elk Point hospital since April 1969. Along with my work, which I enjoy so very much, involvement with Red Cross activities, with Elk Point Hospital Auxiliary, and with teaching some Further Education crochet and quilting courses, I find living in Elk Point to be both rewarding and pleasant.
After living in Elk Point for twenty years, we as a family, are proud to be members of this fine community.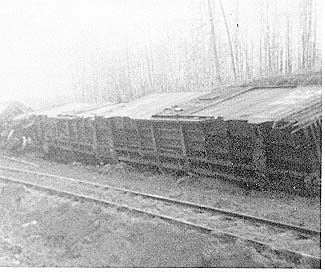 C.N.R. Derailment between Edouardville and Armistice.
"They didn't make it around the bend." Spring of 1976. (Courtesy of Violet McFadyen.)