THE FAMILY HISTORY OF MR. AND MRS. RALPH RIEMER
Ralph Riemer was born in Vegreville and raised there on the farm, along with three brothers and one sister. He took all his schooling there. When he was seventeen years old, he enlisted in the army and went overseas with the South Alberta Regiment. He saw active service from near D-Day until the end of the war.
While overseas he met a Dutch girl, Nicolasina Verhoeven, and they were married in Holland in the summer of 1945. Ralph sailed back to Canada aboard the troop ship Queen Mary in January 1946. Their first son, Randall, was born in Holland in April, 1946. In October of that year Mrs. Riemer and her son sailed across the ocean on a small hospital boat, The Lady Nelson, along with 400 other war brides and babies, to join her husband in Canada. They farmed for seven years in the Vegreville district. In April, 1950, their daughter, Linda, was born in Vegreville.
In the fall of 1953 they came to Elk Point with their two children and purchased the service station formerly owned by Mr. Bill Soldan. In December, 1955, their youngest son, Gregory, was born in Elk Point.
Ralph Riemer by his Service Station 1959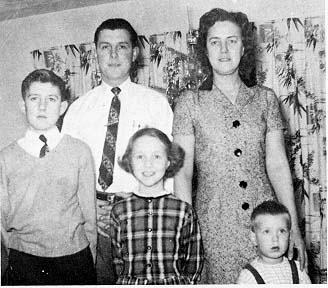 Riemer family
BACK ROW, Left to Right: Ralph and Niki.
FRONT ROW: Randall, Linda, and Gregory, 1958.
While living in Elk Point, Ralph took an interest in the Canadian Legion, and is a past president of the local branch. He is also a Charter member of the B.P.O. Elks Lodge, which was organized in Elk Point in 1961. He was a member of the town council for twelve years, serving all through the sixties and into the early seventies. While serving as councillor, he was also a board member and later chairman of the board of the Senior Citizens Home (Sunny Side Manor) in St. Paul.
While not an active participant, Ralph is very interested in sports, and follows the local Bucs Hockey team wherever they play. He also enjoys the lakes in the area surrounding Elk Point and has done a lot of fishing. He also enjoys family outings.
Mrs. Riemer (Nicki) is also very active in various organizations, such as Red Cross, U.C.W., and is also a charter member of the Order of the Royal Purple. She recently became a member of the Library Board, and joined the Chamber of Commerce. She belongs to a committee to welcome new people moving into Elk Point. She also enjoys visiting senior citizens and patients in the hospital.
After twenty-two years in the Service Station business, Ralph sold his place to 0. and M. Service. With their three children all grown and living in Edmonton, Ralph and Nicki are now semi-retired and, at time of writing, still living in Elk Point.