BOCHON FAMILY
by Nick Bochon
Anthony Bochon came from Chortkov, Ukraine. Nancy Osinchuk came from Brodu, Ukraine with her parents to Canada. Both families were settled around Myrnam and the two were united in marriage in 1914. They raised six children, four boys: Nick, Bill, Martin and Roy, and two girls: Mary and Ann. I was the second oldest in the family. I lived with my parents on the farm and worked out. In 1941 I served in the army infantry at Camrose.
Army training Nick Bochon, (right) about 1940
In mid 1943 I met Miss Mary Habiak who had moved with her parents to Myrnam from a farm at Vilna. Her parents, John and Annie Habiak had purchased a grocery and meat market. A romance started and we were united in marriage on October 21, 1945. After the wedding, we both went to work at the Beauvallon Hotel for a few months.
Then we moved to Fahler to rent a Coffee Shop in the Adanac Hotel. In the fall of 1946, we moved back to Myrnam, where I purchased a second-hand truck and started a trucking business. Mary went to work at Metrunec Garage as a clerk and bookkeeper. Trucking was quite an experience with an old truck. It seemed every place I went for a load of grain I'd be walking back because something broke down.
In March 1947 we moved to Elk Point with the inspiration of my father-in-law that we should all go into business together as a family. My brother-in-law and his wife, Mike and Mary Habiak, John and Annie Habiak (Parents) and my wife, Mary and myself, purchased the Massey Harris Agency, egg-grading station and the property which had a few buildings, from Harry Marteniuk.
Mike Habiak, my wife Mary, and myself moved in with the Fred and Sophie Shewchuk family for room and board because we had no place to live.
My wife, Mary went to Edmonton to Woodland Dairies to take an egg grading course. Mike and I sold some parts but very little machinery because it was impossible to get after the war, and I did some trucking. We decided to move the corner building to the back of the lot for living quarters and build a new garage.
Mr. Grant Arnold moved the building in the summer and we fixed two rooms to live in. Mike and Mary lived in the two rooms and Mary and I slept in a granary next to it. Mary Habiak was our cook while Mike, my wife, and I went to work in the business of grading eggs, trucking and selling parts and machinery.
Mary Habiak and Mary Bochon were canning pears one afternoon in the old building while it was raining and the whole ceiling came down on them. In the winter of 1947-48 my father-in-law John Habiak, as chief carpenter, renovated that building into living quarters: three bedrooms, kitchen, dining and living room. The house was painted, carpets were installed, however there were no cupboards, but it was comfortable. That's the same house Mike and Mary Habiak still live in today.
In the winter of 1948-49 Mike Habiak and I went on the Borutski farm to cut logs for building a garage which is now Elk Point Sales and Service Ltd. With all the expenses of developing and renovating there just wasn't enough income to keep up with the expenses and feed three families. In the spring of 1949, my wife Mary and I decided to drop out of the activities of the garage business. Mary rented the coffee shop in the hotel from Mike Bortoshyk and I went to work as a bartender and did some trucking until I traded the truck to Alex Barbazuk for a farm.
We lived in a house west of the hotel which we purchased later. Across the road west, there were ducks swimming as Elk Point was quite a swamp in those days. In the fall of 1950 we leased the butchershop from Neil Fenton for six months with option to buy but this was not our goal so I bought another truck and went trucking.
In 1951 we started trucking with Poole Engineering from Edmonton on highways with gravel and asphalt. Mary was cooking for the crews. We had good and bad years in trucking on the road depending a lot on the weather. We would leave Elk Point from May to November and come back for the winter months. I~d do local trucking and Mary did books for Elk Point Sales and Service on weekends, sometimes in summer, and caught up during the winter months.
In 1957 Evon Marie, our first child, came and our life style had to change. There was an opening at the Imperial Oil Agency so I took it over in September 1957 from Tom Lambie and still did some trucking for a while. Family life was beautiful so we moved our little house to build a new one on the same location in 1959. When we had more room, we added to our family a son, Tony (Anthony John Nickols) in 1961 and our life was complete.
We decided to sell the truck and buy a school bus for a few years but that was not what I really wanted. I always wanted a little farm that I could go and work on in my spare time. I sold the bus and bought a farm from Steve Romanchuk in 1967. The children were growing up and we were busy with the Agency and the farm.
Some incidents with the children: Mom was called to the office one morning and Evon Marie, three years old, in her pajamas, got up, put her rubber boots on and a purse under her arm and went shopping to Imperial Lumber. To her surprise, Phil Sheplawy phoned and told her mom that her daughter was out shopping already. Tony was everywhere. If you saw a three year old dragging a garden hose down main street or on top of the Imperial Oil tanks or even in the beer parlor, it was Tony Bochon. Evon was one of the Elk Point Majorettes for about eight years. She took part in the young peoples group with the church. At the Ice Carnival she was crowned Queen for the Lion's Club in 1975. Tony was a drummer with the Elk Point Band with small drums then bigger as he grew, and we as parents enjoyed all the trips going with the band, especially the trips to Fort McMurray because they were from two to three days. We should all thank Mr. Barwick for all the fun we had.
Evon and Tony, on Evon's graduation
In 1970 Mr. John Pulyk, an old pioneer from the district and an old friend, sold his farm and moved to our farm to retire, but he is still busy and enjoys the farm and his pets. He is still with us. Evon graduated from the F. G. Miller High School and attended Reeves Business College. Now she is employed at Lloydminster and is engaged. Tony has been busy and still is. He's a drummer and took Ukrainian Dancing. He plays hockey as defenseman. A group of local boys with Tony had a hard rock group called "Crush". Now some boys have finished school and the group has split up. There were many practising hours of hard rock music to listen to. Now he is back with country and western music with a group called "Polka Tones". At the same time he is attending F. G. Miller High School and trying to be a mechanic on old model trucks.
Tony, the Ukrainian Dancer!
My wife, Mary has been quite busy besides working along with me in the Agency and the farm. She kept books for Elk Point Sales and Service for eighteen years. Also, she is a charter member of the O.O.R.P., organized the TB Chest X-ray Clinic, was a committee member for the Centennial Celebration, Ah-ti-yek Days, treasurer for the Ukrainian Greek Orthodox Church, supported the Elk Point Band and Majorettes, chairman and member of P.5.5., helped organize the Senior Citizens Recreation Group, was a board member of the Hospital Joint Planning Committee, a board member in the planning of the senior citizen units, and a board member for Buckingham House.
My life has been quite busy too over the years in Elk Point. I was president of the Greek Orthodox Church for nine years, served on town council for twelve years and while I was on council served on different committees. I am a charter member of the B.P.O.E., a member of the Chamber of Commerce, the Curling Club, and a director of the Progressive Conservative Party.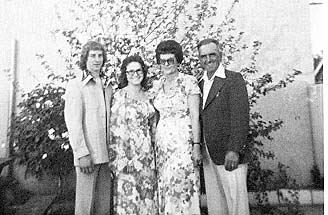 BOCHON FAMILY, 1977
LEFT TO RIGHT Tony, Evon, Mary, Nick
Now we are both slowing down some with age and attend more hockey games, enjoy ball games in the summer and do more visiting. Elk Point and community has been very good to us; we've enjoyed our years in Elk Point. We've watched the village grow into a town over thirty years and the progress and growth may have been slow, but it was beautiful because we can retire with our friends, and have all the conveniences we need and yet enjoy the small town feeling.
Small town living is dropping.in for coffee anytime, even at 1:00 a.m., celebrating each other's occasion together, surprise parties when you've just washed your hair, neighbors' back yard parties or plain old wiener roasts, ski-dooing or cross-country skiing without having to drive for miles, curling and hockey games. If you have a problem you know you can depend on a friend or a neighbor to come and give you a hand, no matter how big or small. You feel so secure. And there are always community projects on which you can work together with other community members if you want to get involved.
Although a lot of our friends have moved away over the years, they always reminisce over the nice times they've enjoyed living in the small town of Elk Point.