THE JOHN HABIAK FAMILY
by Mike Habiak
In 1947 our place of residence changed to Elk Point, where we, John Habiak and son Mike, started an automobile and farm machinery dealership in addition to the garage business. We gradually expanded from grain to mixed farming. Through the years the holdings got larger. After thirty years we still reside in Elk Point.
My father, the late John Habjak, was born in Austria; my mother, Annie Wowk, was born near Saddle Lake Indian Reservation. They were married in 1922 and homesteaded in the Vilna area till 1942. The depression period brought bleak years but at least we had plenty of food and warm clothing.
In the early '20's the only church in our community was the Sacred Heart Church located on the Saddle Lake Indian Reservation. It was there that I was baptized.
At our school, Errol, the facilities were not elaborate. The school house was heated by wood burners and lighted by gasoline lamps. The two room structure housed about one hundred students from grades one to twelve. Two teachers tried to maintain discipline and provide instruction. At that time the teachers' salaries ranged from $350 - $500 per year. There were no school buses so we walked one mile everyday. Only on extremely cold days would my parents venture on the trails to take us to school.
In 1943 my parents sold their farm and purchased a general store and meat-market business in Myrnam. Within six years they sold the business and moved to Elk Point to be with their children. There are two children in the late John Habiak family - my sister, Mary, and myself, Mike.
John and Annie Habiak with daughter Mary 1940
During the Second World War, I served with the North West Service Command (1944-1946) and left as a Maintenance Engineer Second Class. While in the army, I met Mary Shmyr from Rycroft, Alberta and we were married at Fort St. John, September 29, 1944. We were blessed with four children - Marilyn, Carol, Sharon, and Michael, Jr.
My interests were always to maintain a good home and to devote a good portion of my time to municipal affairs. The rest of the time I enjoy fishing, swimming, boating, and farming. I also served many years on the library board, in the fire department, the Civil Defence Organization, and the Chamber of Commerce.
I was first elected to the town council in 1951 and became Mayor in 1953. I still hold this position of Mayor in 1977. During the twenty-six years of municipal service, I have witnessed many changes in this community. Firstly, many of the Old Timers who established this community have departed. Other changes include instigation of the Greyhound bus service (1949), the closing of the C.N. passenger service, completion of North Saskatchewan River Bridge (1950), water and sewer installation, the change-over to dial telephone system, availability of television and the construction of new schools, paved streets in town, paved highways, new hospital, a recreation centre, Senior Citizen Centre, new United Church, and housing units for senior citizens.
In the spring of 1948, we delivered the last section of pipe from Rimby, Alberta to cap the salt well at Lindbergh, Alberta.
At present there is an indication that we may experience an oil industry in this area. Through this venture I hope the community will prosper even more.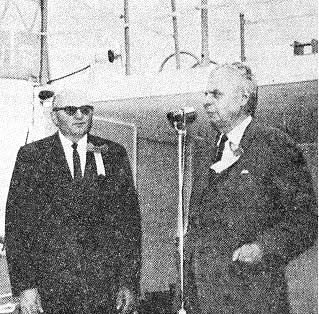 JOHN DIEFENBAKER GREETS ELK POINT
Guest of honor at the Elk Point Canoe Pageant John Diefenbaker introduced by Mayor Mike Habiak on the left, welcomes the 12000 people who crowded the river banks and flowed into town for the celebration last week. Mr. Diefenbaker expressed satisfaction at the Canadian unity in evidence and the great enthusiasm.