THE PILISKO FAMILY
by Walter Pilisko
My father, Mikeal Pilisko, was born in eastern Poland in 1894. As a young man he went to Russia and worked as a train man on a passenger train from Moscow to Stalingrad. This was a few years before the Russian Revolution and he often spoke of the royal coach with the czar and his family as being part of the train.
My mother's maiden name was Olga Livkowich. When the front lines came close during the first world war, she and her family were forced to load their belongings on wagons and tie their cows behind and flee into Russia. Sometime during the Russian Revolution my parents met, married and lived in Russia until they could no longer tolerate communist conditions. In 1920 they returned to Poland where my father bought some land and at the same time he farmed my mother's share that was left to her by her parents. All this land amounted to five acres.
MIKE PILISKO 'S FAMILY
BACK ROW, Left to Right: Marie, Mike, Olga.
FRONT ROW Margaret, Ann and Eddie.
In 1929 my parents decided to emigrate to Canada or South America. They decided on South America as it was not as cold as Canada and the fare was much less than to Canada. At that time the fare to Canada was $120.00. While preparations were being made for the big move, mother met someone who had come back from Brazil, and often the man told her of the wild people and the jungles of South America. My parents decided that part of the world was out and that we must go to Canada. I was then seven years old and my sister Mary was two. The whole trip took us about fifteen days, a few days to cross the Baltic Sea on a small ship to London, then seven days across the Atlantic on a big ocean liner, the S. S. Maligama, to Quebec city, then by train to Edmonton and then finally to our destination, St. Paul, on July 30, 1929. In St. Paul we were met by a smooth talking agent who said he liked to help newcomers. He took us ten miles east as far as Dog Dump Creek, in his model T and charged my Dad twelve dollars. We found out later that he was a crook taking advantage of immigrants.
The place we came to was a small house which already housed three families, two Artichuks families and the Gozjolko family. Close by in a cave-like shack lived an old hermit known as "Wooden Nose". He lost his nose working in a shipyard somewhere in England, and he had just a piece of wood in its place. Our Mother told us kids not to go too far in the bushes or Wooden Nose would get us.
In a week or so we moved south of the river with Mrs. Kondratski, who later married Ed Gancer. She had lost her husband and needed help. I remember when my Dad was seeding for her next spring, he was told that the second horse had to follow the drill track, so when his horses got off track, he would stop and go in front of the horses and get them all lined up again. A neighbor came by and saw all this and said to my Dad, "I don't know how you farmed in the old country, but I will show you how it is done in Canada." He took his big whip, sat on the drill box and the old drill box did some fast seeding.
Dad had filed on a homestead in the Shamrock Valley district, the N.E. quarter of Sec. 2-58-7, and had put up a small log house and some other buildings. One part of our house had a sod roof and the other tar paper with slabs to hold the paper in place. We moved in to our new home in the summer of 1930.
I remember in the winter of 1934 Dad decided to butcher a three year old steer, and as this big steer was too much for us, a neighbor would buy half the meat. Dad said his steer was worth $15.00 but the neighbor was only willing to pay $7.00 for the half, and they were dealing the whole day for the fifty cents. That's how much fifty cents was worth in those days.
In July 1935 we had a big hail storm, the first hail we had ever seen, as it did not hail in the old country. We had only twenty acres of crop and this was all destroyed. That winter our councillor, Harry Parker, gave relief to all farmers in the hailed out area. This relief was a voucher of $8.00 a month to a store of your choice, and next summer the farmers worked the relief out doing road work with horses and scrapers.
Josephine and Walter Pilisko, in bobby socks days.
Later we got a new school and the old one was used for a barn as some of the kids had to come three or four miles by horse. In the beginning we had no fence around the school yard and in the summer when we played hide and seek, we would hide so far in the bushes that we could not hear the school bell, so our teacher, Mrs. Bill Rockwell, got a big cow bell to bring us in. When bus service came our school was moved to Elk Point and I think it now serves as a warehouse for Mr. Higgins the bee man.
Our neighbors, the Lesowski family, had two oxen to do the plowing. He came with his oxen to help us with some breaking. Early in the morning the breaking was going not too bad, but when the sun got higher and the bull flies came out, these two oxen first raised their tails and then went for the barn, plow and all.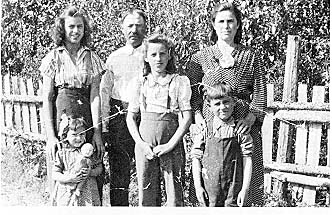 WALTER PILISKO FAMILY
BACK ROW, Left to Right: Josephine and David. FRONT ROW: Joanne, Alan and Ronnie.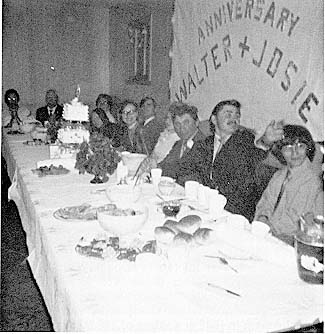 Walter and Josephine Pilisko 's 25th Wedding Anniversary
Soon the country north of us was being settled; school districts were formed. These were Bentley Lake, Lakewood and Kehewin. Now it is all known as Shamrock Valley.
Everybody in those days kept a few sheep so as to have some wool for socks and sweaters. Bill Kondradt was building the old country spinning wheels and selling them for five dollars each. Now after fifty years, he is still making them as antiques but the price has gone up to one hundred dollars.
Until around 1934 there were very few roads in the Shamrock Valley district. Where the roads should be, most were trails through the bush and paths from one homestead to another. As more people came in, the road allowance got cleared and corduroy was put down in low spots. This was four to six inch poles, twelve feet long, placed tightly together. There was one long trail coming from the northwest and heading towards Elk Point. I learned this was an old cross-country road between Lac La Biche and Fort George.
In Canada my parents had an addition to our family of two girls and one boy. My sisters married names are (Marie) Mrs. Dick Von Luch, who lives in Washington, D. C.; (Ann) Mrs. George Pankiw who lives in Ottawa; and (Marge) Mrs. Norman Bolychuk who lives in Edmonton. My brother Eddie farms the home place. I married Josephine Domagala of Bonnyville and we farm just across the road from Dad's homestead. We raised a family of six, four boys and two girls. One son and two daughters are married and we have six grandchildren. My father passed away in 1969 at the age of seventy-six, and my mother in 1973 at the age of seventy-seven.
In the summer of 1976 Josephine and I took a trip to visit relatives in Poland. I wanted to see how much change had taken place in the forty-seven years. I could see that the people live better now than they did when we lived there. Some of the buildings in our old yard are still standing with their straw roofs. There is no umemployment in Poland. Everybody is working but to me it seemed that they were doing everything the hard way, like boiling feed for hogs and cows and pasturing them on a long chain pegged in the ground. Their wages there are from two to four dollars a day in our money. A pair of shoes costs four dollars and a bottle of whisky one dollar, so they really just make enough to live on. Anyway, after looking over this small country with its thirty-five million people, the way it is all cramped and crowded, I realize how fortunate I was that my father came to Canada, even though we had to live through the hard times and put up with our cold winters.
I am at this time farming with my son David, three miles north of Elk Point. We produce feed grain, hay, and have about an eighty cow-calf herd. When I get so I can't farm any more I am looking forward to retirement either in Elk Point or St. Paul.