NICK AND MARY BUGERA
by Jerry and Adeline Bugera
Nick Bugera was born December 19, 1898, in the village of Pasta Euan, Borasteau, Ukraine. In 1911, when he was thirteen years old, Nick emigrated to Canada with his father and mother, John Senior and Annie. With them came one brother Andrew Bugera then one year old, now living in the town of Elk Point and two sisters: Mrs. Katey Slywka then ten years old and now deceased, and Mrs. Edna Wespinski then seven years old and now residing in Drayton Valley district.
The ship fare cost $200.00 each. From the ship the Bugera family rode the train from Halifax to Vermilion. At Vermilion they were picked up by Nick's uncle, Fred Chubey, in a wagon pulled by oxen. Halfway from Vermilion one of the oxen became sick and they were all welcomed into a stranger's home to spend the night. The next morning the ox was well enough to start the family on the journey to the Northern Valley district. The Bugera family lived two months with the Chubey family, then in April Nick and his mother along with the families built a log house while Nick's father worked in Vermilion as a shoemaker. Every weekend he walked to and from Vermilion to help break the land, build the house and see his family.
A few years later, two more children were born, John and Bill, both now residing in the town of Elk Point. In 1918 at the age of twenty years, Nick was called to join the army but served in training for only two weeks because the war was over. Then Nick went out and bought himself a homestead for ten dollars near the North Saskatchewan River. Breaking the land was a slow hard process with only two horses. During this time Nick had built himself a log house.
Nick Bugera 20 years old, end of World War I, 1918.
Through gatherings and visits Nick met Mary Gabrey. Mary was born in 1904 in Sudbury. Mary's family moved to Alberta by train in 1913. Mary's father and brothers rode in the box car with their livestock. Her mother, sisters and Mary rode in the passenger car. They rode the train up to Edmonton, Alberta. Then their long, hard journey to Flat Lake began in a wagon pulled by horses. The family took turns keeping the livestock near the wagon. They reached their destination with eighty cents in their pockets. They lived in old vacant houses until Mary's father earned enough money to buy their own homestead.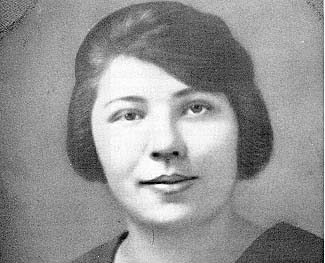 Mary Bugera as a young woman.
Nick and Mary were married November 22, 1922. Nick was twenty-five years old and Mary was seventeen. Their wedding reception was celebrated at Nick's parents' home in Northern Valley. The wedding lasted for three days. Mary said (quote) "I just wanted to go home to sleep, I was so tired." Their wedding donation amounted to $100.00 and gifts. On the fourth day Nick took Mary to her new home. The same day they hitched their horses to the wagon and Nick and Mary started their journey to Vermilion on their first shopping spree. There they bought some dishes, pots, utensils, bedding and groceries. They spent the night in Vermilion in a two room building. The horses were kept in a divided building and the people slept in the adjoining room. The next day they started on their way back home. There was no time to be wasted; the harvest season was in full swing. In these early years farmers helped each other in gathering in their crops. About fifteen to twenty farmers with their teams and hayracks can be remembered moving very slowly in long rows travelling from farm to farm. The threshing machine was owned then by Nick Yaremkewich. In 1922 snow didn't fall until December 22 but that winter six feet of snow fell.
Four of Nick and Mary's fourteen children were born on this homestead. They were Annie (Severin), Nelsie (Dudak), Mike, and Pauline (Pacholuk). Then in 1934 Nick sold his farm to Mike Yaremkewich and bought another farm in the Flat Lake district from Mary's brother, Alex Gabrey. Nine more children were born-Edward, Eric, Eddy, Albert, Theresa (Semeniuk), Johnny, Billy, Jerry and Lester. Throughout the years Nick and Mary lost three of their sons: Mike, their first born son at fourteen years; Edward and Lester as little babies.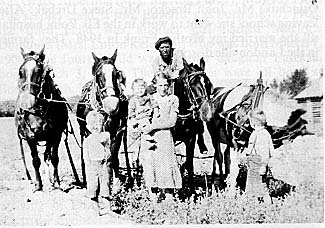 Nick Bugera with children, LEFT TO RIGHT Eddy, Annie holdmg Theresa, and Eric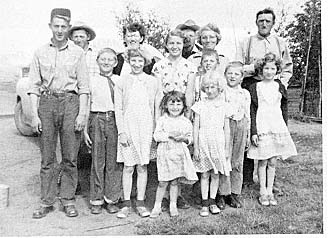 Nick Bugera with some of his children and grandchildren.
Between 1946-47 the family moved to another farm four and one half miles west of Elk Point, now owned by Del and Faye Smith. In September 1954, the first day of school Nick and Mary had the misfortune of having their home and all their belongings burn to the ground. The fire had started in the chimney. Nick and Mary had gone to school to pay for Theresa's, Johnny's, Billy's and Jerry's school books. The Red Cross, neighbors and friends donated many of the necessities. Throughout the winter the family had to live in separate buildings. In the spring of '55 they moved a vacant house over from their other farm. In the fall of 1958 Nick and Mary retired purchasing a house in the town of Elk Point. Three of the boys left home. Johnny, Billy and Jerry moved with them.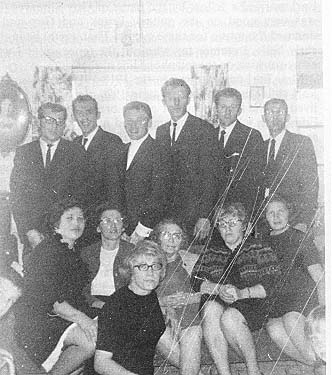 FAMILY OF NICK AND MARY BUGERA, 1969
BACK ROW, Left to Right: Jerry, Billy, Johnny, Albert, Eddie, Eric.
MIDDLE ROW: Pauline Pacholuk, Annie Severyn, Mary Bugera, Lena Faryna, Theresa Semeniuk.
FRONT ROW: Nelsie Dudak.
Nick passed away in October of 1968 at the age of sixty-nine years. Mary, who celebrated her seventy-third birthday March 27, 1977, lives in the Parkland Nursing Home at St. Paul, Alberta. Nick and Mary's eleven children are presently living in Alberta and British Columbia. Their youngest son, Jerry, with his wife Adeline and their four children, Jody, Lisa, Nicky and Gerard, have bought the house from Mary and are now living in Elk Point. Their second youngest son, Billy, with his wife Carol and their two children Christine and Roger moved back to their home town of Elk Point in July of 1977