THE WARREN NELSON STORY
by Ruth Hobden
I am Ruth Quin Hobden, of Langley, B.C. In 1911, my father, Warren Nelson of Fairmont, Minn., read about an offer of a hundred sixty acres of homestead land for ten dollars in Canada, so he and a few neighbors decided that they should try for this wonderful deal. They left their families in Minnesota, and came to the Elk Point district. There they found land to their liking, so filed on their sites in Edmonton. They then built a log cabin on the place for their families, before returning to Minnesota to prepare for an auction sale.
In the meantime, my mother, Jeanette, was busy preparing food for us to take along to Canada. She dried apples, peas and beans -- we children would sit around the kitchen table evenings shelling them -- and filling mason jars, she canned everything she could. We also had a barrel of salt pork, as well as a barrel of sorghum made from a sweet cane which we grew on the farm. These things came in very handy, as we would have no garden on the homestead, and a large family to feed.
After the sale, Father went back to the homestead to finish the cabin. He shared a box-car with Charlie Bartling, and our household effects and his were transported to our new homes that way. Mother took the six of us, Mayme, Lillian, Gladys, Warren, Donald and me to visit relatives. We had so many of them that most of the summer was used up that way.
So in July, 1912, we left Minnesota for Elk Point. It was a long, tedious journey by train. I remember being train-sick most of the way. We had to change trains in Winnipeg in the middle of the night, and Mother lined us all up. But Warren, my young brother, decided he would rather stay there, so went to lie down again. No one saw him, so when we were about to board the train, no Warren! But we soon found him, and all was well. We finally reached Vermilion, where Father met us with an ox-team, to take us to our new home. The oxen were so slow, it took us two days to go the forty miles. We camped one night in the rain.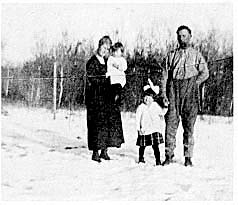 Mr. and Mrs. W. Nelson with June and Bud.
The cabin wasn't quite livable, as it had no floor, even for a while after we came. The roof was made of sod which leaked inside for two days after it stopped raining outside. There were pots and pans sitting around to catch the drip. In those days it rained very often. Mother must have had many misgivings, but she was a good sport, and didn't let on. We kids thought it was all a great adventure.
There was always a lot of game in the country, also fish were plentiful, grouse and partridge too, and everyone was good about sharing. I got to be quite a good shot with a 22. I tried a shot gun once, but never again. It really knocked me down. We girls would go miles sometimes for strawberries, saskatoons, blueberries, huckleberries, goose and cranberries. Sometimes we would camp overnight if it was a long way home. There were bears around, but no doubt we made so much noise we frightened them away. My sister Gladys had to climb the woodpile once, when Old Bruin came along to see what was going on, but he didn't stay long.
There was no school near enough for us to go to, so Vermilion was where my elder sisters went. Finally Shamrock Valley School opened, and we went there awhile. My sister Mayme was the teacher. She also taught at Paramount School, then with Grades I to VIII. We walked two miles each way.
Gladys, Ruth, Lillian, and Mayme Nelson, 1915.
The mail came in once a week, and we had a four mile trip to Mr. and Mrs. Chas. Hood's home to get it. Mr. AIf. Monkman carried the mail from Vermilion, crossing the river by cable if the ice was going out. But in normal conditions the ferry was used. One time it got away, and floated down-river with him and some passengers on it. It was finally brought back to its moorings, everyone intact, also the ferry.
Our mode of travel was mainly shank's pony. The narrow roads or trails were usually muddy. Of course there were no cars until quite a few years later. The first Ford was owned by C.J. Markstad. It was a marvel to behold. I remember my first ride in it. I felt like a princess.
There were many Minnesota, Iowa and other people from the U.S.A. in the district, so we celebrated the fourth of July for a good many years. There would be ball-games, horse-racing, different sports, a hot dog stand, and of course a dance in the evening. This was the thing the young folk liked the best. I think there were house dances before the hall was built, after that weekly dances were held.
Ruth and Warren Nelson in St. Paul, 1917.
There would also be a Fair every fall. Everyone interested would bring their best cabbage, crochet work, or whatever, and it would win a prize if it passed inspection.
The winters were long and cold. One of the neighbors had brought a large box of books. They were passed around and enjoyed by many. They were mostly fiction -- stories by Jack London, Zane Grey. Harold Bell Wright and others.
There was no doctor or dentist. If we had a toothache, it just had to ache. If we got sick, Mother would administer castor-oil. That was her favorite remedy, it seemed. If anyone was seriously ill, Dr. Smith from Vermilion would come the forty miles, but sometimes by the time he got there, the patient was either better or dead. We were very thankful when Dr. Miller, Sr., came to practice after the war. He was followed by Dr. Ross. We loved them both. In 1918 the 'flu epidemic hit the country severely. Very few escaped it. We lost many.
Before the doctors came, Mrs. John Babcock delivered many of the babies. After she died, "Ma" Caskey did the job.
I must also mention that my father was the first barber in Elk Point. His shop was in the store owned by C.A. Johnson.
In 1921, I married Joe Quin. Joe was born in Manchester, England. He and his mother, and sister Ethel Whitworth, joined another sister living in Winnipeg before the 1914 war. Joe worked in the post-office until the war broke out, then he and Percy Whitworth joined the 3rd Canadian Engineers, and were "over there" for four years.
Thankfully, the boys came home together. Percy took a homestead, and Joe bought a quarter-section from Mr. Clark and Mr. Sheldon, one-and-a half miles west of Elk Point. This was with the help of the Soldiers' Settlement Board. The boys farmed it together for a few years, as Joe had no experience with farming. Finally Percy went back to Winnipeg, and about that time the depression came along. Things were pretty rough, so Joe took over the Elk Point Post Office from Mr. Hood, as he was wanting to retire by then. Joe ran the post office until his death in 1937, when I took over. When I retired, my son Bob became post-master. He held the position for several years, then moved to Edson, Alta. and later to Edmonton, where be died in 1970.
Our oldest son, Maurice, lives in Vancouver. Daughter Shirley is in Winnipeg.
My father went back to Minnesota in 1926, and died at the age of 55.