THE JOE KELLER FAMILY
by Beth Lawrence
Dad was born in Bavaria, Germany in 1875. He was raised on a small farm in the Swiss Alps. He apprenticed as a cabinet maker always with the idea in mind that he would one day emigrate to Canada. In those years it was the law of the German government that all men would serve two years in their army. In 1896 after serving the necessary two years Dad went to England. He found work in the London suburbs with a firm called Setgroves. The following year he sent to Germany for his bride to be, Josephine Guise, and they were married in London. I was born a year later and my brothers Bill and Charlie Keller were also born in London. I was born within the sound of the Bow bells which is considered an honor and quite rare.(This made Joe a true Cockney.)
In 1907 Dad, along wth Heinemann and Holloway came to Canada. Dad settled in London, Ontario and worked in a factory that manufactured show cases and office furniture. The family left England for Canada in the fall of the same year. In the newspapers in the east, land in Alberta was advertised as selling for $10.00 a quarter section. Dad, Heinemann and Holloway all filed on homesteads and in 1909 it was "Westward Ho" to the Landonville district. Our sisters Nellie and Jo were born there. Dad was fond of politics and in a short while was on the council. In 1913 Dominion Office and Store Fitting Co. whom Dad had worked for in Ontario asked that he come back. I had not been in school since leaving London, nor had Bill. There was no school or church at Northern Valley and Mother was elated at returning to Ontario so once more we were on the move.
Dad worked hard but soon the first World War was upon us and because we were German the people gave us a very bad time. Dad was asked to leave his job so that the rest of the staff would stay on. There were difficult times but Bill and I both worked and kept the household together until Dad found work again. Bill worked for Sterling Shoes and I was at the McCormick Co. hand dipping chocolates. Dad in the meantime had met an English fellow and together they built a shop and gave it the name "London Art Woodworking Co." It wasn't long before the small business was thriving. In order to expand they took in some partners and it wasn't long after that until Dad was squeezed out. During this time influenza was raging and so many, young and old, died. The hearse was drawn by horses and even in the night the sound of the horses hoofs could be heard while transporting bodies.
In 1919 we loaded our seven passenger Nash Rambler that Dad had bought from a doctor and started once again for Northern Valley. I remember that a friend had given me a piece of the finest pure silk material and I was planning on one day making it into a wedding dress for myself. I was petrified at the thought that it may be taken from me at customs while crossing into the United States or perhaps having to pay duty on it when we were so very short of money. I was very slim so decided that I would wrap the yard goods around my waist, and dress over top, which I did and very fortunately for me it went unnoticed. Our furniture and belongings were shipped in a railway car and we carried with us only the things that were necessary for our trip. We pulled a form of small utility trailer. We packed our lunches and meals were eaten by the road side. We often stopped at farms and all worked in the garden and for this we were given garden produce which certainly made the task of meal preparation much easier. When it grew late we would stop and ask a farmer for permission to stay on his land for the night. Mother and Dad would sleep on the ground beside the car, the boys slept under the utility trailer and us girls would sleep in the trailer. When it rained it was a different story; we all would have to be in the car. In Glenco, Illinois,we had a break down with our old car. Dad again found work to buy the repairs and became friends with the garage owner and was allowed to install the repairs himself. Bill and Charlie acted as caddies for the well-to-do golfers so earned money to help with the food etc.
We crossed the border into Canada at Emerson, Manitoba. It was an early winter with wind and snow and needless to say we were cold in our touring car. Dad managed to sell our car in Winnipeg and get enough money to buy our rail tickets to Vermilion and had extra money left over.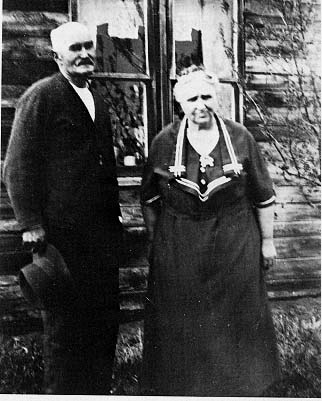 Mr. and Mrs. Joe Keller at their home in Spring Park, 1930.
We were met at the railway station in Vermilion and there was room enough in the wagon for all but Mother and Dad who stayed in town until the next day. The gentleman we rode with had a wagon and as the snow was getting deeper the steel wheels built up with snow and we ended up all walking to our destination. This was an overnight trip and we stayed at a farm house where the people were very kind. The five of us all slept side by side on the kitchen floor. The next morning the mother of the home prepared food for her family and after they ate we were asked to eat also. The family could not speak English but we all made out very well using signs. I still well remember the beautiful huge loaves of bread that had been baked in a clay oven and with it we had butter ((homemade) and milk to drink.
We lived in Heinemanns' house until Dad got our home built from packing box material he had shipped out from Winnipeg. Our house was built on a hill and could be seen for miles around. It was called the "Packing House" and became quite a landmark. Times were hard for everyone. Dad had an International chain driven Titan engine and he charged 10 cents a bag for grinding grain. I remember taking our homemade butter to town and exchanging it for groceries. To keep the butter cool we would gather rhubarb leaves and wrap the printed butter. We would get l0 cents a pound for our butter.
A gentleman by the name of Doxy had the first post office at Northern Valley. Mrs. Doxy passed away and Dad made the coffin, hand planed from rough lumber. Dad wanted it stained and remembered while walking one day that he had kicked at a puff ball, a member of the mushroom family, and the toe of his shoe was stained brown. He gathered several of these puff balls and mixed the powder with water and with this solution he was able to stain the coffin a beautiful brown. They used unsalted butter to polish the wood. The coffin was beautiful and Mrs. Doxy was buried on their farm cornering Dad's which was the N.E. 30-55-6-W4.
In 1921 married and with my husband Hardy Lawrence moved north of the river. In 1925 Dad Keller and the family moved to Spring Park. The "Packing House" was torn down and a large house built from lumber. Dad and Hardy had the first telephones in the area and the lines were the barb wire fences.
During the Second World War Charlie and Bill joined the air force and Jo the army. Dad and Mother carried on at the farm. They had their own plant which supplied them with electricity. They also had spring water from a sand point in the cellar and a small pump on the kitchen counter.
Dad was handy at so many things. He could cook and sew and learned tailoring while in the German army. Mom and Dad enjoyed the radio and looked forward each day to the soap operas. They both had lovely singing voices and Dad could yodel beautifully having learned the art in the Swiss Alps.
Dad passed away before the end of the war, 1943. Mother died in 1949 and they are both buried in the Elk Point cemetery. My family often speak of their Grandma and Grandpa Keller. They remember the sugar cookies that Grandma always managed to have in her "magic" kitchen and the little surprises Grandpa would whittle from willows. They also speak of Grandpa never raising his voice to them.
Sister Jo Laughlin still lives in Elk Point, Charlie and Nellie (Kepke) in Greenwood B.C. and I (Beth Lawrence) am in Penticton B.C. Bill Passed away Jan. 25/77.
Mrs. Van Natter, Mrs Keller, Mr Keller and Mr. Jim Van Natter about 1940.