JOHN FERENCE
by John Ference Sr.
I was born on March 24, 1899 in Merola. Merola is a small village located in the scenic, landlocked country in the heart of Central Europe, Czechoslavakia.
In this little village, I spent much of my young days, working, learning and helping my parents work in the fields, the hardway. Everything was done by hand labour. Off and on, I attended school. For two years, I attended school at the Strena Village in Hungary. At the age of fifteen years, year 1914, I joined the Austrian-Hungarian Army and was sent to war. I was here for six months and then was sent home because of my young age. During the time, while I was at home, the Austrian Army came and burned the village. All the homes (huts) were destroyed here. After this tragic event, my father and I ended up being carpenters rebuilding homes in the village. Then there were five Russian prisoners under us, rebuilding homes. The Austrian Army had also taken away all the cattle.
Later the Russian Army was driven back to the Polish border. Families were hungry and during this time, the Hungarian Army sent food and clothing. At the age of eighteen years, I was taken to serve in the Hungarian Army. Here I was given a job delivering ammunition around with horses which were at that time the main means of transportation. The tragedy struck-the horses got sick and were sent to a Division Hospital. Again I was given a different job; working with a Veterinarian in this hospital. This was from October, 1917 to April, 1918.
In April of 1918, I went to Italy and joined the Front Army. On October 28th, 1 was in the 'Front'. During this time in the front line, I saw many lives lost and a lot of suffering and hunger. One bad experience I recall was when I jumped into a trench and seconds later, a grenade from an artillery gun fell in a spot not too far from where I was standing. Many lives were lost only several feet from me but I was fortunate only to be covered with dirt. Most of the soldiers were buried in trenches and never recovered.
During my time in the front line, I had a job to buy feed for horses and to also deliver it. While transporting feed, I would at times come across several fruit trees on private properties. Here on a few different occasions, I would stop, have a feed and then hurry on my way hoping not to be seen.
On October 28, 1918, I received good news. The order was given for all soldiers to return to their homelands so the Captain and I took horses and three wagons with food, clothing, etc. and headed for home. We had only gone about twelve miles when we met the Italian Army. They stripped us of everything; ammunition was first, and they told us to proceed home peacefully, so this was what my partner and I did. After many hardships encountered on the way home, we finally reached our destination on November 10, 1918. In the same month and the same year, I was married to Mary Blicha-November 18, 1918. She was born on November21, 1900 in the village of Prichla and passed away April 24, 1974. With marriage, new life began for me.
In 1920, I joined the Czech Army. There was no war going on at this time. I was only in training until 1924 when I was released. After I was released, a message arrived in my village that whoever wanted to immigrate to Canada was able to. Hearing about the wide open spaces and the farmland which I was very much interested in, I thought that maybe I should try so that is what I did. I borrowed money from friends for my ticket to a new country, Canada.
JOHN FERENCE, SR. FAMILY, 1968
BACK ROW, Left to Right: Steve, Bill, Joe, Peter, Mike, John Jr.
FRONTROW: Mary (Mother), John Sr., Mary Lychak.
In May, 1926, a dream come true and I was headed to a land unknown. I left my wife and two sons, John Jr. and Mike, behind, hoping they would join me in Canada in a very near future. I arrived in Quebec by boat. Off the boat and on a train, not knowing a word of English, I had arrived in a little town of Tofield, Alberta. After a few days, I got a construction job. During those days, immigrants were not given welfare or other benefits so we had to work hard for a dollar a day or room and board. After a few months, I decided to work on a farm,' especially during harvest. After harvest, I went to a bush camp where about two hundred people worked. Many men worked and waited to be paid in the spring but I insisted to be paid every month. In the spring the company went bankrupt and most of the workers did not get paid at all.
From here, I went to a coal mine, by now, knowing a few words of English. In the meantime, I had saved enough money to pay my fare back to the friends from whom I had borrowed money before.
In March, 1929, I bought a quarter of land in Armistice District. There was only thirty acres of cleared land but with the help of a good neighbor, I bought horses, a harness and managed to work thirty acres with a walking plow. I also managed to plant a garden. I kept myself busy stooking and cutting hay for the neighbors. I would cut hay with a scythe. When fall arrived, it was harvest time and from a few acres of grain I seeded, I managed to get a good crop.
Towards the end of September, 1929, my wife and two sons finally arrived at Armistice by train. My wife came to find a one room shack and wilderness all around. She found it very lonely but it didn't take long until she got acquainted with a few neighbors. Even though it was difficult to communicate, it didn't take long and everyone made friends. Our nearest neighbor was very friendly and tried to help us in every way possible. Day by day, my wife and I worked and worked. There wasn't very much time for entertainment but we did have an occasional little house party to which neighbors would come. Catechism was taught at my place to raise money to build a church. This went over quite well at that time.
During the winter months, I always found something to do. Usually I brushed land with an axe so it would be ready for clearing in the spring. If I wasn't brushing land, I was hauling logs to build a few log buildings. The first building was a log house. This is what I wanted first. I plastered the walls and ceiling with mud and then white-washed it.
These were the depression years. For transportation, I used horses and a wagon. Since there weren't any roads, only trails, this was the best way and the only way. In later years roads were being built slowly, using horses. I recall transporting wood to be traded for flour at the flour mill in St. Paul. As years progressed, more land was bought and cleared. In 1937, I bought my first tractor and in 1938 a threshing machine was bought. This is the way things kept on.
I didn't care to do very much travelling but did go to the United States twice and in 1968, my wife and I flew to Czechoslavakia for a trip. We visited with our families, friends and relatives that we hadn't seen since
we left the country quite a few years back.
I semi-retired in 1958 and moved to Elk Point. I have a family of six sons and one daughter-John was born April 23, 1921; Mike, August 16, 1925; Peter, June 5, 1930; Joe, December 2, 1935; Bill, July 1, 1937; Steve, June10, 1942; and Mary, January 8, 1945.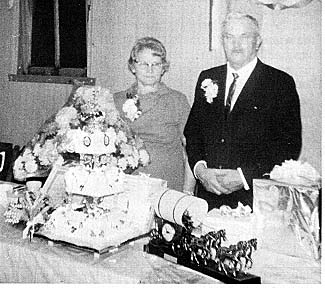 Golden wedding anniversary of Mr and Mrs. John Ference Sr., 1968.
At present I am living alone in Elk Point, but I do travel visiting my family who live not very far from me. Going back to the farm is what I enjoy as it brings back many memories.