DYMTRO AND ANNA JEWCZY (YEWCHIN)
by John Yewchin
Two brothers, Sam and Dmytro Jewczy (Yewchin) ventured from their village of Chornokonce Vilike, Austria, to arrive in Canada on April 21, 1905.Dmytro left his wife and two daughters behind, to try to find a place that he could call his own. For six years he worked in the mines at Canmore, Alberta, before coming to Vermilion, then north, to the district which is now known as Northern Valley.
LEFT TO RIGHT: Dmytro, Anne Theodora, Sam Jewczy (Yewchin).
Land sold for $10.00 a quarter and Dmytro broke his first quarter that summer while living in a tent. He and his oxen worked hard, for he had to break a specified amount of land in order to obtain his title.
Before winter arrived, he had managed to complete his first house. The one-room dwelling was constructed entirely from the land: sod roof, log walls with mud plaster in the cracks, and hay and mud packed floor. Dmytro reached his goal, and it was time to send for his young family. In March of 1912, his wife Anna and daughters Mary, 10; and Teckla, 7, arrived.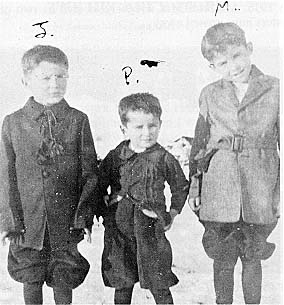 LEFT TO RIGHT John, Peter, Mike Yewchin.
Yewchin and neighbors sawing wood
The family settled in well, and in 1913, Mary and Teckla started going to the King George School. It was here, under the teachings of Mrs. Day, that the girls began to learn English. Their clothing was meager: hand-sewn and dyed flour sacks; and their school lunches were thin: lard on bread sandwiches, but they were glad of the opportunity to learn.
On January 24, 1913, the family increased by a son, Michael who was followed soon by John then by Peter on March 2, 1917, and twins Kay and Doris, March 20, 1920. It was definitely time for a larger house, and in 1920, a four room modern home was built. The features included a large pantry, kitchen, living room and bedroom. The rooms were divided by whitewashed plaster walls, while the outside walls were constructed of lumber sided logs. Dmytro's dreams were realized when, on July31, 1920, he received the title to his land.
However, sadness came with the joys, for shortly after the construction of their home, John, their second eldest son, was fatally injured in an accident.
Times became more difficult, as the twenties pressed on: their very stable existence began to falter as wheat prices dropped. Still the necessary supplies from Vermilion had to be bought: matches, sugar, chickory and barley (a predecessor to the coffee bean), coal oil, and the unrefined 4X flour. The remainder of their food supply they produced and stored in various ways: potatoes and other tubers were kept in the root cellar; cabbage was pickled in crocks; while partridges, bush rabbits, and other game were bagged fresh.
The twenties were very much a "sharing time" of workbees, followed by festive meals, and singing. There was one community threshing machine and neighbors joined in to share the work and the merriment that ensued. One of the many happy gatherings celebrated was the marriage of their eldest daughter Mary to Bill Slywka. In 1923, Teckla followed suit by marrying Peter Shymkiw. Slowly the family left the nest to set down roots of their own.
YEWCHIN (JEWCZY) FAMILY
BACK ROW, Left to Right: Peter, Mike.
FRONT ROW: Kay Zotsman, Teckla Shymkiw, Mary Slywka, Doris Wasylishyn.
In March of 1925, Dmytro and Anna received their naturalization papers and so became firmly a part of the Canadian Mosaic.
Here, on the land that they loved, they continued to farm until Dmytro's death on December 27, 1941. Anna then lived with her son Peter until her death on Oct.17, 1952.