ALFRED JAMES MONKMAN AND FAMILY
by Elizabeth (Monk man) Cole
Mr. Alfred James Monkman, always known as 'Alf', was born June 23, 1875 at Racine, Wisconsin. He spent some time in Manitoba, then took a homestead and farmed near what is now the town of Derwent, Alberta. While in Manitoba he had met a Miss Alice Louise Flett, and he courted her by mail after moving to Alberta. In 1912 she agreed to marry him, so he went back to Manitoba, married her, and brought her to his homestead. In addition to farming, Alf carried mail and he and his bride operated a post office out of their small house. This was quite a change for Alice who was from a large family and a nice big home; but she said this seemed to be what God meant her to do, and she knew Alf was a good man, so she didn't worry. Soon they built a bigger house, and later their only child, Elizabeth (now Mrs. Pat Cole) was born.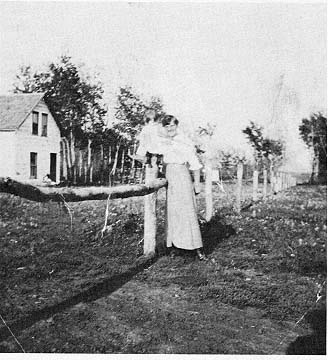 Mrs. Monkman and daughter Elizabeth in front of their home, which was also Peguis Post Office.
Alf carried the mail, freight, and sometimes passengers from Vermilion to Elk Point for twenty-four years, and in spite of bad weather and almost impassable roads, he never failed to deliver the mail. In very cold weather or storms, people would urge him not to start out, but he always did. He took lots of blankets and a footwarmer, and every few miles he would stop and clear the snow and ice from the horses faces. They knew the road, and would carry on without guidance, slowly reaching the first stop, the Maughan Post Office. After a short rest stop here, on they went to the halfway point of the trip, Monkman's Post Office, twenty-five miles from Vermilion. Home was an overnight stop, and here he changed teams and then started on, stopping at Angle Lake Post Office, Peat Post Office, and finally Elk Point - fifty miles from Vermilion. When he needed them, he had some good drivers to help him in those early years. Among them were the Bartling brothers, Romanzo Fish, and Bill Keller.
Mrs. Monkman was a wonderful housekeeper and an excellent cook, a fact much appreciated by the many passengers and people who came for mail and stayed to meals, and overnight. It was said you could eat off her floor it was so clean - just a wood floor, too. She never had time to be lonely; there were always horses tied at the long log 'rail' by the post office. After a school was started, the teacher often boarded at Monkmans.
Mrs. Monkman was a woman of firm religious conviction. In 1919 she became convinced that the world was coming to an end, and she must be prepared. Being prepared was not merely a mental or spiritual thing. She decided the woodshed must be filled to the very roof with sawed and split fire wood. Bill Keller happened to be working there at the time and every minute he could be spared by Mr. Monkman, Mrs. Monkman had him busy filling the woodshed. It turned out to be a very handy preparation even though the world didn't end! She laughed about it with the rest of them, later.
Because Bill did the milking and hunted lots of chicken and partridge for her, Mrs. Monkman insisted that he take some home whenever he went home. She would clean and freeze the birds, and freeze whole milk in bread pans to make into manageable blocks, and pack these in a sack for Bill to take.
Eventually Alf started driving a car on his route. He had at one time an eight passenger Studebaker that he really loaded down. In addition to mail, freight and passengers, he began hauling farmers' cream cans. The roads were terrible most of the time, and when he could see that he wasn't going to be able to make it up a hill or through a bad stretch, he would holler, "Everybody out", and all passengers would jump out and walk while he continued past the trouble spot.
In 1928, Monkmans gave up the mail route and post office and moved to Vermilion. The new railroad to Derwent was built right through All' s old hay meadow. For several years he hauled freight in a truck and then he took on the job of ferryman at Shandro for a year. From Shandro they moved to the little ferryman's house on the north bank of the North Saskatchewan at Elk Point and Alf began a ten year job as ferryman there. As with the mail carrying, he gave the very best possible service to the people he served in this new job. When sick people or doctors in a hurry had to cross, he tried hard not to keep them waiting for the ferry. In the spring and fall the ice became unsafe for driving on, yet the ferry couldn't be put in. For emergency use, Alf and Doctor Miller built a small platform and attached it to a pulley. They crouched on this thing as it flew down the cable as far as it would go, then they both stood up and pulled themselves, hand over hand, up the other slope of the cable to the other side where someone would be waiting with transportation to take the doctor to where he was needed. Alf would build a big bonfire and sit near it for several hours or until Doctor Miller returned. Then they would take their little ride back again to the north bank and the doctor would drive himself home. Sometimes he would be called out again in a few hours and they'd do it all again.
FRONT CENTRE: Alf Monkman working on the ferry.
'Maiden' Voyage of the "Go~devil". Mr. Monkman taking passengers across the river in the 'cage'.
In the fall of 1935 the government recognized the need, and provided a better way of crossing between seasons, called a Cage. It was much safer, and many people used it when necessary. The men building the new ferry at the time the Cage was first used referred laughingly to it as The Maiden Voyage of the 'Go-Devil'.
Shortly after this Mr. Monkman's health began to fail. He gave up his work, and did not take another job. He died in the Elk Point hospital in 1942. When Alf became older and ill, Doctor Miller tried to get a government pension for photos He had worked twenty-four years at one government job, and ten years at another and rendered remarkable service at both; but government regulations said, "twenty-five years at one job" so he didn't get it.
News items about Mr. Monkman that appeared in early copies of the Vermilion Standard:
Peguis Sept. 11, 1912 - Our Post Master, A.J. Monkman, now wears a white collar daily. Bachelors take note what you have to do after getting married.
March 11, 1925 - Mr. A.J. Monkman, mail driver, left last week for Edmonton to undergo a two-weeks treatment for spine trouble. Mr. Monkman has been handling the Elk Point mail route for the past twelve years without a break, and during that period has driven a distance equal to several trips around the world.
April 14, 1928 - Presentation and banquet to postman, A.J. Monkman, honored by citizens of Elk Point and district. The date of Elk Point's last overland mail Saturday, March 31st was marked by a banquet and presentation to the veteran postman, Mr. A.J. Monkman, by the people of Elk Point and district in appreciation of his services during the past fifteen years. The presentation consisted of a handsome gold watch of twenty-one jewel movement with Mr. Monkman's initials engraved on the outside of the back, while on the inner side was engraved the names of the donors and the occasion, making a very handsome gift. Dr. Miller, in presenting the watch, referred to the sterling service rendered by Mr. Monkman as postman, having never missed a mail during his fifteen years of duty, a record to be proud of; also the postman's many adventures while on his trips, of his having to improvise and cross the Saskatchewan river on a cage attached to the ferry cable at break-up time; and in making the long trip from Vermilion to Elk Point during the cold snaps of 63 degrees below zero. O.J. Fish, another old-timer of the district, and Mr. C.D. Smith, also made short speeches. This party in his honour came as a complete surprise to Mr. Monkman and he voiced his gratitude in his reply to them, thanking them for their mark of esteem. Mr. Monkman wished to take this medium to thank all those who were instrumental in so honoring him on March 31st, 1928