PETER SHYMKIW FAMILY
by Olga Shymkiw (Dembicki)
In the year 1892 Peter Shymkiw was born in East Galicia in a village known as Czarnokonce Wilkie. He came to Canada in 1910 and went to work in the coal mines. Tillie Shymkiw (nee Yewchin) was born in 1905 also in East Galicia. She came to Canada in March of 1912 at the age of seven with her mother and sister Mary. Her parents, Dmetro and Anna Yewchin, upon arriving in Canada travelled west by train and stayed with Pete Zarowny who turned out to be their neighbor for years after. They stayed with him until they acquired a tent and pitched it on the quarter section kitty corner from this neighbor. This is about seven miles southeast of Elk Point.
Here Tillie grew up to work and play with three brothers Mike, John and Peter and two more sisters, Domka and Katie. Here she also went to King George school and Mrs. Day was one of her teachers.
In 1922 Peter must have been looking for possibilities of buying land and in the process met Tillie. Just how this happened remains a secret until Today. They married in July of 1923 and had to drive by team to Vermilion to get married. Today Tillie says its all like a dream; hard to believe what a person lives through.
After their marriage they moved back to Hilcrest, where Peter worked in the coal mines. There they were blessed with a daughter Anne (Mrs. Gulayec). In 1926 Peter was layed off work and decided to come back to this district to look for land. They found what they were looking for, a quarter section southeast of Elk Point, the S.E. Sec. 3-56-6 known then and still today as the Northern Valley district. Their youngest son John and his family still reside there. With a lot of hard work, grubhoe and axe, two horses and walking plow they cleared some land and in 1927 they saw the results of their first crop of wheat and oats.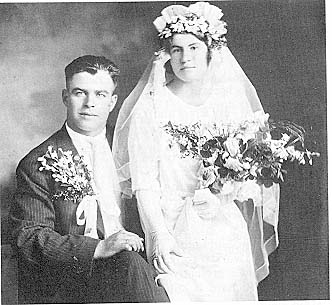 Peter and Tillie Shymkiw, on thier wedding day, 1923
In 1925 they built a two room log house, had it plastered, and that same year they were blessed with their first son, Mike. As the years went by they had three more children Olga (Dembicki), Harry and Johnny.
Their means of transportation was by team until the year 1948 when they got their first 1948 one ton truck.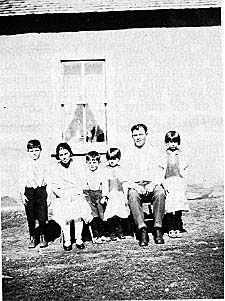 SHYMKIW FAMILY, 1932
LEFT TO RIGHT: Mike Tillie, Harry, Olga, Peter, Anne.
Sawing lumber on Peter Shymkiw's place, 1950.
My first trip to Elk Point was on a wagon about forty-two years ago, but I was too scared to get off, so my father brought me an ice-cream cone to the wagon where the horses were tied to the hitch in the stockyards. As the years went by, times got better; they acquired more land and better machinery. In winter they used to bring in trees they cut down and these they sawed up, with the help of a sawing bee, to supply fuel for the cook stove and air tight heater. If there were big logs these were hauled up and sawed into lumber. Peter and Tillie were both brought up believing in God and Church. Peter helped build the Northern Valley Ukrainian Catholic Church, where he faithfully attended services until the time of his passing on September 27, 1959. Tillie retired from the farm and moved to Elk Point in 1966 where she resides today.