THE NEIL FENTON FAMILY
by Dean Fenton
Neil Fenton, at the age of twenty-one, was driven in a cutter to Elk Point by his father, Ed Fenton of Islay, Alberta. He had come to work for Bob Braithwaite in the meat market and arrived Easter Sunday, 1932.
On December 2 of that year he bought the meat market for $1,200.00; $200.00 on demand note and $136.00 in back wages. Money was a little hard to come by. Meat prices were 'something else' in the early years-yearling steers were $15.00 on the hoof and when butchered sold as follows: Ground Beef- 10 cents lb., Saturday 3lbs. / 25 cents, Round Steak-12 l/2 cents /lb., Roast-8 cents /lb., Pickled Pork Hocks-5 cents apiece, just like ice-cream.
In 1932 Neil's Meat Market had a 16 X 16 ft. ice house behind it, in which ice was stored to keep meat cool during the summer. Each winter 50 tons of ice, in 20 X 24 inch blocks, were taken from the North Saskatchewan River and hauled in early years by team, and later by truck, to Elk Point, where each layer was packed in sawdust to prevent melting. Don and Paul Pinder, Art Jepson, Shorty Knuff, Bill Milholland and John Morusyk, who drove Bill Andrishak's truck, were some of the men Neil remembers as making up the different ice crews over the years. One year they hauled 250 tons, which supplied Bob Dale's creamery, the hospital and the meat market. The sawdust came from sawmills in the district and could be used year after year.
The ice house in the summer was a great place for kids to play on hot days as the blocks were cold and wet and edges could be chipped off and eaten. In dry spells some of the ladies in the community would use the melted soft water from the ice box for washing clothes and hair.
The first winter Neil batched alone, living in a lean-to off the butcher shop but that next fall Martin Aarbo moved into Elk Point to work for the town and he and Neil shared the lean-to and the cost of food. Martin did the cooking, with his mother sending in home-made bread, butter, fresh milk and eggs. Everything else, they ate off the shelves. It cost the two of them $20.00 over a period of five months. Neil said they "lived like kings-high on the hog". But Martin couldn't stand the good life or his own 'flour pancakes' and married a real cook.
Old Dad Henderson, who lived in a little house behind Bruce McDonald's Drug Store, cooked for Neil off and on for the next three years. "Off and on" because meal tickets (21 for $5.00) were inexpensive at Ma Caskey's Pioneer Cafe. Ma was the best cook in the world, according to Neil, and her meals were not nearly as green as the stews he and Dad Henderson 'whopped up' on the oil stove in the back of the butcher shop.
Neil butchered his own cattle and hogs but not sheep because "he hated them - and no one bought lamb anyway.
In 1937 Neil married Floris Purser, a school teacher, from Islay, Alberta. With marriage, Neil had to move out of the butcher shop and into a high rental housing unit owned by the Imperial Lumber Company. The rent was $8.00 a month but both Floris and Neil thought the house was pretty nice.
After Mac and Dean were born, the Fentons bought a house and two lots, behind Lambright's Store, from Bill Soldan for $1,000.00 cash. Houses were fairly expensive in 1939.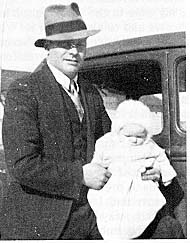 Neil Fenton and Neil, Jr. (Mac) Fall of 1937.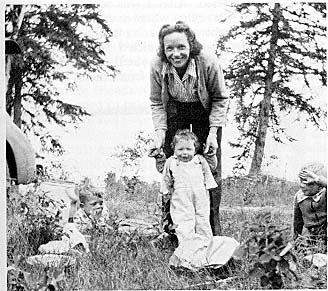 Floris Fenton with children
LEFT TO RIGHT Dean, Jill, Mac, Whitney Lake, summer of 1942
Social activities in and around Elk Point were numerous. Both Neil and Floris curled and bonspieled, enjoyed dances at Armistice, Angle Lake and Spring Park, for which most of the town turned out. Hockey games and the annual Winter Carnival on the outdoor rink were well supported. In the summer Elk Point was beautiful. Weekends were spent swimming at Whitney and Laurier Lake or fishing at Long Lake in boats rented from Shorty Stowe, or at Muriel Lake, which was farther away-but where fish were easier to catch and bigger. Stampedes on the Sand Plains were looked forward to and remembered long after. During the week, the kids in town walked down the railway tracks to Dog Rump Creek where they swam and had wiener roasts, or through Harold Pinder's farm to swim at Gammore.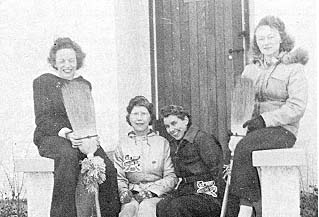 CURLERS
LEFT TO RIGHT: Floris Fenton, Bridget Dale, Neva Beatty, Helen Keitges
Floris taught school in Elk Point for a number of years, but I remember a day in the years she taught at Shamrock Valley best. The school was about six miles out of town and all classes were in one room, which was not uncommon for country schools. During the winter months stews were cooked on the air tight stove at the back of the classroom. Floris brought stewing meat and bones from the butcher shop and the vegetables were supplied by the students, with everyone helping make the stew in the morning. The day I was there, I don't remember what was taught, but whatever it was it smelled good.
In 1946 the old butcher shop was rebuilt by Bill Lundquist and Ernie Verinskar, two top notch carpenters, and supervised by four year old Jill Fenton. Unfortunately, the ice house was torn down as Elk Point had moved into an era of electrical refrigeration.
Neil continued in the butcher shop until 1954, when he rented it and began farming. That fall after taking off the crop, he shipped twenty-two carloads of pulp wood to Edmonton. The pulp wood was logged off Moose Mountain by Lloyd and Pete Poitras, George and Charles Jenkins, Fred and Bobby Boudreau, Billy Fiddler, Ernie Flemma and Neil, to mention only a few. George Jenkins also owned and operated a saw mill and Neil remembers buying 110.000 feet of lumber from the mill and trucking some of it to Saskatchewan to sell.
The Fentons left Elk Point in June of 1957. Neil and Floris now live in Edmonton, and have lately been spending some of the winter months in Arizona. Floris is retired but Neil still has the farm at Elk Point, and every few years has cattle there.
Mac Fenton, his wife Jill (nee-Talbut, from Guernsey of the Channel Islands) and their family, Greg, Tobi, Tracey and Neil, live in Jasper, Alberta. Mac is principal of the high school and still very active in sports, both playing and coaching. Jill teaches part-time and is the Librarian in the elementary school as well as the public library.
Jill Ross (nee Fenton) is married to Cohn Ross of Peace River and their family resides in Edmonton. Cohn is employed by A.G.T. and Jill works part-time as a secretary for a chartered accountant and full-time as a house wife. Both of their sons, Damon and Desi are avid hockey and ball players.
Dean Fenton married Doris Long of Ft. Dodge, Iowa and now teaches in Edmonton. Doris is a dental hygenist but gave up practicing when their family moved back to Elk Point in 1975. Dean taught in Elk Point for a year in which they met a lot of old friends and made some new. Jennifer, Jane and Chris enjoyed the freedom of a small town, the friendliness of knowing people - and living, behind a bakery. Chris is unlikely to forget Steve An-drishak and his truck - nor may Steve ever forget the day Chris locked him in the theatre.
Doris and Dean both curled but Doris won the trophies in the family, and it was her first year in curling. Dean also played hockey with the Gopher Chokers, but they didn't give trophies for skating the full length of the rink. It was a very good year and one that will always be remembered.