THE BAUMAN FAMILY
by Mrs. John Bauman
John Bauman was born in 1880 in Omaha, Nebraska, U.S.A. I, his wife Elsie was born in 1895 in Irving, Kansas. We were married in January 1921
John and Elsie Bauman on their wedding day, January 11, 1921.
Dad decided to emigrate to this part of Canada and try farming. After some years of town occupations, he knew he would prefer farm life most of all. Land here was not near as expensive. Also he was very fond of big-game hunting and fishing. He knew there was a good chance to do both here.
He bought CPR land in the Landonville area, Township 55, Range 5, S.W. 1/4 of section 9. He arrived in Vermilion about March 20, with a freight car of settlers' effects, and I arrived by train a couple of days sooner. In Sioux City, Iowa, where I visited my brother before I left, the lawns were already nice and green. Children were out playing marbles, and new spring hats were being worn. I wanted to be in style, so I wore my new hat too, but when I arrived in Vermilion, it was 20 degrees below, with lots of snow... no more spring hat for me!
It had been arranged that we were to live in neighbor Frank Long's farm home for the time being, as Longs were living in Vermilion. Mr. Long said we could live there, and we could board him when he came out to the farm to put in the crop. He drove us out with team and sleigh with as much of our belongings as would make a load. The thirty-five miles to his home seemed an endless, cold trip. On the evening of our arrival, a young man just across the road who had bought CPR land the previous fall, had decided he wanted to leave. He offered to sell us his rough 14 X 16 foot lumber shack, also a four-team size barn and various hardware supplies, all for $200. The deal was made, and the next morning he travelled with Mr. Long back to Vermilion.
About May 1St, neighbors came and helped move our shack and barn to the chosen site, one-half mile from the road in the southeast corner of the quarter, where the site had lots of trees for shelter. We moved into the shack several days later. Although it was only 14 X 16, it was surprising how much we managed to crowd into it: the piano, a small cook stove, kitchen cabinet, sideboard, dresser, bed, sewing maching, rocker, a small homemade table, and a cedar chest which had to be under the table. It was fortunate that the beds were then high off the floor; it provided much-needed storage place.
When the snow melted, there were many sloughs of water, and gophers everywhere! Prairie chickens were plentiful, also ducks and rabbits. We had sixteen hens, and in the latter part of May, two hens wanted to set, so we set them in my piano box, which had been converted into a brooder house. That season I raised eighty chickens in that piano box!
There were many coyotes those days, especially if you lived in the bush. When Dad had to make the 70-mile round trip to Vermilion with team and wagon, it took two days. I decided I must learn to stay alone those nights, as a pioneer woman must be prepared to do. I had been working in town in business places and was used to meeting the public daily for years, and this was strange country to me. In the daytime I could stand it, but after it got dark, that was difficult. I popped into bed, and as extra protection, I put the old wooden potato masher under my pillow. Soon the coyotes started their serenade. It sounded as though they completely surrounded the house.
The range cattle were another thing to cope with, before the yard was fenced. A large herd would come around the shack and upset things, and drink up all the precious water in the rain barrels.
Dad worked hard at doing as much breaking of land as possible, with only three horses at first. He also rented two quarters of land south of us, that needed breaking too. He farmed them many years. This land is now owned by Mr. R. Protsch.
That first fall I cooked for Mr. Long's threshers. The only meat I had was a plentiful supply of wild ducks. So that was the only meat they got--twice a day. Some people just skin the duck or prairie chicken, and use only the breast. But Dad took a very dim view of that--he felt that they had to be plucked and cooked with the skin to preserve the full flavor.
There were the usual set-backs, like hail, frost and so on. One problem was lack of good well water. The well that was dug by hand the first year, 4X4 foot, although it had no water at a good depth, proved to be a good stand-by. Blue clay bottom-it held water if you poured it in there. Dad bought a large hauling tank, and put it on a wagon to haul water from the nearest source he could find. Sometimes he made two trips a day for a supply ahead. This was for watering the stock, and for washing. This same well-frame served as a cooler, and containers of milk, cream, etc. were lowered by rope, to keep cool.
Though this served as a fridge, it meant many footsteps daily--How many housewives would like to go back to the "good old days" rather than have a modern fridge right in the kitchen?
Drinking water was hauled in a big wooden barrel on the back of the old democrat, and left standing near the house carefully covered, and treated as a precious commodity. When winter time came, as soon as there was enough snow to melt, it was a lot of work to haul the snow by the big tank, and build a fire in the fireplace under the stock tank. A good supply of tank wood was kept close by. This was also my wash water supply, which I carried from the tank to a large barrel in a corner of the kitchen.
Our home was built larger, one room at a time. But our babies began to arrive, sometimes two at a time. First Norma and Thelma, twins; three years later Doris, born at home with Dr. Miller coming; five years later, twins again, Joyce and Jack Jr. They were the first pair of twins born in the new hospital, Miss Holter told me. Our family was now complete.
Those were the hard, lean years, and no conveniences. Clothes were washed by using the wash board, and women had to make their own soap. No choice of detergents then!
A fleece of wool was washed and carded with old style carders, and then rolled into yarn, which was a trick that out west of Edmonton. One incident occurred which caused a good deal of excitement. Dad and Merle Craige were hunting, not very far apart, when they saw several moose. They shot one each, and with a camera along, decided to have their pictures taken. Dad leaned his gun against a tree a distance away, and started to pose with his moose. Just then the moose jumped up, and Dad had to run for his life around trees. He hollered to Merle to shoot it and hurry up, which Merle did--but ever after, Dad was teased about that!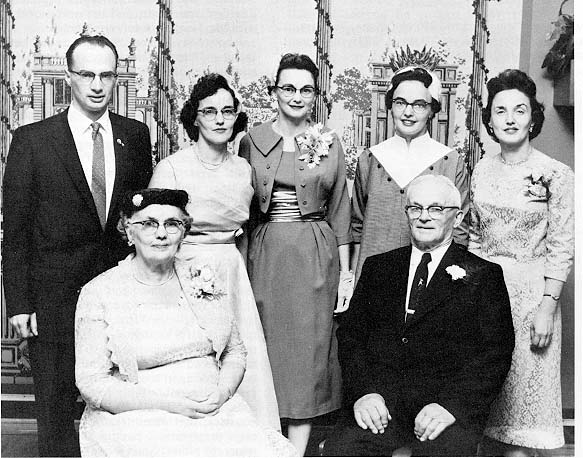 BAUMAN FAMILY ON DORIS' WEDDING DAY, 1959
BACK ROW, Left to Right: Jack, Norma, Dorisse, Joyce, Thelma
FRONTROW: Elsie and John
As he got older and could no longer walk in the bush, he was reluctant to give up the trips, so went along as camp cook. He still walked a short distance around the camp, and satisfied his yen for hunting, but he tired easily, and went to bed early while the rest of the group talked and joked. One time, one of the boys had a boil on his hand, so before going to bed he soaked it in hot salt water in a pail. In the morning, Dad as always cooked porridge for breakfast, and for a change there was enough water in the pail. As they took the first mouthful, the campers complained in disgust that it wasn't fit to eat. When they found out why, they lost all appetite for breakfast--Dad never heard the last of that!
Meanwhile our family started to leave the nest, one by one. First went Norma, who married Leonard Berg, who farmed in the Angle Lake district, and now lives in the Yankee district. Thelma, after working in Vermilion Hospital, married Mancell Wilson, and after living briefly in Calgary and Victoria, they settled in Seattle, U.S.A. They had three children, Myrna, Donna and Bart. Thelma is with the Christian Business and Professional Women Ministries, and has travelled extensively in her work in the U.S.A. and Western Canada.
By the time Norma and Thelma left home, we managed somehow to send the other three children to high school in Vermilion. Doris worked for a number of years in the Treasury Branch at various points, before her marriage to Verg Niddrie. He later sold his drug store in Calder, and they now make their home in Victoria. They have two children, Velora and David.
Joyce worked in the Bank of Commerce in Vermilion then Edmonton, before her marriage to Bob Reid. They both work for A.G.T. in Edmonton, and have four boys, Bob Jr. Jim, Brian and Brad. Jack married Glenys Martin from Vermilion. He taught in various schools, including Shop in Elk Point, and is presently teaching in St. Albert. He and his wife also have four boys, Jack, Rick, Roger and Brent.
We lived on the Landonville farm for twenty-eight years. In the fall of 1949 we sold to Komsu, and the place is now owned by Robert Protsch. We moved briefly to Fairview, then came to Elk Point. We bought the Oscar Johnson farm east of town in the spring of 1950, and lived there three or four years. We then bought a house from Bob Quin, where formerly lived Rev. Lorentzen, just next door to Tredgers. Dad was used to working with soil and growing things, and wasn't happy to live in town, and when he had a chance to buy an acreage from Jenkins, one mile east of town, he rented the house in town to Kovaches. Dad was happy once again to grow crops in a small way, mostly potatoes and garden produce, and raised a large flock of chickens, and even tame rabbits. I too was happy to once more grow a huge flower garden, and I walked up and down the railroad track picking rocks of a certain size to edge my flower beds. We sold our produce to the hospital. When Dad could no longer drive a car, we sold the acreage to Lawrence Modin in the spring of 1957, and moved back into our house in Elk Point. I worked in the hospital for three years, sewing and mending. In time we sold our house to Dr. F. G. Miller, who wanted i~£or a future building site for his son, Dr. K. C. Miller, and that fall we moved into Vermilion.
Dad loved to go fishing, especially so in his retirement years in Elk Point and Vermilion, and believed in an early start, like 4:30 in the morning. He believed in the old adage, that it's the early bird that catches the worm. However, he eventually reached the stage where he could no longer go fishing. Sadly he gave his fishing gear away to his grandsons.
We celebrated our 50th wedding anniversary in March, 1971. It was held in Edmonton at Joyce and Bob Reid's home. All our children and most of our grandchildren attended, except for those from most distant points. It was a happy event. That year, Dad's health began to fail, and he spent intervals in the hospital and passed away on Nov.10, 1972, at the age of ninety-two. All five children came to the funeral, and that was the last time all of our children were home at the same time. I still live in Vermilion.
The fifty-seven years spent here in Canada since pioneer days were full of happy memories, I'm thankful that all our children have done well, and thankful that they all love books and music. It was my dearest wish for them, and I am glad, too, they are hard-working, good citizens--It's all been worthwhile.