CARL M. NELSON FAMILY
by Edwin Nelson
Dad's parents came from Norway in 1873 on a sailing ship. They were becalmed for one month on the ocean, taking three months to make the trip. When they arrived in the United States all on board were nearly dead of starvation, thirst and sickness. Dad came to Canada from the Minneapolis-St. Paul area of Minnesota in 1903 and homesteaded in the Round Hill area. He became a naturalized citizen in 1907. My Grandad homesteaded on S.W.2-48-18-W4 at Round Hill and Dad was nearby.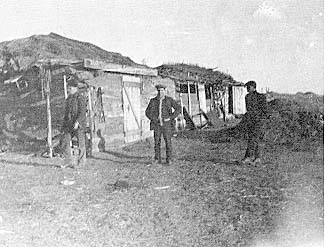 Carl Nelson, center, 1907
Mother's parents came to Canada from Millard, South Dakota in 1902 They also came to the Round Hill district Mom and Dad were married in 1917. They raised three sons, George, Clarence and Edwin. Dad farmed in Round Hill until we dried out three years in a row and in 1933 moved to Elk Point. Dad rented the Stanley place for two years, S.E.-18-56-7-W4. When we came up here we moved all our farm equipment and supplies in four wagons with hayracks. Everything was either in the hayracks or trailing behind. The cattle and horses were herded along at the same time. Our furniture was brought up in Grandpa Law's big truck. I was only five then but I have several outstanding memories of things that happened. We had to cross the North Saskatchewan river at Hopkins ferry. The cattle would not go on to the ferry and the water was too high for them to swphotos Dad called my dog and she soon herded them on to the ferry but they were frightened and nearly jumped overboard. Finally everything was on the other side and all was well.
There was to be a new house built on Stanley place that year so when we arrived we moved in to an old log house. We discovered to our horror that the house was full of bed bugs. Mom and Dad were very upset. Everything had gone wrong all day. We saturated all the cracks with coal oil and it killed lots of the bugs but it took months to get rid of them. Today we have pesticides for these problems.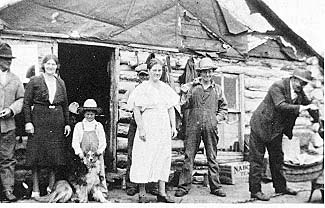 LEFT TO RIGHT Carl Nelson, Ella Livingstone, Edwin Nelson, Ira Livingstone, Vira Nelson,
George Nelson, Grandpa George Law (cranking the separator), Clarence Nelson behind his mom, 1933.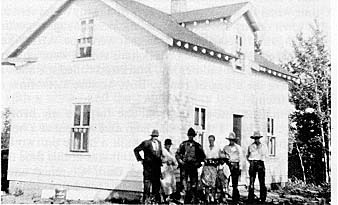 Carl Nelson and family in the new house at Stoney Lake, 1933.
Dad bought the S-l /2-30-56-7-W4 from the Municipal District of St. Paul where he farmed until he retired due to illness in 1944. Dad built the log house that is still standing today although no one lives there. I remember how it used to crack and bang on cold nights but it was nice and warm.
Dad sold the farm to George in 1944 and moved to Elk Point. He bought two lots in town from Bill Milholland and built a house on one the following year. He worked as a carpenter when he could and operated Hopkins ferry in 1949. He became ill again in 1950 and passed away in 1952.
Mom lived with us until she moved to Sunnyside Manor in St. Paul in 1962. She lived there until her passing in 1972.
George Nelson married Mildred Davis and they have six children: Marlene, Irene, Neil, Carl, Ann and Jean. George passed away in 1972. Clarence Nelson married Bertha Fjellstrom and they have two children, Douglas and Carol.
Edwin Nelson married Gunhild Bjorneskaret and they have three children. Sheila, Vicki and Arne