THE HENRY KECK FAMILY
by Daisy (Keck) Yonng
Henry Jacob Keck, who adopted the nickname "Harry" was registered in Napolean, North Dakota. He was born in the Crimea in May, 1900, just before his family emigrated. From the U.S. his parents and his two brothers and two sisters came to Horsham, Saskatchewan, where they farmed.
When Harry left the farm, he went to work for a construction company in Regina. The company also drilled water wells in the southern and central parts of Saskatchewan and Alberta.
While working in the Camrose area, he met and married Jessie Campbell, whose family were produce farmers. Jessie, born in January, 1911, at Madoc, Ontario was the youngest daughter of John and Jennie Campbell, who came west from Ontario in 1924.
In 1928 Harry and Jessie settled north of Elk Point on a homestead with Jessie's parents. Harry continued his career of well driller until 1933 when he returned to settle in town, taking handyman jobs in painting and building. He painted the hospital.
Four children were born to Harry and Jessie:  Daisy Jennie, Gertrude Joy, Barry Jacob and Douglas John. With the exception of Gertrude, who was born in Moose Jaw, Saskatchewan, the children were born in Elk Point.
Harry's next career was ferryman on the North Saskatchewan River three miles south of Elk Point. He was first assistant to Mr. Monkman, then foreman, when Mr. E. Scott and Mr. E. Vaughan assisted photos
Harry, Barry, Daisy, Douglas, Gertrude, and Jessie Keck, 1947.
This was a spring to fall job so the Keck family moved twice a year for ten years. In spring, as soon as "break up" was threatening, they would bundle their belongings into a Model T and head for the river.
For the first few weeks, when the ice was running, the cage was the only means of crossing the river. Once, just before the ice was to move out, the cable carrying the cage broke, letting it fall to the surface of the soggy ice. Harry and some young passengers gingerly made their way to planks pushed out onto the ice by assistant Ernie Scott. By the next morning the ice had angrily carried the cage and the south side tower down river. Huge ice boulders cut at the banks and threatened the north tower, tool shed and capstan. Whole buildings and live animals hurried past on large ice floes. It was, for the Keck family, one of the most memorable of spring break-ups.
During the summer, life was very enjoyable by the river. Saskatoons, chokecherries, raspberries and seneca roots were abundant. Eager, busy hands made buckets fill quickly at berry picking time.
Another lucrative activity the kids engaged in was beer bottle picking. The ditches on the north and south side waiting areas by the ferry seemed to blossom with all kinds of them after week-end dances at King George, Angle Lake or Derwent.
Stock day was another interesting event at the ferry. Many times the waiting line would be over a mile long. Animals squealed and bellowed their protests from early morning until early afternoon on their way to the stockyards in Elk Point every Tuesday. Evening would see quiet, empty wagons or trucks patiently waiting to return with domestic essentials purchased with the stock cheques.
When September arrived, painting fields of grain golden with the brush of Fall, there was a desperate flurry of harvest activity in order to beat the freeze up. All day and night the big trucks and high box wagons crossed over, carrying their bounty to the grain elevators in town.
As the shore ice stubbornly thickened and the open water retreated, the cage again was pressed into service until the winter road over the ice was safe. Usually, by the first snow storm in November, the Keck family had already gathered their belongings into the Model T and headed north to town.
Harry's winter career was an apprentice mechanic for, first, Bill Soldan, then Harry Ramsbottom. Here he began to up-grade his education to qualify as a licensed mechanic. Come spring, Harry remained at the garage.
Previously, the Keck's winter home was a small house near the United Church. They then decided to purchase the house owned by Mrs. Brackett south of the Clinic.
Harry and Jessie Keck, 1967.
Some weeks before the Christmas season, Jessie was a familiar sight going from house to house with her card sample book. She continued this part-time job for twenty-two years. She then became the Avon lady and continued delivering her wares for another ten years.
When the Canadian Salt Company was built at Lindbergh, Harry became Maintenance Superintendent. The family, with the exception of the two girls who were away at school, moved to the company townsite, where they lived for ten years.
During this time, Daisy, the eldest, returned to Elk Point to teach Grade 1. Gertrude graduated from the Royal Alex Nursing School and went to California. Barry went to Technical School in Calgary and returned to Elk Point to work as part of the hospital maintenance crew. Douglas became employed at the Salt Plant.
When the town of Elk Point began to install water and sewer, the Kecks returned and Harry became town foreman. In this capacity he was instrumental in helping the town take a great step forward in providing more modern facilities to the population of the town as a whole. As town foreman, he was also required to serve as plumbing and gas inspector and night watchman. When Mr. McKinley, the town constable, left Elk Point, the town council appointed Harry the new Chief of Police. He served in this capacity for fifteen years, when the R.C.M.P. assumed duties.
Many a would-be-adventurer was taken home to Jessie for coffee, midnight lunch, or a "little rest" before making his way homeward. Neighborhood small fry and grandchildren alike all knew about the jellybean pocket in Mr. Keck's uniform.
During Harry's police career, Jessie became his right hand man, assuming jail matron duties, helping with reports, and riding along on the lonely late night beats.
On his retirement as policeman, the town had a dinner in his honor and presented him with a plaque in recognition of his outstanding service in the community. Five months later he died of leukemia at the age of 69 years.
Jessie continued to live in Elk Point until 1970.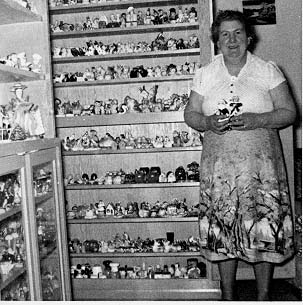 Jessie's 1,550 salt and pepper shakers.
She moved to Edmonton where she could have access to therapy for her respiratory problems. She sold her home in Elk Point to Carl Heinemann and purchased a half duplex in south east Edmonton, where she lived until her death by congestive heart failure at the age of 65 years. Surviving Harry and Jessie Keck are their four children and seventeen grandchildren.
Daisy married Leslie Young, son of Mr. and Mrs. Wilson Young, of the Armistice district. They moved to a farm three miles west of town. Farming didn't seem to provide a stable income, so they moved to Tofield, where Les became a construction foreman and Daisy returned to teaching. There they lived for twelve years, when Les became an instructor at N.A.I.T. They now reside in Sherwood Park. They have five children: Campbell, of Edmonton, married to Brenda Peeling; Celeste, Mrs. Rod Symon of Lloydminster; Dena, attending Calgary Faculty of Education; Christine, Mrs. David Porter of Edmonton; and Damon, senior year at Salisbury Composite High School.
Gertrude married Donald Stroud of Indiana, where she attended Nurses Graduate School. Donald is a dental surgeon practising in Detroit, where the family resides. They have five children: Cheryl and Denise, who are attending college, and Jeffrey, Steven and David Henry at home.
Barry married Velma Penner of Barrhead. When Barry left Elk Point, he worked as a steam engineer. He is presently employed in the Distribution and Packaging Division of Imperial Oil in Edmonton. They have two children, Diane and Jamie, both at home.
Douglas married Henrietta Anderson, daughter of Archie and Bess Anderson of Lindbergh. They lived in Elk Point, then at the Salt Plant townsite until they moved to Fort McMurray, where Doug is employed by G.C.O.S. They have five children: Murry, who works at G.C.O.S., Laurel, who is to be married in January, 1977, Shelley, Ross and Donna Rae, who are at home.