ARNE BJORNESKARET AND FAMILY
by Gunhild Nelson (nee Bjorneskaret)
Arne Bjorneskaret-Born November 18, 1900, died March10, 1961. Klara Lien-Born December 9, 1902, died October 20, 1970. Married July 9, 1927.
My Mom and Dad, Arne and Klara Bjorneskaret, came to Birch Hills, Saskatchewan, in April of 1930 from Norway. My dad worked for a time as a shoemaker and then learned to do carpenter work as well as land clearing (by hand) for some farmers near the town of Birch Hills. I, Gunhild Kristine, was born June 22, 1930. My sister Agnes Torburgh, was born December 15, 1932. Finding it hard to make ends meet, in 1934 Mom and Dad decided to move to Alberta where they stayed with Uncle Tom Jess and Kore Lien at Lake Eliza. On August 12, 1935 my brother Alfred Clarence, was born. In January of 1936 my dad decided to claim a homestead in the Swedboro district-N.W. 33-56-8-W4th. My dad cut down trees and hewed the logs to build a new home. I remember what a nice feeling it was to move into a house that had shingles (homemade of course) after living in a sod roof shack that leaked three days after a rain. What fun we had watching the men make the new shingles. They cut the blocks first and then sliced the shingles off these blocks. Mom made curtains out of bleached flour bags and she had crochet edgings on them. They were really nice. She also made all our slips, underwear and night wear, spun yarn and knit all our mitts and socks. For the washing she would save the wood ashes in a barrel and fill this with water from the creek. The wash water would be nice and clear for the next wash day. She also made all her own laundry soap with tallow, lard and lye. Also I can remember times when we had no kerosene for our lamp so she would make candles from tallow or use a tin lid with a rag for a wick, but most of the time we were in bed at sundown and up at sunrise unless we had trouble getting the milk cows in early enough. I can remember walking eight to ten miles for the cows after coming home from school. My mom had a hearing disability so one of us children had to go with her to listen for the cowbell to know the direction the cows had gone. In those days there were not many fences so they could go for miles. We were fortunate enough to have a good wood cook stove and could Mom ever cook on it! She could start from scratch and in no time at all have a real tasty meal, as long as she had eggs, milk, butter and a few spices. She would take the 22 rifle and get a partridge or two and make partridge burgers in a white sauce (so tasty).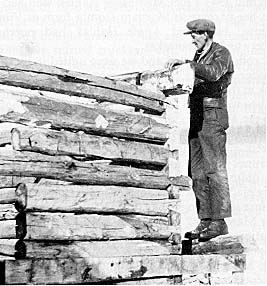 Arne Bjorneskaret building a log house on the homestead.
My dad, Arne Bjorneskaret, was a carpenter and did a lot of work in the district and in Elk Point. He worked with Bill Lundquist and quite a few of their buildings are still standing up really well. He worked for Bob Brooks, Pinders, Babcocks, Martin and Jens Aarbo, Max Borowsky, Arvid and Fred Hall, Andrishaks, Johnstons, Millers, and many others. The clinic, old hospital, Beaver Lumber are a few of the buildings he made.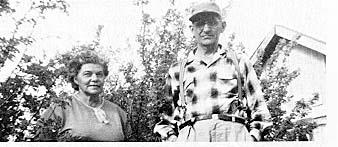 Clara and Arne Bjorneskaret, 1960
My dad bought most of the groceries at Markstad's store. Mr. Markstad always sent a big bag of candy home to us kids and believe me in those days it was a real treat. If we wanted gum to chew we used to go into the spruce swamp and get spruce gum from the trees. It was really bitter to begin with but the more we chewed it the better it got, and it turned a pretty pink.
We did not have much money but we had lots of love in our home and we were never hungry. Mom and Dad were good providers. It must have been terribly lonely for both Mom and Dad because he had to be away from home so much and no way of traveling except to walk or ski in the winter.
Copy of wartime registration, courtesy of Gunhild Nelson
On August 7, 1944, my youngest sister was born in the Elk Point Hospital By that time we did have a team of horses and I remember the excitement when Mom and Dad brought her home. They named her Sonia Elizabeth. All of us children went to Swedboro School. It was hard to attend regularly because it was so hard to get teachers to stay Out in this wilderness, no electricity or phones, no roads-just a trail. Classes were up to grade nine so in order to obtain high school we had to go to Elk Point or St. Paul.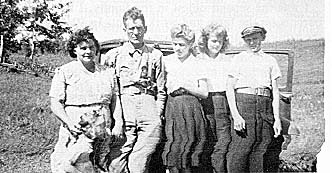 BJORNESKARET FAMILY, 1947
REAR ROW, Left to Right: Clara, Arne, Gunhild, Agnes, Alfred.
FRONT ROW: Sophie.
Dr. Ross was our family doctor. At the age of eleven I had an appendectomy and spent two weeks in the hospital, five days without water or food. To have a tooth pulled in those days was real torture. I would fight the sleeping gas something terrible. One time it took my dad, Dr. Weigerinck, Dr. Ross and a nurse to hold me down, but they got the tooth regardless of how I fought. Another time I had to have my big toe lanced and Dr. Ross, the great doctor he was, tricked me. He put a large hunting knife on an end table and I watched that so intently I did not see what he was doing. Of course he had a razor blade in his hand and it was done before I really knew what had happened.
Dad and I used to walk to work in Elk Point. Dad did carpentry and I worked for Max and Olga Fischer. Later we worked at the Canadian Salt Plant. In 1946 I met Edwin Nelson and after that he would drive us home on Friday nights and pick us up again on Sunday afternoon. Three years later, June 9, 1949, Edwin and I were married. We have three children: Sheila Kristine, July 7, 1953;Vickie Lynn, July 26, 1958; Arne Edwin, September 9,1963.
Agnes Bjorneskaret married Marvin Bartee April 4, 1952. They have two children: James Arne, November 18, 1952 and Elaine Mary, August23, 1957.
Alfred Bjorneskaret married Agnes Saeger November 11, 1970. They have two children: Arne Alfred, January 21, 1972 and Rita Mary, July 22, 1974.
Sonia Bjorneskaret married Nick Onyshuk November 9, 1963. They have two children: Vivian Sonia, June 7, 1965; and Dwayne Nicholas, April 20,1967