MARTIN & MABEL LOFTUS AND FAMILY
by Kathleen (Loftus) McAleese & Mary (Loftus) Bennett
Martin Loftus was born in Chicago, U.S.A. on June 18, 1891, son of Maggie and Dick Loftus just over from Ireland. Maggie died when the children were young, so Dick put them in a boarding school where Martin met his lifetime friend Lester Smith. The two boys together ran away from the school in 1905, worked their way across the States helping on farms and occasionally sneaking on a freight train. They worked in North Dakota for two years on a farm for some German people who were very good to them and probably realized they were runaways.
In 1909, Martin obtained "right of entry" to SE-16-57-6-W4, Elk Point, Alberta and by 1910, had set up log buildings and corrals and had obtained some livestock. In his farm record book for 1912, there are the names of the following neighbors: J. Peter, Gobin, L. Babcock, A. Whitworth, P.J. Keitges, Mr. Thatcher, Magnusson, A. Lambright, Hougland, Adkins, C. Hood, 0. Fish, D. Beebe, J. Holly, J.C. Lambright, 0. Holthe, Wm. Curry, H. Nelson, Dellar, Hand, Bill Mabley, Wm. Peacock, E. Kepke, Bullis and Poole. These men are listed as having brought mares to Martin's grey Percheron stallion for breeding. The fee-two dollars.
Martin Loftus at his homestead, about 1911.
In 1911 Martin applied to homestead his land and received letters-patent on May 12 in 1916 and title in June 1916. Martin's father, Dick had come to live with him in 1910 at Martin's request. Dick bought NE-3-57-6-W4 but never lived on it. His receipt from the Department of the Interior, Dominion Lands, was written by a John McGowan at the department's sub-agency at Frog Lake, and dated May 26, 1913. By 1916, they had two fields under cultivation. Both Dick and Martin were good hunters and kept the larder stocked with chicken and venison.
During the early years, Martin hauled his wheat to Vermilion by wagon and shopped for supplies, and had the wheat ground into flour. After 1918, it was hauled to St. Paul, making the trip somewhat shorter.
Dick Loftus worked during seeding and harvest on a farm near Edgerton from 1911 to 1915. Martin worked winters in Swifts' Packing Plant in Edmonton in the boiler room until 1914. In 1911 he had written and passed his steam (stationary) engineer's papers. In 1918, Dick took ill so Martin sold his livestock to take his father to Rochester for treatment. Dick lived for another year and died in January of 1920 following surgery.
Dick and Martin Loftus with their crop - 1917.
During the previous years, Martin had made friends with the Englishmen on the farm south of photos In fact he had been talked into joining the trip in May of 1913 to Vermilion with his new spring-seated wagon to help the Whitworths' mother and sister move to Elk Point (they had just come from England) with great mounds of baggage all wrapped in carpet - even a piano which made the men groan and protest. As they were bumping along the road from Vermilion past a slough, Mabel leaned forward and tapped Martin on the shoulder and said, "Mr. Martin, what's that cracking? He embarrassed her by laughing because she had never heard a frog, and for the rest of her life he never stopped teasing her about it.
The home in England that Mabel and Mrs. Whitworth lefi behind was a large home made of brick and slate, with fireplaces in every bedroom, rugs on the floor and gas lights. To arrive at the house the boys had built of logs, with one end a house and the other end a barn must have been a shock. Jennie, who had arrived a month earlier had done her best with what she could sew or invent to make the house look like a home, before the rest arrived.
Mrs. Whitworth and Mabel had lived in a village that was like a suburb of Manchester and had never been in the country in their lives except on a holiday, so they found the vast empty stretches without houses, people or carriages very desolate. When Martin proudly pointed out Hood's store and post office and announced, "There's Elk Point! " Mabel timidly asked, "Where's the candy shop? " and when Martin roared laughing, she burst into tears. Years afterward, she told us that she had just reached a state of disappointment and fright where she had to cry, and while she didn't really care a bit about the lack of a candy shop, it was as good an excuse for tears as anything else!
The first record of banking was with the Bank of Commerce in Vermilion in 1918. Later entries were with the Bank of Commerce in Elk Point in 1921. The land was registered in the Municipal District of Lincoln No.542 with the office in Mooswa, Alberta.
In 1920, Mabel and Martin were married in St. Savior's Anglican Church in Vermilion. Mabel was an accomplished seamstress and a good pianist and added her skills to the community life with great enthusiasm. She made many wedding dresses and sewed almost constantly. Her mother lived with them and did the baking and helped with the gardening. Mabel was a very happy person who loved to have friends in for a musical evening. Her piano was among the first in the district and was taken by sleigh to the Christmas concerts for years. This piano is now in the Elk Point Museum.
Mrs. Whitworth and Mabel soon made friends with Mrs. H.J. Ramsbottom and her daughters, Violet and Claire, who were all very musical. Many happy hours were spent around the piano, with the girls composing music and words to some of their own pieces.
During the early nineteen hundreds the community had many picnics. The women all packed huge lunches and covered the ice cream freezer with ice (cut from the Spring Park Lake and packed in sawdust in the ice house) and everyone met at Hood's Post Office to be picked up in Caskey's truck and taken to the lake (Whitney) for the afternoon.
Mabel and her sisters-in-law Ethel (Quin) Whitworth and Jennie (Dyson) Whitworth had been friends in England so their pioneering days were much brightened by each others' company. XXXX Also Mabel and Ethel had their mothers with them in the early years so although they worked hard raising huge gardens, feeding chickens and calves, they were not lonely or afraid as many pioneer brides were, and this probably added considerably to their lighthearted enthusiasm for the adventure, and their eagerness to foster social activity. Mabel and Jennie became excellent shots with the .22 rifle. Ethel wouldn't touch it. Although all three would readily harness a horse, and drive a buggy, none really became good riders. The first saddle the women had was made by Mabel out of carpet on her sewing machine. It had a cushion seat, a cinch, and ring stirrup to get on with. Mabel's first pioneer home had carpet on every floor - the carpet that had come wrapped around the crates of furniture from their home in England. It was nice and warm for the feet, but a cleaning problem with no vacuum cleaner!
In March of 1928 at the Battleford sub-agency for the Department of the Interior-Dominion Lands, Martin filed claim to placer mine on "600 feet west of the east line, Sec. 27-62-21-W3 and 66 feet south of the south line, Sec. 34-62-W3 on North Side Water-Hen River". This claim yielded nothing interesting, so he then filed a placer claim on the north side of
One of similar placer mining claims held by Martin Loftus.
Claims were along the North Saskatchewan River.
The North Saskatchewan (along Bullis' Flats, at the water line). This claim he held until 1940, and worked it from time to time aided on occasion by Jens Thompson, Gerard McAleese, or a Joe Stachowich from Vilna (1938). The gold they found was in small flakes which they separated from the dirt using a rocker and then gathered, using mercury, into lumps known as "buttons". Four of these "buttons", sold in 1937 to Geo. Lees Co. (Refining Dept.) Hamilton, Ontario, netted Martin and Jens $15.26.
REFINING DEPARTMENT
GEO. H. LEES & CO. LIMITED
47 MAIN ST EAST
HAMILTON, ONTARIO
Nov. 25, 1927
Martin Loftus,
Elk Point, Alta.
Dear Sir: money order
Enclosed please find cheque for Fifteen 56/100 Dollars
($ 15.56 ) in settlement of returns from refining of shipment
received on Nov. 24th which we trust will prove quite satisfactory.
We thank you for the consignment, and request a
continuance of your patronage.
Respectfully yours,
GEO.H. LEES & CO. Ltd.
GOLD Received from
4 Gold Buttons $10.04
55% premium 5.52
$15.56
In 1931, Elizabith Pennington, Mabel's aunt, came to live with the Loftus's after her husband's death in Winnipeg. She was a jolly little woman and a good companion for the Loftus girls on their berry picking expeditions. It is to her enthusiasm as a photographer that the family owe many of our pictures of the early days. She died in 1938.
The Loftus house was always filled with young people dancing to the phonograph, singing around the piano or eating lunch and cocoa while they thawed out after skiing or skating. Martin made skis for all the bunch and used the reservoir on Mabel's kitchen stove to soak the ski points before he put them in the press to turn them up.
Until the later 1930's, farmers were given a choice between paying their taxes entirely in cash or part cash only and the rest in road work within the municipal jurisdiction. When you count the engineers engaged for any piece of road building today, and look at the great sheaf of blueprints and soil-test reports they use, you'd wonder how the early settler did so well with so little! Martin was road-boss in the district for many years (records available cover 1918 to 1933). The Department of Highways simply sent out one page of diagrams, instructions, elevations, dimensions etc. The road boss and his hard working crew of men with shovels, horses, and fresnoes took it from there.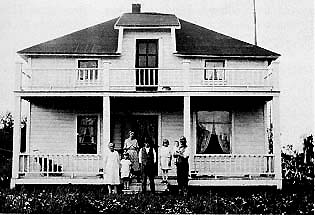 LOFTUS FARM HOUSE 1933
LEFT TO RIGHT: Grandma Whitworth, Mary Loftus, Mabel Loftus,
Uncle Jack (Pennington), Kathleen, and Martin holding Margaret.
In the early 30's there was a bachelor named Arthur Johnson on the road crew. The men always took noon lunch along to the job, and Arthur did likewise - usually sandwiches of his own home-made jams and jellies. One noon while they sat in the grass eating lunch the men got into a rather heated political discussion, and Arthur, waving his sandwich around to emphasize a point, attracted a jam-hungry yellowjacket. It settled in the jam at the edge of the bread, and before anyone could stop him, he popped yellowjacket and all into his mouth. In the commotion that followed, the argument was completely forgotten, but afterwards Arthur always seemed to blame the Liberals for that misfortune, too.
Grandma Whitworth's skill at story telling probably started the Loftus girls' passion for books. She was very strict- one dared not even whistle in the house - but she was also kind and amusing. She had a long-standing arrangement with a neighborhood bachelor, Nels Thompson, whereby she knit him a new scarf and mitts every winter if he let her burn the old ones. Laundry wasn't his strong suit. Mrs. Whitworth died in 1935.
Mabel and Martin had three girls - Kathleen (Mrs. G. McAleese), Mary (Mrs. J. Bennett), and Margaret (Mrs. J. Carson). When Mabel died in 1945, Martin moved to Elk Point and took over the draying service from A. Bartling, then operated the BA Bulk Oil Service till he retired. He died in March 1969.
The homestead, SE 16-57-6-W4, is still in the family, owned by Mary Bennett.