Thomas (Tom) Robert Johnson
Thomas Robert Johnson (Tom) was born May 4, 1890 in Carlow Ireland. His father, Charles Johnson was a member of the Royal Irish Constabulary and as a result the family was moved around the Dublin area.
Times were extremely difficult in Ireland at that time as the country experienced severe depression and there was a lot of dissension between the Catholics and the Protestants.
As a very young boy, Tom was privileged to board and sing at St. Patrick's Cathedral with the boys' choir. All his life he enjoyed classical music and good literature as a result of that experience.
His formal schooling ended at age 14 when he began work as a clerk in a railway-shipping office in Dublin. Charles and Susan Johnson were devoted parents to their seven children. They lived to see all of their seven children successful in their endeavors.
As a very young office worker Tom started saving and dreaming of making a better life in Canada. By the age of twenty he felt he had saved enough to venture forth and he left his beloved homeland and heartbroken family and set sail. The accounts he kept so meticulously showed how frugal he had to be, but yet how generously he tried to help his family. Occasionally he treated himself to a book, for he always enjoyed reading.
Because he was a city boy and had absolutely no knowledge or experience with farming, he chose to work for the Mill's brothers for two years on their operation near St. Catherine's Ontario. They were most helpful and he saved from the wages he earned.
By 1912 Tom felt ready to file on a quarter of homestead land that was available south west of St. Paul Alberta. He travelled west by train from Ontario to Vermillion Alberta which was then the major supply centre for settlers arriving to begin a totally new life on their land claims throughout the area. A trip north from Vermillion was arranged with a freight hauler whose teams delivered people, belongings and mail. Both the Vermillion and the bigger North Saskatchewan Rivers were a challenge to cross before there were ferries or bridges. All the freight was unloaded on the south side of the river, and some was packed on a kind of barge which the horses were able to swim and pull to the opposite shore. After unloading they pulled the raft back for another load until all was across and ready to be organized and reloaded in preparation for continuing. Livestock either rode on the barge or swam following it. Fresh horses were able to take over pulling the freight load as the drivers had prearranged with a homesteader to provide feed and to have a substitute team ready to go. I believe the trip to St. Paul took three days to complete. A ferry was completed a year of two after Dad arrived and made crossing a lot easier.
Once he finally arrived and got to see his homestead he must have been overwhelmed by all that was his and by all that it would take to develop a farmstead in this beautiful untouched valley with its small lake, surrounded by rolling grassy hills.
The first years were a real challenge for all homesteaders. Shelters were needed so sod shacks were erected as a home and a barn for the livestock. Tom had to purchase a team of oxen, their harness and a walking plow to break the ground. A cow or two and pigs and chickens were added and neighbors shared their skills and resources. In a few years the sod buildings were replaced with first, log, and then framed buildings, oxen were replaced by horses, cultivated fields were fenced and produced enough grain that some could be sold if it was more than enough for feed.
A few years later Tom decided to sell that property and relocate one and a half miles south of Mooswa and neighboring the Maxwell family. Tom was always extremely ambitious and hard working, forging ahead to improve and expand.
Life was less lonesome after his brothers Fred and Charles and his dear sister Fran immigrated to Canada and found clerical work in centers in Alberta. He was never one to enjoy social gatherings and much preferred sharing time with individual friends. He wrote letters regularly and treasured those he received from his parents and family in Ireland, but he kept putting off going back to visit until it was too late. Both parents were gone by 1924 when he made his only return visit to Ireland. He worked his way across on a cattle shipment arrangement to help pay for his ticket and expenses. But sadly his dear mother had died less than a week before he arrived.
He spent some time with his three sisters, settling the family affairs and while in Ireland he purchased a lovely opal engagement ring for the sweetheart who was waiting for him back in Elk Point. She was Marion Kathleen Wolfe, always known as 'Kitty'. She had immigrated from Cork in the south of Ireland with her mother and her older brother Billy Wolfe in 1913.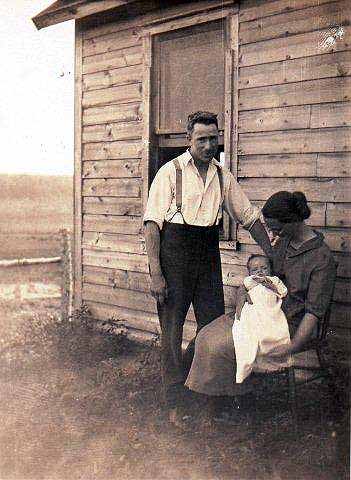 Tom and Kitty we married December 13, 1924 and their home was blessed with five children; Pat, Susan, Marion, Tommy and Fred. Sadly Tommy died in 1935 at the age of four years despite valiant efforts of our pioneer Doctors F. G.Miller and A. G, Ross.
Tom was extremely ambitious and hard working - always forging ahead, always breaking more land, improving his livestock and improving their home and barnyard buildings. During the depression years he supplemented the farm income by taking on the job of secretary - treasurer for the municipality of Lincoln. Ronald Seal was hired to help with the farm work and was with the family for many years.
As the children grew they were expected to help with all the work that went on. There was a sense of pride and satisfaction in contributing. There was time for fun too as they joined with neighbors for tobogganing parties, ball games picnics and sports events. Tom and Kitty really wanted their children to get as much education as possible. Pat completed high school and took a course in welding in Calgary. Susan chose to train as a nurse at the Misericordia hospital in Edmonton, while Marion chose a teaching career. Fred preferred working with livestock. In 1952 Tom and Kitty retired to an acreage near Duncan B.C. Pat and Fred continued with the farm operation until they sold the place to George and Dianne Anderson who have made many improvements and have a lovely home there.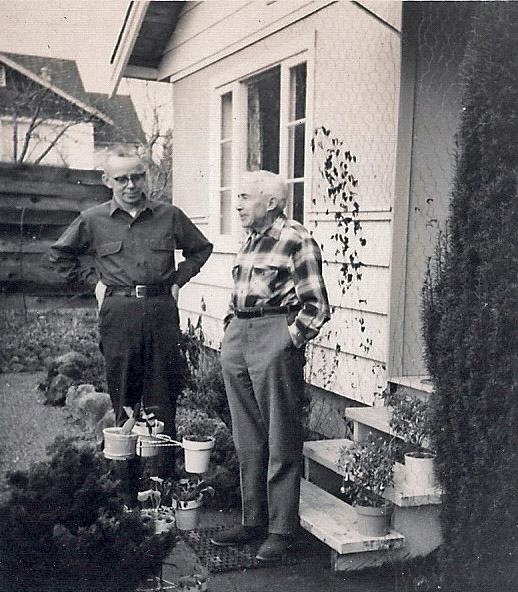 Tom and Kitty enjoyed the much milder climate and developed new interests and friends and they enjoyed fairly good health for almost twenty years. However in 1972 Kitty suffered a stroke and the resulting dementia. Tom, with much help from Susan, was able to care for her at home until her death.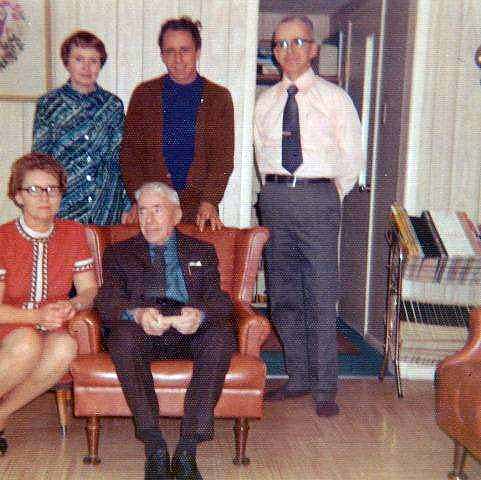 Tom continued to love his gardening and his fruit trees for some years until the confusion of Alzheimer's claimed his wonderful mind. He died January 20, 1978, and together with his soul-mate, Kitty (1972), and sons Tommy (1935), Fred (2005) and Pat (2011), all rest in peace in the family plot in Mooswa cemetery. Susan is interred at the Cedars Cemetery near Nanaimo B.C. Marion still resides in Lethbridge Alberta. She and her husband Allan Hanna raised a family of five in that area.