MERRICK FAMILY
by Nellie Merrick
Ira, one of six children born to Andrew and Anna Hilton Merrick, was born in Nebraska and received his schooling there. He then moved around different states and came to Canada in 1912 from Minnesota, with his parents and family. They came by train, then by team and wagon to settle on their homestead nine miles northwest of Elk Point --SW ¼ -32-57-7-W4.
On April 1, 1915, Ira married Myrtha Magnusson of North Dakota, then settled in Elk Point. Son Chester was born Nov. 9, 1918, on this homestead five miles north of Armistice, their post office address.
Ira and his friend, Hugh McLean, were well-diggers and worked in Regina for a few years. Later they dug wells in the Elk Point, Vermilion and St. Paul areas. In the 20's Ira settled to farming the original homestead, now inherited by Chester after the grandparents passed on.
Chester attended Paramount School to which he travelled six miles on horseback. Later he went to Pleasant Dale School, a mile north of the homestead, where he finished Grade 10. As I recall, he mentioned some of his favorite teachers: Mrs. Harry Day at Paramount, Ruby Carmichael (later Mrs. Laddie Samson), Grace Lawford (Mrs. Paul Laboucane of St. Paul) and Kitty Fenton (Mrs. Harvey Fish), also Miss Alberta Pinder at Pleasant Dale.
Chester then started farming with his dad. Due to Ira's serious illness and surgery, Chester took full charge, which excluded him from enlisting in World War II forces.
In 1941 Chester married Nellie Shubert, then teaching at Flat Lake in Roberge School. They met two years earlier when she was the Pleasant Dale teacher. Ira and Myrtha moved into Elk Point in the fall of 1942.
The first dwelling on the homestead was a one-room cabin which was occupied by the family for about two years, when they built a two-storey log home consisting of five bedrooms (one downstairs), a large kitchen and a living room. The house still stands near where Gary Young has built a modern home. The house was heated with wood burned in a steel heater and a cook stove. Later, some coal was used.
Hugh McLean, Charles Demeyer, Ira Merrick - well diggers.
Merricks were great hunters. Deer, moose, elk, ducks, grouse and partridge supplied them with much of their meat. They had a large vegetable garden and wild berries were plentiful -- strawberries, saskatoons, raspberries, blueberries, huckleberries, cranberries and gooseberries. Much of the meat, vegetables and berries were canned. With plentiful trees for fuel, farm animals and poultry for meat, the family was quite self-sufficient and healthy.
One of the home remedies was a tonic of sulphur and molasses taken in spring to prevent boils. The doctors F.G. Miller and Sandy Ross were the best. Dr. Sheehan of St. Paul was their dentist.
Dances were held in schools, barns and later at Armistice Hall. Most of these were box socials and the music was provided by local talent. I recall Dahls and Heinemanns playing at school dances.
At home they had card parties, mostly bridge, cribbage and whist. Summer sports days were held at several centers. Elk Point always had a strong baseball team on which Chester played third and short stop. I remember him pitching a couple of times. He was an avid ball player and knocked many a homer. Other home entertainment was radio, Free Press, a supply of magazines (including the Almanac), and novels.
Milking times were 5 a.m. and 5 p.m. Cream was separated (they had a separator before the 20's), and was sold to the local creamery. The separator was washed every morning except on hot days, when it was washed twice daily. A ten-gallon keg churn pumped by foot was used to make butter for home use. Water was pumped daily for the animals. Hogs and poultry were fed twice daily. All this was done by muscle power. Eggs were sold to the local egg grading plant for pin money.
A horseback ride five miles for mail or nine miles to a ball practice was not uncommon. The first snowfall meant tramping for miles after game, a sport much enjoyed by the men. F.G. Miller often joined Ira and Chester on these excursions.
A trip by team and sleigh to the nearest lake, when the ice was thick enough, where blocks of ice were sawed with a hand ice saw, then hauled to the ice house, serving as refrigerator, was a yearly event. This ice lasted through the summer, with an occasional block taken out for making ice cream.
Fishing trips and picnics were common in the summer months.
Merrick's first automobile was a 1928 Model A Ford sedan, purchased about 1943. It was built high and was a great puddle jumper. There was also a Bennett wagon converted from a wrecked Model T.
At country dances, Hugh McLean was always requested to do a step dance, at which he was very nimble.
About 1950, the snow was about six or seven feet deep, well over all fence posts. Spring thaw was a hazard and we didn't venture out for a few weeks.
Winter was a time of cutters and jingle bells. Many a time we upset in a snowdrift, sometimes on purpose.
Chester recalled his grandmother telling him she had seen Jesse James when a young girl.
In 1944 we purchased a pair of goats from Joe Mali. Soon the place was overrun by kids. Nanny wandered into the house one day and chewed the lace curtains, also ate our beautiful lilies which were in full bloom. Billy chased Grandma Merrick up the ice house. We were gone to a fair for a few days so there was no help for Grandma. There she stayed for two or three hours until Billy finished his nap just below the upper door from which he first knocked away the ladder. The kids climbed on pig crates, machinery and low roofs.
A veteran friend of both wars, Bill Morris, stayed with us for six months. Many a story he had to tell. I only regret he didn't stay longer so our children could have heard these tales for experience. When the children were eight and five years old, we moved to St. Paul for two years, then to Elk Point.
The only remaining Merrick in the Elk Point area, Bob, chose butchering as his occupation, probably some inborn trait of his ancestors. Welsh is his paternal racial origin, with a sprinkling of Swede, Norwegian, German, Polish and probably a spicing of Cherokee and Negro (as I have been told by the Merricks) from his maternal ancestors.
Chester's oldest child, Barbara, married Gary Graham of Manitoba and now lives in Winnipeg. Her occupation was secretarial typist, now a homemaker with three lovely children.
During World War II we kept a couple hives of bees for honey to supplement our sugar ration supply, which didn't reach for all the canning and baking.
Chester's wife, Nellie, was a school teacher (now retired) with many a side line: homemaker, jersey jerker, berry picker, gardener, canner, chore girl, tractor driver, binder rider, stooker and cook. Cook for threshing crews, hunting parties, fishing excursions, and long-visiting cousins and relatives.
Her memories of first country schools taught include: Teaching three to five students for a couple of weeks because it was blueberry picking time for the rest. She travelled horseback for mail and to visit students' parents. Christmas concerts in the school were packed full of parents and neighbors. These schools had eight grades in one room. A few beginners spoke no English. Sometimes we had to search the countryside for a frightened runaway beginner. Schools were heated from a box stove in the centre of the room. On very cold days the class and teacher would huddle around it, and keep turning around and around, like wieners on a roasting rod, to keep warm. The process of warmingproduced strange aromas.
On one occasion she walked two and a half miles over a strange trail to visit a dying twin baby. She prescribed a formula which saved the baby. The immigrants could not afford doctors. Another time she waded snow a mile and a half daily for a week to attend to a severe cut over the patient's eye made by a crude hockey stick.
There was a continual battle against lice, mice and ignorance. The inspector's visit produced a bad case ofjitters.
Inter-school softball games sometimes meant travelling ten miles by team and wagon over tough trails.
We followed the war news faithfully on radio and in newspapers so students and parents could have a fair knowledge of events.
Getting love, respect and admiration from the students made it all worthwhile.
In 1951 there was the danger of rabid coyotes and wolves. On one occasion a coyote was staring in our bedroom window. Another time we discovered wolf tracks at our gate only twenty feet from the house. These were days of great uneasiness for us as our little girl was starting school and had to walk half a mile to the school bus.
1948 was a very dry year. Wheat yielded five bushels to the acre. Lakes, sloughs, creeks and wells were very low or dry. Then heavy snow in 1949 and 1950 restored the balance.
For closeness of family cooperation among neighbors, love and friendship with fellow pioneers, life on the homestead was pleasant. Life was never lacking for adventure or the feeling of accomplishment. Because of common hardships, we were a close-knit community. Through the first years of settling, the war of 1914, the flu epidemic of 1918 and the war of 1939, the pioneers struggled bravely. If they were to do it over again, they would probably not hesitate to venture into the unknown. Think of the rich experiences for posterity.
LEFT TO RIGHT: Nellie Merrick, Mrs. Ira Merrick.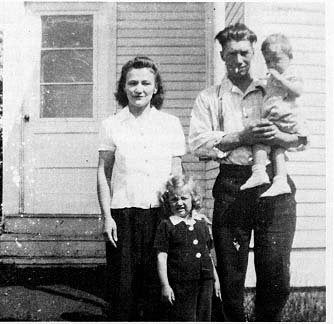 Nellie, Chester, Bobby, and Barbara Merrick, 1949.
Four generations of Merricks, Ira, Chester, Barbara Darren Graham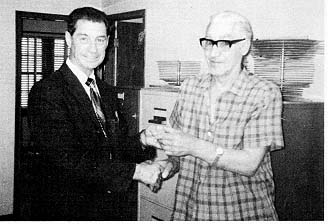 Chester Merrick receiving a 20-year service pin from John Williams at the Salt Plant, May, 1976.