ROLF ANDERSON, SON OF HENRY AND HELOISE ANDERSON
by Diane (Scraba) Anderson
Henry Anderson was one of the many immigrants from Trojun, Norway, who came to Canada to build himself a new life. His name in Norway was determined by the name of the land that he lived upon, but it had two letters that weren't even in the English alphabet, so he changed it to Anderson, because his father's name was Andrew and he was "son of Andrew".
In 1901 he landed in Canada and came to his Uncle Evanson, who lived in Bittern Lake country (Wetaskiwin), where he worked for a year to pay back the cost of his ocean fare. It was here that he met and married Heloise, who was the daughter of Robert F. Williams, an immigrant from Boone County, Iowa. Together with their two-year old son, Roif, they decided to investigate a homestead in this area. In the spring of 1908 they left in a covered wagon pulled by oxen, to travel to Tyrol (now Lindbergh). On the way they picked up John Sweiham and his family, who eventually settled on the land which is presently owned by Vincent Lawrence. Henry's homestead is today lived on by his grandson, Edwin, son of Archie -- the quarter east of the Salt Plant.
All that summer they put up hay, working as far north as the meadows of Rex Hatchard's original homestead at Mitchel Lake (now Frisby Lake). They had to take the mower on a wagon box to float it across the creeks to get it from one meadow to another. The hay was higher than the horses' backs and they had to rake it three or four times in order to dry it. That winter Henry and his family went back to Gwynne. A settler who was free-running a herd of sheep ran low on feed and used all their hay by spring.
Henry came back alone in the fall of 1909 to build a home -- logs and sod roof. One night he had a terrible dream, which frightened him so badly he set out at 4 a.m. for Gwynne. He reached Vermilion at 2 a.m., just in time to catch the train for Wetaskiwin. His Uncle Benson had died. For the rest of the winter he took care of his farm and settled affairs so that his wife and now two sons, Roif and Archie, were able to leave in the spring of 1910 for their new home.
Heloise and her two sons stayed at the Immigration Hall in Vermilion for the month that it took Henry to freight their belongings via Hopkins ferry to Tyrol. After they settled here, they had three more children, all daughters -- Vina (Mrs. John Hostvedt), Nancy (Mrs. Berg Grothen), and Irene (Mrs. Fred Frisby).
The nearest store was Vermilion and the only communication link they had was the government telegraph office at Tyrol, run by Mr. George Mann. It operated until May 8, 1912, and came via Kitscoty, as did mail in later years. Approximately three years later, they changed the name to Mooswa because there was another Tyrol in southern Alberta. When the railway came in 1928, it was changed to Lindbergh.
The first school came in 1912 and arrived completely ready for building -- from nails to desks, including the bricks for the chimney. It was floated by barge down the North Saskatchewan River from Edmonton to the mouth of Moose Creek and hauled with horse and oxen to the original site four miles up the same creek to what is now Lindbergh. One of the first teachers was Mrs. Cinnamon -- mother of Howard and Cleve, who presently reside in Elk Point. Roif started school when he was seven, attending whenever school was in progress. At this time, anyone could get a government permit in Edmonton to teach and, if they liked it, they would go on to college in the fall. So that was the end of school until another teacher came, usually in the spring. Rolf started regular school classes, from September to June, in 1917. When the weather was good, he rode a saddle horse to school. All grades from one to seven used slates and slate pencils. Lunch was packed in a three or five pound lard pail.
If there were several children going to school, their mother packed lunch for them all in a twenty pound Rogers syrup pail. If the sandwiches were wrapped, it was in butter paper. Fillings were anything from fried moose to lard, black-strap molasses or sour cream. Oranges and apples came only at Christmas. Father went to Vermilion twice a year for perishable groceries. It took four days to go there and back with horses, a week with oxen. Henry Anderson brought the first horses that were in this area (six or eight head) when he came. Henry would get orders from all his neighbors and take plenty uf quilts and hot stones. Apples and the like came in barrels. Henry would heat the stones, then cover everything with quilts so the precious goods wouldn't freeze on the way home. The joy of a whole juicy red apple! Just one though; then the remaining would go into the root cellar, to come out one at a time and be divided amongst the five children. This way, the apples would last til spring.
Rolf recalls the excitement when the telegraph station tapped out the message that the ferry was on the way down the river from Edmonton. 1928. Archie Pasmore and John Chilaback, who was to be the first ferryman, went down to the mouth of the creek with their horses to draw the ferry close to shore. They put the cable across in three stages -first, a wire went across by rowboat, then a quarter inch cable, and lastly, the big one and a quarter inch cable, which was tightened by horse and capstan.
Paddle steamboats used to travel the North Saskatchewan from Battleford to Edmonton. Roif also remembers when one pulled into the mouth of Mooswa Creek to avoid high water and timber. His father took him down to see the captain - he even got a store-bought cookie.
One of the first tractors in the area belonged to Rex Hatchard -- a "Mogul" built by International. It ran on coal oil. The bulk supply had to come from Vermilion. Elk Point stores supplied only enough for lamps. The tractor had only one 15-horse power cylinder, which one fine day blew the whole block right out -- and Rex along with it. Fortunately, he had only one broken leg.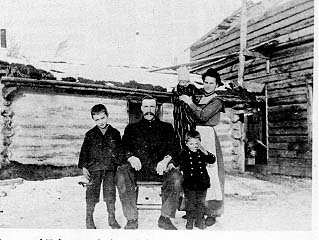 Henry and Heloise with their children, Roif Archie, and baby Irene.
Usually, Henry Anderson used to get Art Gorden and Steve Berger to hand flail his crops of Marquis or Red Bob wheat or Victory oats for a share so they could have seed of their own. Harvesting graduated to a ten-horse power stationary engine, with hand feed and a straw elevator. It ran on coal oil. Jack Compton travelled from farm to farm threshing.
In 1914 the first steam thresher came into the country. All the farmers grouped together for stacking bees so each farmer had one or two stacks of sheaves ready to be threshed. The thresher, which had four stacks, a separate engine and a separator, had to be dismantled, moved to the next stack, set up, used, dismantled and moved again. The farmer usually knew only the night before when the threshers were coming. Rolf recalls one time his mother killed just about every chicken on the place to feed the crew of twenty-three men that it took to run the thresher. Henry and four neighbors were on the gallop with five grain wagons and four men shovelling in the granaries and they could barely keep up to the flow of grain. Ten men kept pitching sheaves of grain into the thresher. Glen Maxwell chopped wood until he nearly dropped to keep the boiler going, but by nightfall they had 5,000 bushels of oats in the bins! They ate a hearty meal, dropped into a dead sleep, and by dawn were ready to move on to the next neighbor's place.
If Mother ran out of chickens, she butchered a calf, wrapped it in flour sack, and hung it in the well to keep cool and fresh.
Coffee came in glass jars. Heloise hoarded these to use for canning. She made cheese of sour milk, drained and dried it, and packed it in wooden crocks to keep. She baked bread in an old clay oven Qutside. Eggs were stored in ashes. Blueberries, saskatoons, cranberries, huckleberries, chokecherries, pincherries and several types of mushrooms were dried for winter use. They always had a supply of smoked fish or salt-cured pork, venison or moose meat, but fresh meat was hard to keep. Henry and Heloise belonged to the local "meat ring", which consisted of about twenty neighbors. Once a week, in turn, someone would butcher beef, pork or mutton, and deliver a piece according to size of family to each member of the ring.
Archie 4, Irene 1, RoIf 7, in front of the original homestead of Henry Anderson.
Ready for the hunt with dog and gun, Heloise Anderson, 1912, in front of the original home.
Wheat went to Vermilion to be ground into flour, bran, cream of wheat and shorts (bran and wheat hearts). At one time, Henry was able to buy light white flour (Spielers' flour from England) for fancy breads and cakes. Dark and heavy 4X flour was available for pancakes and such.
There was good neighborliness but Rolf remembers there were selfish people. The winter of 1919 was bitter .~60o to 700 below zero F., lots of snow, and very little feed in the country. Frog Lake area had stooked their grain in the fall but, due to rain, were unable to thresh. Henry and Rolftravelled there with a team of horses and sleigh to dig sheaves out of the snow to feed their cows at home. The price was 35 cents per bundle and $80.00 a ton for hay. When they came to the house to pay for the feed, the farmer invited them in for supper, then charged them for eating! All that hardship was for nothing, for spring came and the cattle died like flies. Times like this were very hard to bear, almost made a man sit down and cry. But there was always tomorrow. They had faith in themselves and God. Even the fire of 1921 didn't make them give up. It all started innocently enough. Mr. Fogel lit some breaking brush piles where he lived (where Marvin Botting now resides). A strong southeast wind blew it out of control and within two hours it had come as far as Frisby Lake and Mooswa Creek, destroying everything in its path -- homes, barns, even crops.
They got the children out of school. Roif recalls that it was noon and the Ford car had to run with lights on because the smoke was so black and thick. Every able person was out fighting, and back-firing. Andersons put out over fifty fires in their yard alone but managed to save the house and barn. By evening, rain started, and between the creek and Frisby Lake, they managed to stop the fire that cost some folk all they had.
Rolf worked to build roads with horse-drawn graders for twenty-five cents an hour and took his own lunch. A man and four horses brought four to five dollars a day. Good leather shoes cost $2.50, coveralls 90 cents.
In 1928, when the railroad came through, Rolf worked ten to twelve hours a day for sixty dollars a month, and slept in a tent. His mother, Heloise, did the cooking for the crew of twelve.
Rolf then went farming. He recalls selling oats for 7 cents per bushel and pigs for $1.75 per cwt. live weight. He hauled a bull to Elk Point, which was then shipped to Edmonton, and received a cheque for eleven dollars. A five-gallon can of cream sold for 75 cents, and eggs were 4 cents per dozen, when you could trade them. Many a bucket-full went into the pig trough!
There were home cures for whatever ailed you. Dr. F.G. Miller served the whole country-side. One time Rolf ate too many cranberries and became deathly ill with a high fever bordering on convulsions. His mother gave him powdered rhubarb which, Rolf says "was thick and dark like cocoa mixed with hot water, and so bitter it either killed or cured".
In 1929, Henry Anderson bought for $360. the quarter of land that Rolf presently lives upon. Taxes were $12.50 per year, payable at J.H. Ramsbottoms' in Elk Point. At a dance in Lindbergh in the winter of 1934, Rolf met Pearl Havaruk, who was helping Don Pasmore's wife, who was expecting a child and was toxic and needed rest. They were married on October 11, 1936, and lived on the farm.
Pearl vividly recalls the night she went into labor with her third child on December 28, 1939, at 4 a.m. It was 600 below and the roads were blocked from a blizzard the previous day. Rolf bundled her up, harnessed the team, and drove her to Lindbergh, where he woke the stationmaster. Together they put the speeder on the track and rode to Elk Point -eleven miles. Pearl walked from the station to the hospital in time to deliver a boy, Ross. When Rolf got back to Lindbergh, the harness had frozen onto the horses.
Three weeks after they got the baby home, he developed pneumonia. Pearl kept him warm and applied mustard plasters but his fever was too high and he started to convulse. Rolf ran to Pasmores where the only phone for the whole area was attached to the telegraph line (bought by Dr. Miller). He phoned the hospital to say they were bringing their sick baby in. They heated flat irons to put in the wagon box with Pearl and the babe, well covered with quilts. Still 600 below. It took four hours to get to the hospital. The drifts were so bad in places that Rolf had to stop the team and tramp back and forth so the horses could lunge their way through. Little Ross returned home ten days later, fully recovered.
Farm life seemed too hard, so they moved to Copper Mountain, B.C., in 1940, where Rolf worked underground in the copper mines and logged. But they missed the farm so they returned home. RoIf worked on the ferry from 1952 to 1963, when it was removed from service. He also farmed.
About 3:30 p~m. one August afternoon in 1945, Rolf was cutting a field of wheat. His two eldest boys, Evan and George, had just brought him a drink of water and were playing around. Rolf noticed a small thunder-shower -- "didn't look like much" -- heading their way from the southwest so
he told the boys to hurry home. They just got into the house when the storm hit - hailstones as big as oranges bounced twenty feet into the air. Pearl and the four children went into the cellar. In twenty minutes it was over. Pearl said her knees were so weak with fear she could hardly walk outside to see what had happened to Rolf. He had been hit on the back with a few hailstones as he drove the team right into the barn. There was ice two feet deep piled up against the chicken fence. The house still bears the pit marks where the hail chipped the wood out of the logs.
But, with the hardships, life has given them a wealth of happiness and loving memories. They have nine children who have always pitched in chopping wood, milking the cow and helping to weed and harvest the huge gardens they planted to help feed them all. Their home is known to many as a warm welcome spot for a good cup of coffee and a welcoming smile.
Five of the children still live in the area: George, wife Diana (nee Scraba), and children Kari, David and Todd; Brian, wife Peggy (flee Winfield), and children Margaret, Bradley, Brenda and Jason; Donald, wife Barbara (nee Scott) and daughter Charlene; Barry, at home; Debbie and husband Bill Ballas. Evan, wife Maijorie (nee Davidson) and children Roxanne and Bernice, live in Calgary. Shirley, husband Mike Maksymiuk, and children Mitch, Tracy, Jeff and Treena; Ross, wife Liz (nee Hanzel) and children Jacqueline, Karla and Gregore; Donna, husband Gorden Kozicki; all live in Edmonton.
Roli's brother Archie lives at Dawson Creek, with wife Bess (nee Havaruk). Their children: Doreen Grey, children Zane, Lori and Doyle, at Dawson Creek; Henrietta, husband Douglas Keck, children Murray, Laurel, Shelly, Ross and Donna, at Fort McMurray; Edwin, wife Maureen (nee Legore), children Kim, Trent and Dyvonna, at Lindbergh.
Sister Irene lives in Elk Point, her husband, Fred Frisby, died in 1967. Their children: Florence, husband Dan Demchuk, children Lonnie and Kris, at Fort McMurray; Fred, wife Jeanette (nee Lamby) children Charles, Janis, Lyle, Lyn and Richard, at Fort McMurray.
Sister Nancy and husband Berg Grothen live in Kimberly, B.C. Their children: Elaine, husband Lyle Donaldson, children Lori and David, at Golden, B.C.; Keith, wife Darlene, child Joanathen, at Cranbrook, B.C.
Sister Vina and husband John Hostvedt live at Lindbergh. Their children: Joan Lee in Toronto; Judy, husband Ron Matus, children Allan and Kathy, in Three Hills; Nancy, husband Gary Buterman, children Kevin and Janet, in St. Albert; Patsy and husband Micheal Carpenter live in Edmonton.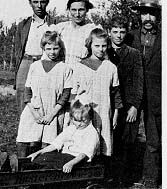 BACK ROW: Rolf Heloise, Archie, Henry. MIDDLE ROW: Nancy, Irene. FRONT ROW: Vina.